Nestled amidst the cultural splendour of glamorous and cosmopolitan Venice, a few steps from the Rialto Bridge, the Fondaco dei Tedesch is the second most important edifice in Venice, after the iconic Doge's Palace. It stands as a symbol of elegance and opulence in the heart of the city. Beyond being a mere luxury department store, it beckons discerning travellers and sophisticated Venetians alike, drawn by its allure, cutting-edge trends, and uncompromising quality.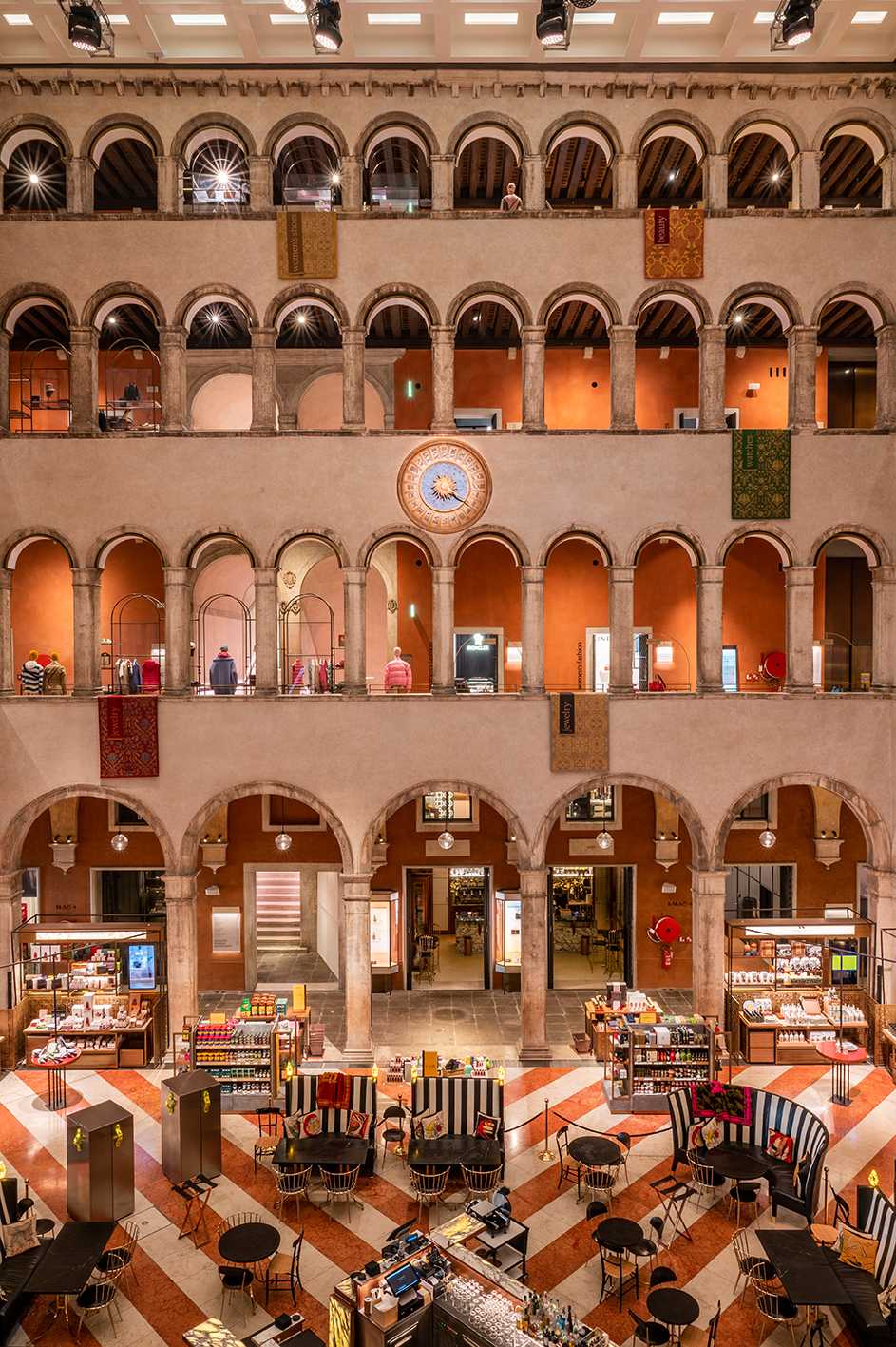 The majestic edifice you can admire traces its origins back to 1508, yet its legacy stretches further into the annals of time. Once, a smaller structure named Fondaco dei Tedeschi facilitated bustling commercial exchanges as early as 1222/1225. Unfortunately, a devastating fire in 1505 reduced it to ashes. Nevertheless, the indomitable spirit of the Serenissima Republic spurred the swift reconstruction of the Fondaco, ingeniously incorporating the city's diverse materials—iron, stone, and wood—to expand and reinvent the building in all its grandeur. A testament to architectural prowess, masterfully envisioned by Girolamo Tedesco, Giorgio Spavento, and lo Scarpagnino, proudly emerged in 1508, fortifying historical ties with the economic powerhouses of Northern Europe.
Today, the Fondaco dei Tedeschi is owned by DFS and LVMH is one of the main shareholders. It stands proudly as one of their crown jewels, alongside La Samaritaine, two destinations of luxury and elegance.
The reconstruction added 140 arches for three levels of galleries and an inner courtyard that visitors can enjoy even today. Giorgione painted the inner courtyard and the sides facing the Grand Canal and Fondaco's canal, while Titian decorated the two facades visible from the street. Today, only fragments of these frescoes remain in galleries and private collections. In the 1930s, Engineer Guido Gerbino made concrete consolidations within the masonry and other structural interventions.
In 2010, a significant transformation began with the renovation and restoration of the historical Fondaco dei Tedeschi by Dutch architect Rem Koolhaas of OMA studio. The restoration preserved Venetian sixteenth-century architecture, thirties' reinforced concrete, and exposed brickwork, reinstating its original purpose as a place of cultural exchange and commerce.
Today, this department store stands proudly, embodying a feeling of permanence, a collective memory landmark, erasing its other various roles in the mists of time – a land customs house under Napoleon, a residence for fiscal and military officials during Austrian rule, the headquarters of finance under the Kingdom of Italy, and even the post office until 2010.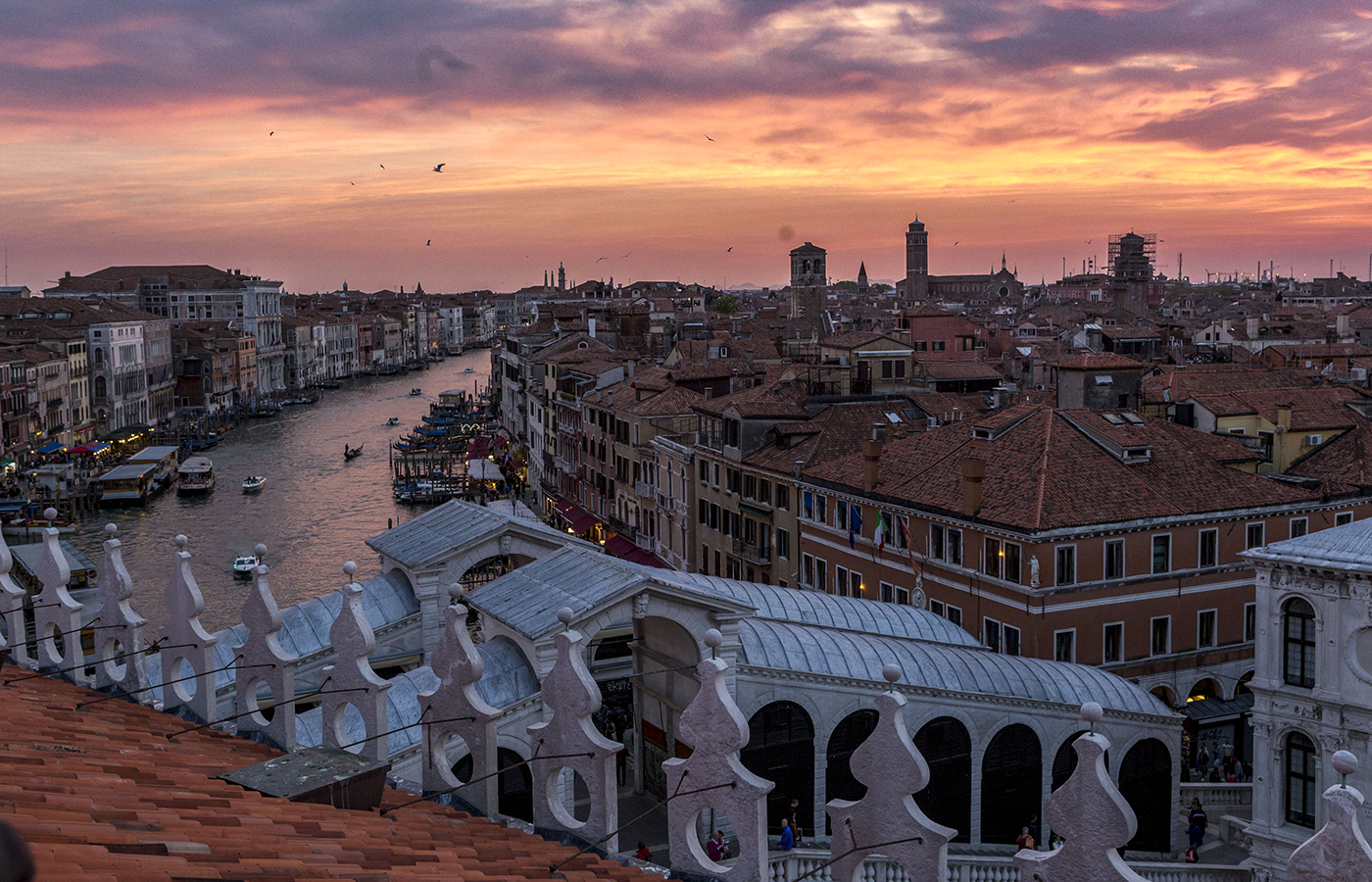 If you are a history-curious traveler, there is much to discover in The Fondaco dei Tedeschi. A magnificent 24-hour clock with a diameter of two meters, dating back to 1571 designed by Antonio da Ponte (the architect of the Rialto Bridge) and later demolished in 1817. There is also a simpler sundial with the numbers XX and XI and a central hole for the gnomon, located on the parapet of the third floor.
Various marble plaques, including one still visible on the facade depicting two cherubs, an eagle, and the inscription GERMANICIS D(icatum) (dedicated to the German nation), a marble slab intended for Doge Loredan located inside the courtyard, and a marble plaque dated 1670, next to the entrance door facing Calle del Fontego, on which a series of rules and behavioral guidelines for the merchants staying inside the Fondaco were carved; fighting, obscene language, and card games were prohibited.
There is also an "A" capital near the water door indicating the ancient office of the Venetian officials, with a tiny and precious medallion placed on it, bearing the inscription "Respice Finem" (from the Latin proverb "Quid quid agis prudenter agas et respice finem": whatever you do, do it wisely, and consider the consequences).
Over 183 signs are distributed among columns, windows, walls, and external facades, documented by the scholar Ferdy Hermes Barbon, left by the merchants who operated at the Fondaco: games, symbols of identity, initials, and monograms. Embedded on the windowsills of the central windows, facing the Grand Canal, are the coats of arms of the Kolb and Fugger families (two maces and a double lily).
The fresco by Venetian painter Giuseppe Santomaso, dated 1959, decorating an entire wall of the former Postal Directorate office on the second floor, depicting the Italian territory crossed by the stretched wires of telecommunications.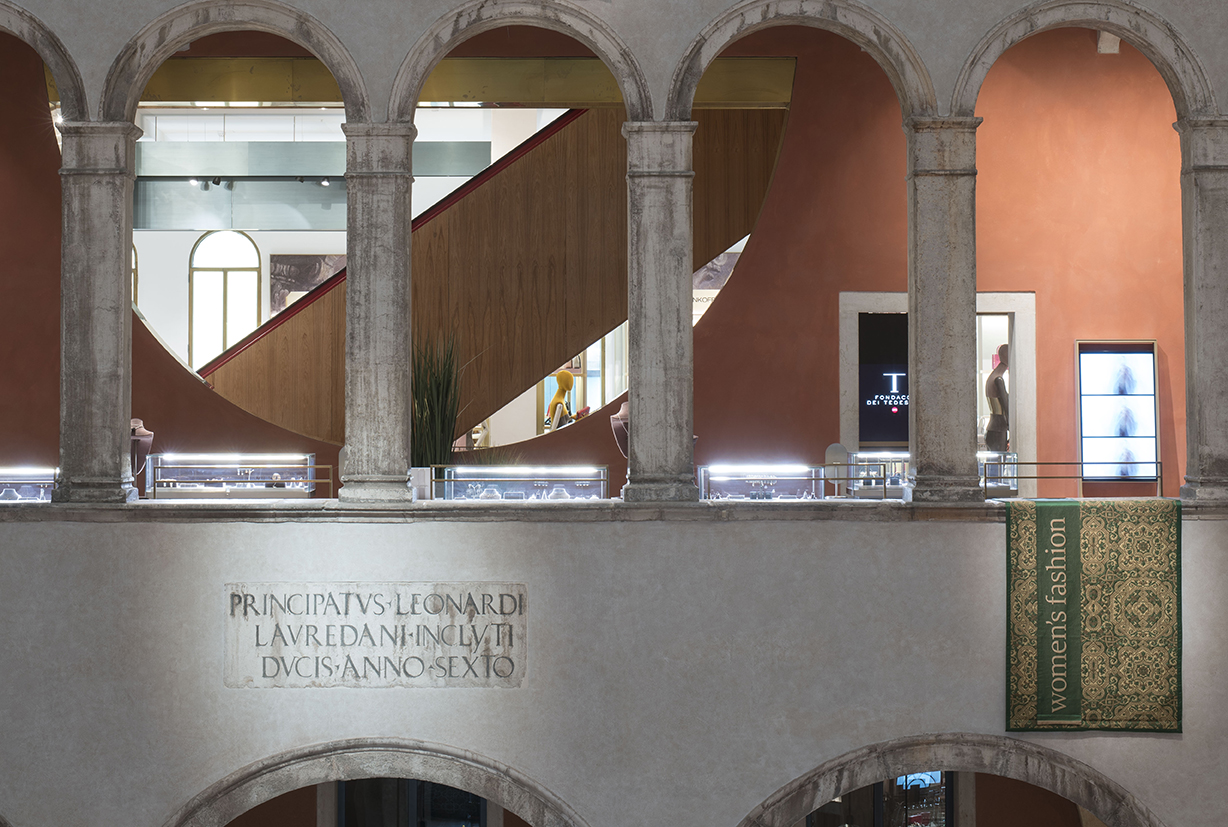 Contemporary elements stand out with pride as well, as the current interior design, by British architect Jamie Fobert, was conceived as a dialogue with Venice's past. On the third level, there is a floor made of Bianco Laser Margraf marble, and the pillars and bases are in Fior di Pesco Carnico (a rare marble found in a single quarry in the world). The tables present in the jewelry area were sculpted by a computerized arm, reproducing Renaissance drapery forms, and others inspired by a watchmaker's lathe. There are 1,500 blown glass elements, totaling 4,700 kg of glass, assembled in dedicated frames and created by Barovier and Toso. The installation consists of square-shaped pieces processed with the "a corteccia" technique (manual blowing and high temperatures) in gray, purple, and crystal colors, as well as round-shaped pieces used as white ceiling lamps. The twisted columns on the first floor are inspired by those found on the facades of Venetian palaces, and the oak wood escalators follow the model of those present in XIX-century department stores (e.g., Macy's). Brass, both raw and oxidized in 15 shades, played a significant role in the construction of the balustrades for the panoramic belvedere, the openings on the moving stairwell, the internal staircases, and the frames. A total of 260 meters (equivalent to 20 tons of brass) were used for the production of the semi-finished products designed by Rem Koolhaas.
It is notable as well that the nineteenth-century roof was lifted to create a new suspended area at 18 meters in height, dedicated to exhibitions and other cultural activities, with public access to a panoramic terrace. Its program of meetings, exhibitions, concerts, and performances is noteworthy, attracting important authors and artists as well as an interested and knowledgeable audience. Contemporary artists like Fabrizio Plessi, Loris Cecchini, Barnaba Fornasetti, Maarten Baas, and Leila Alaoui have exhibited their works.
But you might find yourself in this department store for its famous selection of design and iconic brands. Gucci, Bulgari, Bottega Veneta, Cartier, and many other brands are present along with Venetian high artistry masters like Sergio Boldrin, Seguso or Bevilacqua. The Fondaco dei Tedeschi is committed to supporting the city's unique know-how and providing a diverse and sophisticated shopping experience that encapsulates the very best of contemporary offerings. Clothing, shoes, accessories are interspersed with design, high-tech items, and authentic Venetian craftsmanship, premium fragrances, and gourmet products.
In Venice, style is not just a matter of fashion; it becomes a deeply personal expression of identity. I have always believed that you can spot a Venetian among a thousand people due to their distinctive flair. With a nonchalant noble perfection, they effortlessly blend surprising colors and luxurious materials, creating an unmatched elegance.
I strongly encourage you to experience an individual armocromia consulting session at the Fondaco dei Tedeschi. By identifying the colors that best suit you, not only based on your complexion but also to better express your personality and aesthetics, you can truly enhance your style. Armocromia principles can be applied to clothing, accessories, and makeup, allowing you to make informed choices that perfectly complement your unique self.
At the Fondaco dei Tedeschi, you will find an exclusive range of luxury brands, making it the perfect place to receive a 360-degree image consultancy. Highly specialized personal shoppers, steeped in centuries of tradition, are available to offer expert advice in fragrance consulting, jewelry shopping, makeup, and skincare customizations.
The best part is that these exceptional services are provided free of charge with a prior appointment. To schedule a meeting, simply reach out to the Fondaco dei Tedeschi Concierge at 347 527 5093 or message via WhatsApp to the MyFondaco service at 348 918 2180. This service not only facilitates appointments but also provides shopping assistance and information on products.
Embrace the opportunity to elevate your style and indulge in the exquisite offerings of the Fondaco dei Tedeschi, where luxury, tradition, and personalized attention converge to create an unforgettable shopping experience.
by Alexandra Mas