« It is a dedication to fearlessness, to resistance and to the victory of love and peace. »
Demna
It all started with a damaged iPhone as the show invitation and a notice that the phone was a genuine artifact from the year 2022 and that it was nonfunctional and certified real and the screen was smashed. It was in fact damaged from years of use and later neglect. The idea is to throw it away and instead of living life through your mobile, live and feel it IRL.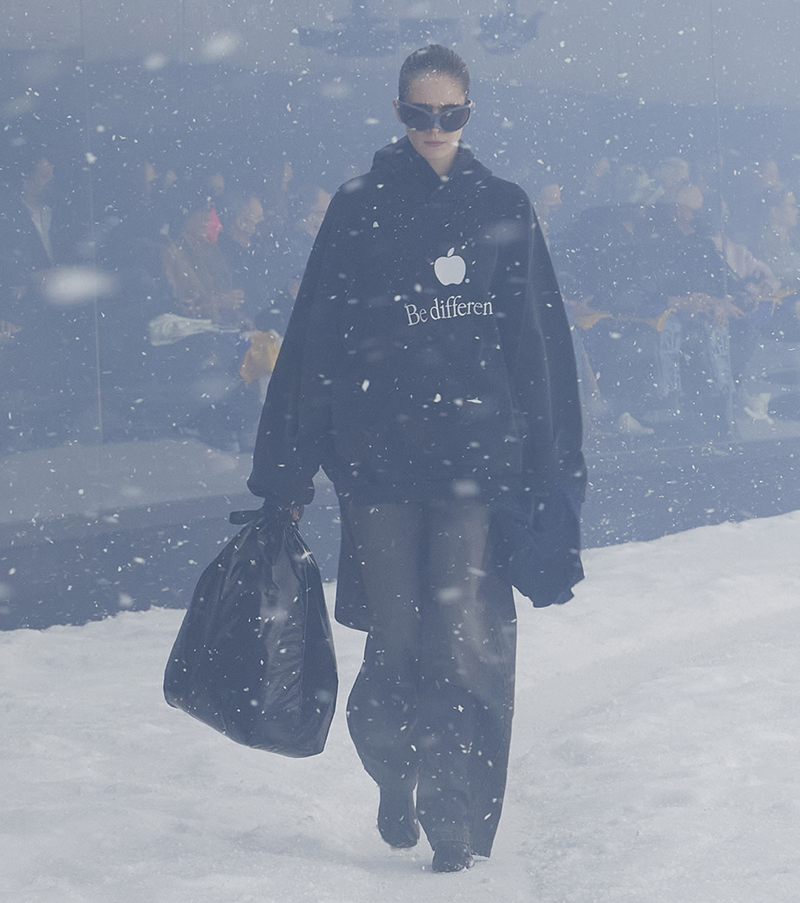 I love technology and the metaverse but there is nothing more beautiful than real life, even if it is fake snow. And you can't do it on a phone. That's why the invitation was a broken phone. Throw it away!
The war in the Ukraine started in 2014 following the Revolution of Dignity, historians predicted the escalation to a full out invasion as far back as 2015. Now it is impossible to avoid the global impact of that war as well as man's impact on climate change and these two topics are central to today's presentation. The man made snow in the circular venue referred to a trip to the Alps made by Demna where he discovered no real snow and as Demna is a futurist, he is seeing a time when the only way we can enjoy the nostalgic idea of snow is through the artificial kind made by machines.
Sitting at the Balenciaga show, and this is one show you really needed to experience IRL,  models walked as if in a grand exodus through a blustering snow storm, some with little on their backs and others clutching something like a garbage bag, however, this one was beautiful and made of leather,  containing what ever they could rescue on their journey to who knows where. The soundtrack started out melancholic and romantic but soon turned to the sound of heavy artillery firing that never let up. The techno was made by his longtime musical collaborator BFRND and was like explositions in the distance.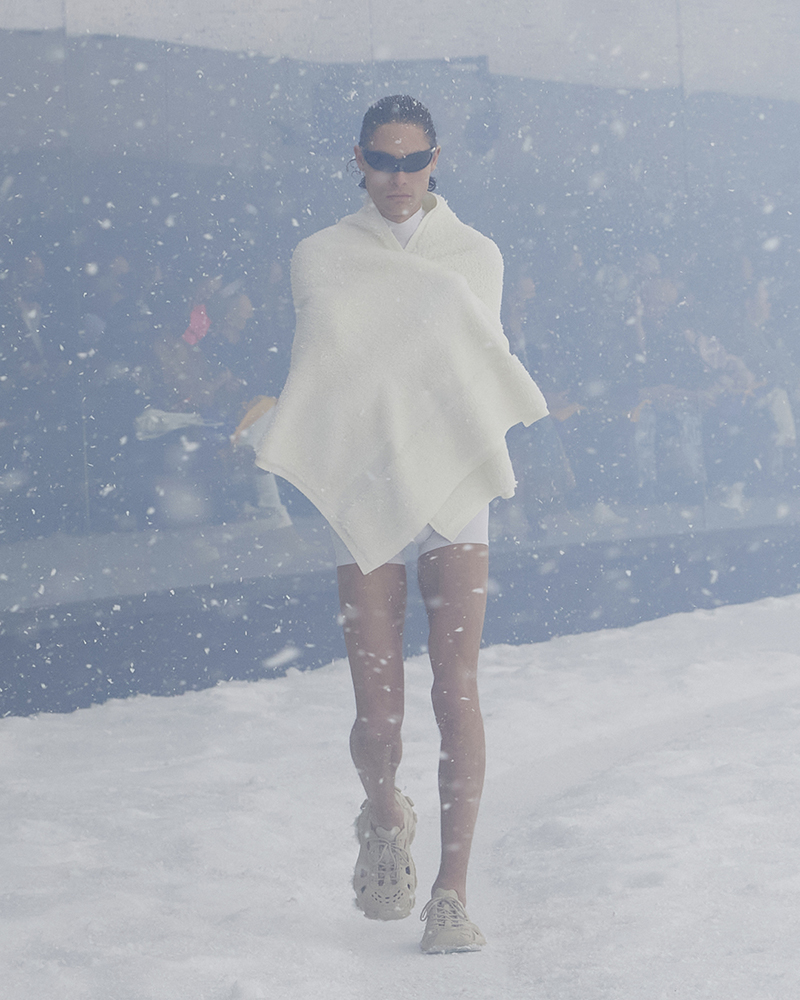 « The war in Ukraine has triggered the pain of a past trauma I have carried in me since 1993, when the same thing happened in my home country and I became a forever refugee. Forever, because that's something that stays in you. The fear, the desperation, the realisation that no one wants you. But I also realised what really matters in life, the most important things, like life itself and human love and compassion.
That  is why working on this show this week was so incredibly hard for me. Because in a time like this, fashion loses its relevance and its actual right to exist. Fashion Week feels like some kind of an absurdity. I thought for a moment about cancelling the show that I and my team worked so hard on and were all looking forward to. But then I realised that cancelling this show would mean giving in, surrendering to the evil that has already hurt me so much for almost 30 years. I decided that I can no longer sacrifice parts of me to that senseless , heartless war of ego.
The show needs no explanation. It is a dedication to fearlessness, to resistance and to the victory of love and peace. »
Demna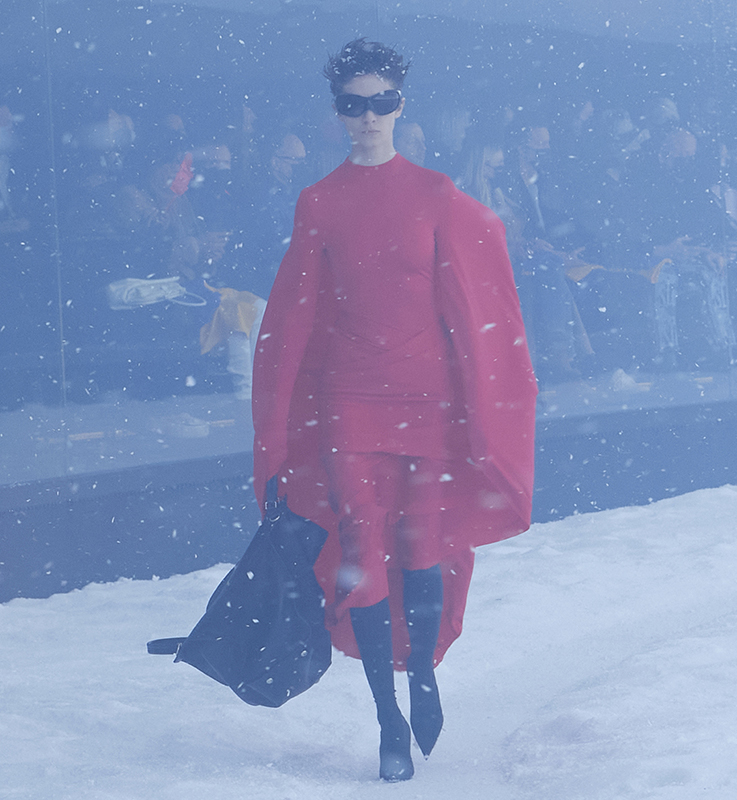 As for the collection there were bold shapes, hybrid stretch dresses and bodysuits combining gloves, shoes, trousers, trains like the long flowing Ukraine blue finale dress blowing in the storm like an expression of the force and courage of the Ukraine people.  The last two monochromatic exits combined to create the Ukraine flag. The puffer and bomber jackets are reworked, as are the track suits. Demna believes in constantly re-working and re-defining his classic pieces until he feels that he arrives at perfection. A stretch knitwear towel is worn as a wrap, a top is made from a pair of jeans. Graphic prints announce XXXL fits or a message like « Be Different » not "Think Different" and his apple did not have a bite taken out of it.  The message is Be rather than Think. For those who only dream of wearing Balenciaga, there are rolls of packing tape you can purchase and customize your own looks either as a belt around a coat or trousers or, as shown on one of the models, just wrap yourself from head to toe and you are now wearing Balenciaga.
Accessories are exaggerated and are made of reused or alternative materials. Bags are always strong in the collection and this season the Crush  Bag is a soft  box  shape,  the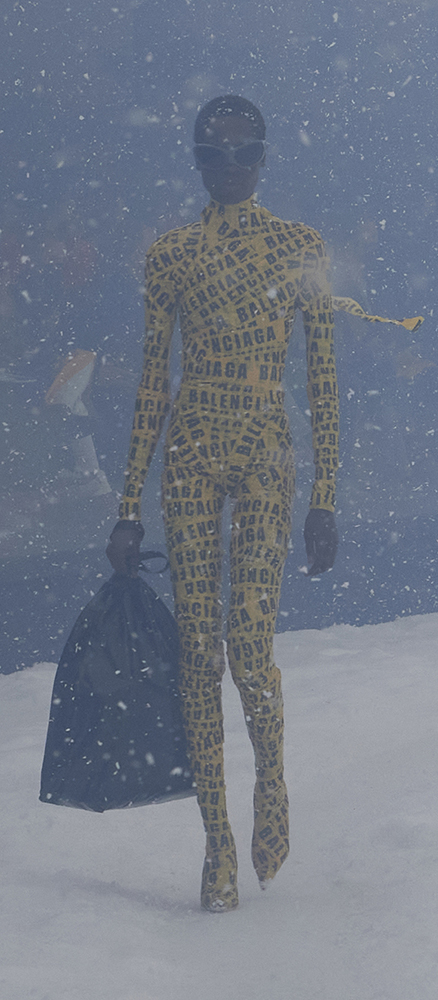 Swing Bag is held by a looping chain strap and the above mentioned Trash Pouch is inspired by a garbage bag that adds to the mood of the ongoing exodus.
The HD Sneaker is made from one solid flexible piece. The Knife Wader evolves this season combining two classic styles with a flared upper, pointed toe and spike heel. Additionally there is a glove boot.
Diane Pernet