A.M.: who are you, Jochen Sandig?
J.S.: I am In Love with Life !
I was born at 5.55 am, on a very cold January 5th, in the revolutionary year of 1968 in Esslingen, South West of Germany. It was a winter morning with minus 20 degree celsius and I was born into a very warm hearted family as a first child. My mother, Margit, and my father, Hellfried, gave me so much love. I always felt like a child which was received by their Love. My sister Isabel and my brother Daniel followed me with 2 years difference each-other. I think the greatest source of my inspirations comes from this deep trust that was given by my parents. The trust of having the freedom to create. Nothing has to remain the way it is. Everything can be transformed. It starts with the mind and then can be followed by actions. My parents are spiritual persons, when I was young I was even raised in a religious way. But always with an open mind and full of doubts about structures that are limiting our freedom or threaten our peace.
When I grew up I discovered my big inspirations and passions in the arts – specially in music, in theatre, in film, in literature. I was painting. I always liked to be naked in nature, and always playing. I created worlds in my own mind. A tree could become my space ship. There was a phase when I was dreaming about traveling to the outer space, I was imagining myself as an astronaut.
I was reading books, collected photos. Once I even met an astronaut from Apollo 15 in person, the first man who was driving on a vehicle on the moon. His name was James Irwin. I was fascinated about the idea that we could travel to the moon and even beyond. At this time I was reading a lot of science fictions and I could imagine to study physical science one day. The cosmos was giving me so much inspirations. I was always looking for beautiful sun sets and sun rises. And of course the stars in a clear dark night. I was trying to capture moments of happiness by making photos and later filming situations like a diary. Writing was not so much my thing , rather conversations with people. I am a very social person. I like to meet new people. I believe that we belong all together like one big family. Yes, we are all sisters and brothers. I am in true love with Life.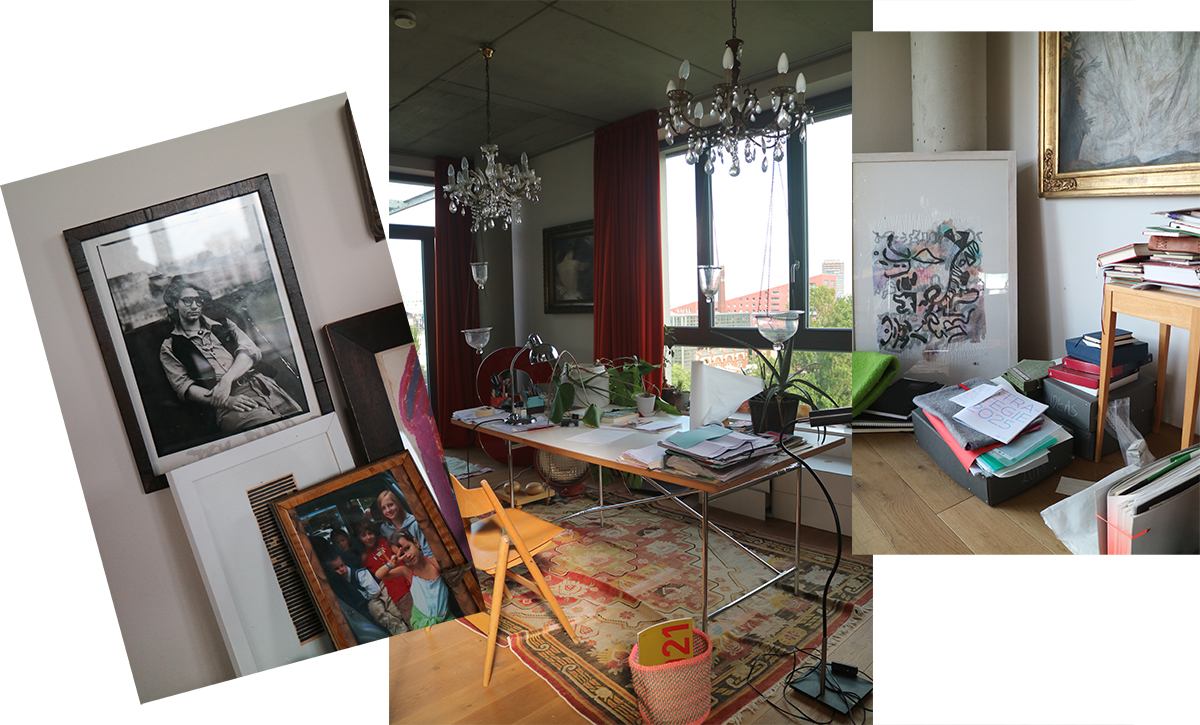 I feel like a cultural entrepreneur who always liked to take risks including financial ones. I had never a lot of money – the most important for me was having ideas. That's why I called Radialsystem also a space for arts and ideas.
A.M.: Tell us about your path, the dramaturge –  the foundations and the organisations – is Jochen the builder or a cultural shifter?
My biggest muse is the Greek God called KAIROS, The inspirational moment. He has hair in the front and is bold in the back. When he is passing by you have to catch him immediately. If you are too late you lose the momentum. I had sometimes in my life this sensation for the Kairos. That was the moment when I started something new – often out of the blue or from scratch. I like to get involved in projects that didn't exist before. The word start-up didn´t exist at the time. Co-working is what we did – always in teams but we had also no word for it.
Transforming spaces in order to create spaces for transformation 
I am a passionist. I do what I like and I like what I do. I am also a pioneer who likes to discover the unknown areas. I like to explore, maybe that's my astronaut's mentality. I like to find what is out there. Going beyond limits. When I come across a new space, which most of the times is and old space – a ruined department store like the Tacheles, a former Festival Hall like the Sophiensæle or an abandoned pumping station like the Radialsystem, I start to transform them. We create spaces for transformation. 
A.M.: Your pro-women speech interests me a lot as well as the harmony you find welcoming your feminine side. 
J.S.: Women were always playing a major role in my life. To start with my mother who has been teaching me so much about the deep respect for them. I was falling in love already at 6 years old. I would not call myself a trans person but as a man I also love the woman inside of me. I embrace my feminine side. Sometimes I thought that I might be a Lesbian born into a male body.
I am defending gender equality with big passion. I think men and women and everything between them should be in harmony. I believe that many problems in our society and in our world where the result of a big imbalance of power between male and female human beings. It's a long history but history is a process. And this gender gap must be changed on all levels. I believe this would be one major key to solve many global issues which are linked with sustainability. Women are creators, mothers, healers. We need their energy. We need mixed and diverse teams of course. It's not about replacing the patriarchate by the matriarchate but fining something in between. We still have a long way to go…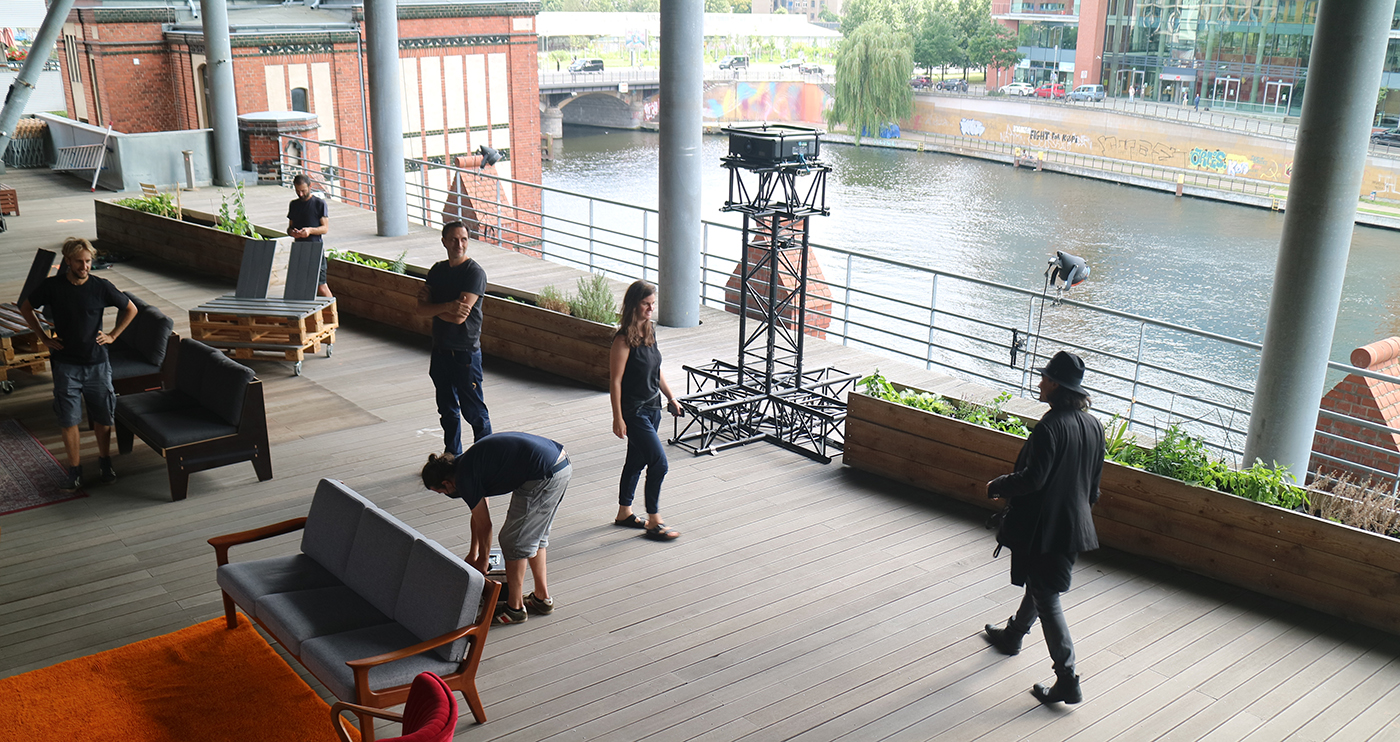 A.M.: Jochen VS Sandig – the husband, the father, vibration and showman. this last one is behind the scene, isn't he? 
When I look back the moment when I moved to Berlin just two days after the Fall of the Wall on Nov 9, 1989 – everything feels like a movie. The squatting and creating of Tacheles was a first milestone for me but also for a big scene of international artists who moved to Berlin because it became the new mekka for creativity and freedom, after cities like New York, London or Amsterdam. I had already some experiences in the foundation of legal structures like an association for musicians in my hometown Esslingen. So I became the chairman of Tacheles e.V. I enjoyed the role to be in the spotlight of film teams and tv companies from all over the world guiding them through that messy ruin and telling them the story about our vision that this would become a new independent hotspots where visionary dreams could be realised, a kind of Utopian world. Heiner Müller, the famous East German writer, called the Tacheles the Symbol of the new Berlin after the Fall of the Wall.
Thats where I met the dancer and choreographer Sasha Waltz and I fell in Love with her. First we founded together the dance company Sasha Waltz & Guests, and then, we founded our own family, with our son László born in 1997, and our daughter Sophia born in 2002.
I was responsible for the theatre and dance program at the Tacheles at this time. But when I met Sasha we were looking for a new space to live our dreams. We discovered Sophiensaele, a beautiful building right in the heart of Berlin Mitte – the city centre of Berlin East the former capital of GDR. In a very short time this theatre become the hot spot of independent theatre and contemporary dance in Berlin.
Our success was going parallel with Sasha Waltz & Guests becoming a very well know dance company, receiving invitations for touring all over the world. With the first piece Travelogue which was created in 1993 we had a big tour through Europe and North America, with Allee der Kosmonauten which was the opening show of Sophiensaele we had a big tour through India, we traveled to Hongkong and Seoul.
But shortly after we had to move on to the next adventure. We became part of the collective team with Thomas Ostermeier and Jens Hillje, and form the new artistic direction of Schaubühne am Lehniner Platz – a legendary theatre which was founded in 1962 and we transformed into a new structure with two ensembles of actors and dancers. The first creation Körper by Sasha Waltz which opened our first season was a huge international success – and we are still playing it today after more than 200 performances all over the world.
I was always the dramaturge in the background, never in the spot light but behind the scenes. Trying to do everything in the service for the artists and making the impossible possible. Quite a fight in a structure directed like an institution with all its rules and limits. 
The biggest limits never come from the outside but are in our mind. These I would call the invisible walls that we also have to breakdown.
My special interest was always to be inclusive and not exclusive. I like glamour but glamour should be available for everybody. I enjoyed creating immersive experiences rather than to watch something from the outside or from a distance. 
I always enjoyed my private life and the intimacy of our family but, at the same time, it was difficult to keep the distance to our professional life of Sasha and me. My role as a husband and as a father was always in counterpart to the other role as the director of the company. I was never on the theatre stages, with a few exceptions, but the world outside of the theatre was my stage. The meetings with politicians, architects, urbanists, intellectuals, head of public or private institutions or of business companies etc.
When I staged 10 Years ago in February 2012 the Human Requiem based on the German Requiem by Johannes Brahms my life has changed.
To be continued….
photos by Maria Haselhuber

Changing perspectives is the challenge. I was not interested about the elitism of the classic culture but rather into breaking down the walls, open up the stages with new artists, and fill the auditorium with new audience. This is a red line which goes through all my activities.