Léonard Lasry returns with a new album of heroism tinged with hope and heady musical lyricism. Built around the melodies he composes on the piano, Leonardo makes his favorite instrument the central piece of an orchestral pop in the great tradition of the variety of the 70s. With ardor and emotion, he offers his warm voice and his inimitable pianistic touch of the refined versions of the songs in his repertoire.
The tailor-made words to lips for Elisa Point – with whom he forms an unexpected tandem of songwriters – are the perfect resonance of his personality. Here we speak of unspoken lovers of all human comedy as adventures of the mind and of the moment.
Léonard Lasry has previously performed on the stages of Crazy Horse, Center Pompidou, Café de la Danse or at the WWW in Tokyo on the occasion of the release of his album Before the first time (2018).
LEONARD LASRY
Concert
Jeudi 09 Décembre 2021 – 20h00
Café de la Danse 75011 PARIS
G.Wen.: Who is Léonard Lasry? 
L.L.: Born and raised in Paris, I started to compose things, single melodies at first, quite young, then I fell in love with the "song" format, while doing my studies I made models of my songs, then from project to project, I ended up releasing a first album. I started performing at that time, I spent those few years doing small venues, promotional concerts etc before making another album 2 years later. Now it's been over 10 years that my life is written in songs, there hasn't been a single year that I haven't been on an album project for myself or a song, album or project for another performer, a film, a brand etc.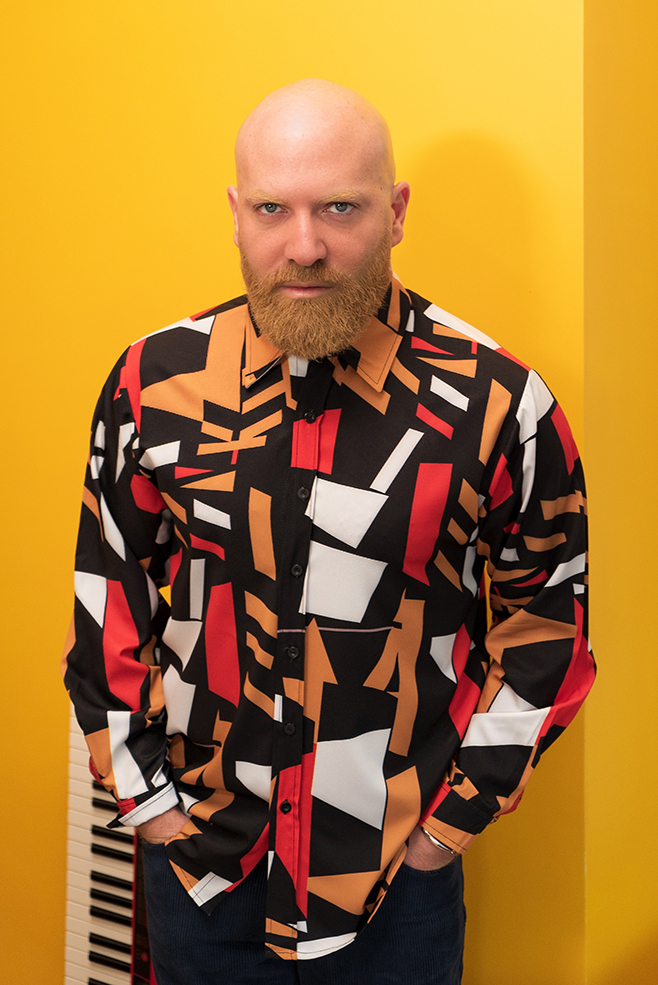 I recorded in New York with actress Jane Badler (Diana in cult series V), photographer and stylist Maripol singed for me, also in NY. I was happy to work on English language creations. Other collaborations followed (burlesque artist Lolly Wish, Marie Amélie Seigner, Crazy Horse, Hervé Leger …) and finally after all this time it was the moment to return as a performer. It had never left me but I felt that it was no longer the time, I was working on my songs and then finally, in the existence natural rhythm, everything was ready for 2017. I was able to perform on the scene of the Centre Pompidou, Crazy Horse in particular and even in Japan, in Tokyo with this album. In the end, it was a bit of a new start as a performer. You're not really the same at 35, comparing to 24  years old. The weight of the words, the moods present in the songs, all is different. "Randomly this hope" came as a follow-up, my repertoire spans more songs all created in recent years and corresponding to what I wanted to defend musically.
G.Wen.:Didn't you mentioned in an interview that it was kind of a sentiment notebook, can you tell me about the concept of the album?
G.Wen.: "Randomly, this hope" announces your return to the Song? Are you coming back as a composer and performer?
L.L.:  Yes, a "comeback" already started with the previous album "Before the first time" at the end of 2017. After my first 2 albums "Des illusions" (Illusions) and "Nos jours légers" (Our Easy Days ) released more than 10 years ago, I got a bit withdrawn and naturally I devoted myself to other projects which did not put me on the front of the stage as a performer. I first met Elisa Point with whom we had made the duet album "L'exception" (The exception) that we presented via video projections, sort of tributes to the sixties cinema aesthetics. I took then leave of live music and discovered other ways to immerse the public in my music. While also devoting myself to other emerging activities in fashion, a line of jewellery that I designated for 2 years and the development of the THIERRY LASRY brand with my brother, I began to collaborate with others artists and multiplied different projects.
L.L.: This album is mostly about intimate feelings. There is a lot about love, Great Love. The stories that mark our life, that leave imprints forever. The previous album was more dominated by short-lived stories, the energy of the moment. The songs are all born from my tandem with Elisa Point who signs the lyrics and me the melodies. I also wanted to sing more, to have melodies that allow me to use my voice sometimes differently, as in "Ce que je ne dis pas" (That I do not say) on which can hear another "voice" in a way on certain passages.
G.Wen.: What is the album's colouring and universe? What are the sources of inspiration ?
L.L.: This is what I call a "pop" song. When I say "pop" I think of the pop orchestras of the 70s. The formation of the album follows this tradition, without being in the retro. There is a great base of piano, mine, the one where I compose all the songs, then bass guitars, drums and strings. The possibilities are limitless. I wanted a "positive," hopeful album, something sunny. I sing about melancholy sometimes, but never anything really sad or dramatic. Most of this album was composed in Italy, I wanted to give it a warm melodic colour with romantic melodies.
G.Wen.: You carried out an artistic experience during the last confinement, can you tell us about it?
L.L.: Yes, "Randomly this hope" was already largely recorded, but everything was on stand-bye. We wrote new songs and I recorded them at home and released before the end of the first lockdown. It was perhaps not essential but it pleased some and made me happy too. My distributor produced a very limited edition of the album and the Internet users who ordered the album received it at home in full confinement. Subsequently I wanted to remove these songs from the platforms because they were really recordings of the moment. We were in such opaque times, we will never forget this moments, the whole world was at home at the same time. You can still find online this album called "Se revoir peut-être" (maybe we'll see each-other again). I recently re-recorded 2 of the album songs: "Ce qu'il fallait dire" (What should be said) one of my favourites. It can be found on the new edition of "Au hasard cet espoir" and "Naples" on the  "Via Condotti" EP. 
G.Wen.: Can you tell us more about your collaboration with Charlotte Rampling?
L.L.: I've always liked her voice, her phrasing. She is one of my favourite actresses. Charlotte had already released albums that I found very beautiful, she spoke, sometimes she sang in a very confidential tone. On "Via Condotti" it was ideal and obvious. When I offered her the song with the "role" of the spoken part, it was so obvious for her. We tried it and immediately felt that it worked and that we were in our own right in the song. The two characters exchange on their love through the streets of Rome. Charlotte was so precise, so touching in her interpretation, I am overwhelmed by this song for two.
G.Wen.: In this album you also pay tribute to Coco Chanel? Is your link with the fashion world very present? Can you develop on your associations with the fashion world?
L.L.: Elisa Point is very good at writing "tribute" songs in subtle ways that can be heard knowingly or unknowingly. We together recorded an album "Elisa Point Cinema" released in early 2020, which paid tribute to 18 legends of cinema. That way. "Vagabonde éternelle" (Eternal Wanderer) traces the journey of a determined woman who left a strong legacy, who heroically spanned 3/4 of the 20th century.
G.Wen.: What do the women from your duets (by Amina, Sylvie Vartan and Charlotte Rampling) have in common with your vision of femininity?
L.L.: Each inspires me in a different way. They  all have unique voice timbres, immediately recognisable and with great sensuality. The sensuality of words, a way of their own to put their voice on songs.
G.Wen.: What is this vision or embodiment of elegance? They say you sublimate women?
L.L.: All the women I make them sing, have their own way of expressing their femininity. Femininity is not a cleavage or a beautiful dress, it is above all, a gaze, it is a voice intonation, it is a way of being, regardless of physique or age. These women; who sing for me, are seductresses in their own way. I love glamor, seduction, sensuality and it seems that my melodies lend themselves to highlighting that in women.
G.Wen.: Are your songs imbued with a cinematic universe? This universe, is it close to new wave?
L.L.: Yes, maybe because I learned the piano by listening to the melodies of Francis Lai or Michel Legrand, there is quite a bit of cinema in my songs, without it being premeditated. The texts that I sing are often also pictorial and create an atmosphere, a bit like little films for ears.
G.Wen.: Can you mention "Merci pour le regard" (Thank you for thy gaze) with Sylvie Vartan, your artistic bond with her?
L.L.: I loved working with Sylvie Vartan. We recorded 5 songs together for her new album. The song "Merci pour le regard" is precisely very cinematographic, the story of a single woman who wanders in a nocturnal Paris, in the alleys of the Grand Palais during the Edward Hopper exhibition, I also sing in the choirs of the tune of this song which gives its title to the album. Other songs are more intimate and were composed for her "Recital" tour for her 60 year career! I composed the 5 songs and also wrote and composed the final song "Tout reste à dire" (all remains to be told), a sort of testamentary balance sheet, an ideal vision of mine to hear her sing those words and that melody. My artistic bond with Sylvie? Love of songs, melodies, lyrics, and then a passion for her fascinating discography, she is a monument of French pop music and song.
G.Wen.: And "La lumière de mes choix" (in light of my choices) in duet with Amina is a love song?
L.L.: We sing "On est prié de se plaire" (we are asked to like each-other) in a duet, in total symbiosis / unison on the choruses. Beyond this duo, it's a whole album thought out together from A to Z, that I'm very happy with. There is also my voice doing backing vocals on almost all of the songs. Amina is a fabulous performer. She gave me the control and trusted me completely to sing in a different way too, without putting any barriers to my directions. It's also kind of an actress album, but sung by a great vocal performer.
G.Wen.: What is Love for you?
L.L.: Love is the magic of life's surprises. Its different shapes make it more beautiful… There is plenty of love possible, but to live without love is very sad….
G.Wen.: Can you tell us about your collaboration with Jay-Jay Johanson?
L.L.: After nearly a million albums sold in major, Jay-Jay wanted to return to something more artisanal for the rest of his recording career, less middleman and more freedom. I took up his song "Quel dommage" (What a pity) by adapting it in French on my album "Nos jours légers" in 2010, we had been in contact with him to give me permission. Later he followed my development and wanted to join my label 29 MUSIC. We have already released his last 3 albums, the last of which is called "Rorschach Test". Jay-Jay also sang in French a song "La vraie fatigue de Paris" on my album "Avant la première fois" (Before the first time), I worked on 2 alternative versions of his singles "Romeo" and "Why wait until tomorrow" on which I also made Amina sing… Jay-Jay is a brilliant artist who is constantly thinking, inspiring new projects. We both have strong rhythms and we always think about what happens …
G.Wen.: Tell me about your next project?
L.L.: My next project is a surprise "Christmas" project. I had wanted to record a Christmas song for a long time. Finally this year it will be the case, the 17/12 will be released "Joyeux Noel" (Merry Christmas) . It's a duet that I just recorded with a very talented young artist called Almée. We just met and the feeling passed straight away. Almée invited me to sing this song which is a cover of Barbara. I know most of Barbara's repertoire but I didn't really knew this song, which I find very beautiful. We recorded it with our imprint, our voices work well together!
G.Wen.: And your ideal playlist?
L.L.: A rambling playlist of which I really like each of the 12 songs:
Phyllis Hyman "Loving you, Losing you"
Paul McCartney & Michael Jackson "The Man"
Fairuz "Habbaytak Bessayf"
Andrea Laszlo De Simone "Dal Giorno in cui sei nato tu"
Etienne Daho & Debbie Harry "The Stranger"
Richard Cocciante "Il ricordo di un instante"
Malcolm McLaren feat. Catherine Deneuve "Paris Paris"
Rumba Tres "Perdido Amor"
Marianne Faithfull & Rufus Wainwright "Children of Stone"
Elton John "Goodbye Yellow Brick Road"
Michelle Gurevitch "Here's the part"
Tamino "Indigo Night"