« This is a collection where I have a different vision, like the pol north shifted towards a new position, a more interesting one, like the new generation's awareness, over all bout nature and social facts, and many other topics. So I wanted to make a collection where I can immerse myself in beauty, in real Beauty. There is a saying: "Don't be afraid of beauty." Because it is something that can scare you of, so they search for alternative beauties when, in reality, we should not be afraid of it. It is an extraordinary thing and for me was the point de fuite, the escape door, so important this times when we stoped, sat down and re-oxigenated our souls and minds. This research board, this photos, I was looking at on instagram, were like windows, horizons oxygenating my spirit. »
« So I told myself I have always adored the Beauty, so I have to be even truer to myself and follow my vision with no compromises, go forward with this new ideal of feminism. The new generation of women is absolutely self-aware of their femininity. They can wear whatever they want, do what they want and live how they please, and establish themselves in any field of work. They belong to themselves, and this is extraordinary, so I am here to support this new attitude.
There is the nature, here you have these interiors going beyond a design concept, there is fantasy. You can see Louise Bourgeois' works, the  artist that taught me much about femininity, the most intimate parts, with her colours, the touch, the tenderness she welcomes these women,  with her sense both protective and violent. There is all this fantasy, like a kaleidoscope of my lockdown.
So, as I told myself I am not afraid of beauty I knew I wanted to intemperate it completely. Look at this flower bouquet … in front of it you can meditate about the sense of life and regenerate life. I believe today we have to spend more time for ourselves, take care of ourselves, of our skin, our mind and soul, for our environment, like a daily hygiene, a routine. So I made a collection for myself, my pleasure, and if the others like it is a hit. »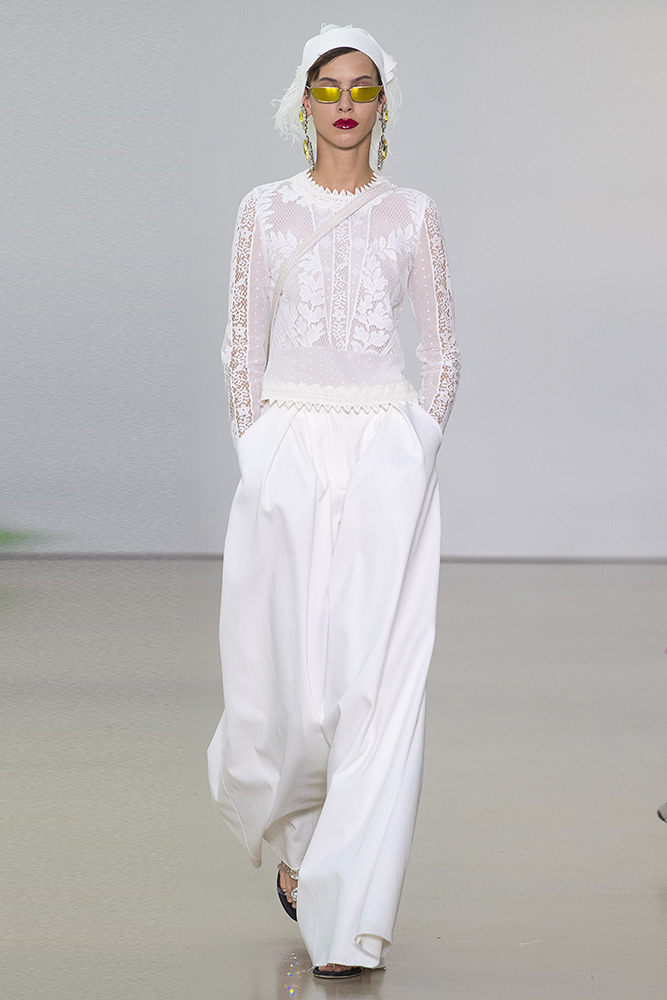 Well, we can say it is a hit, Giambattista Valli is obviously true to himself, his signature, so strong is blooming here. And I do not make a silly word game because flowers and fresh colours are involved in this spring summer collection. There is something opulent and virtuous but in the same time sunny and brisk like a breeze. We always enjoyed the Valli exuberance. Here, the hairstyle and jewels reminded me of the Lacroix woman, the free extravagant of the end of 80s and 90s, but somehow now it make even more sense, for he is right, women are finally ready to be who they want to be, sometimes not even who they are, and, over all, not what they are supposed to be. He used the word "oxygenate" and he talked about "beauty", the perfect place, the Parisian Modern Art Museum, a total visual nutriment.
The pretty models walked through the galleries with nonchalance and determination mixed with a tender romanticism. Fallen shoulders, precious embroideries, frills and bows, crinoline or asymmetry, ruffled crop tops, feathers or structures, sequences or transparent layers, the perfume of a far away garden.