by Alexandra Mas
During the 80th edition of the Mostra, Giorgio Armani received the prestigious Golden Lion Award in a deeply personal and emotional ceremony that seamlessly transformed into an exuberant celebration on his private yacht. The story of Armani's enduring connection with the film industry could easily serve as the plot of a captivating film itself.
Mr. Armani shared his sentiments on this momentous occasion, saying, "It brings me great joy and emotion, an important recognition of my work, which I am delighted to receive in the year of the 80th Festival, on the occasion of One Night Only Venice, an event I decided to organize as a tribute to the city to which I have been deeply attached for many years."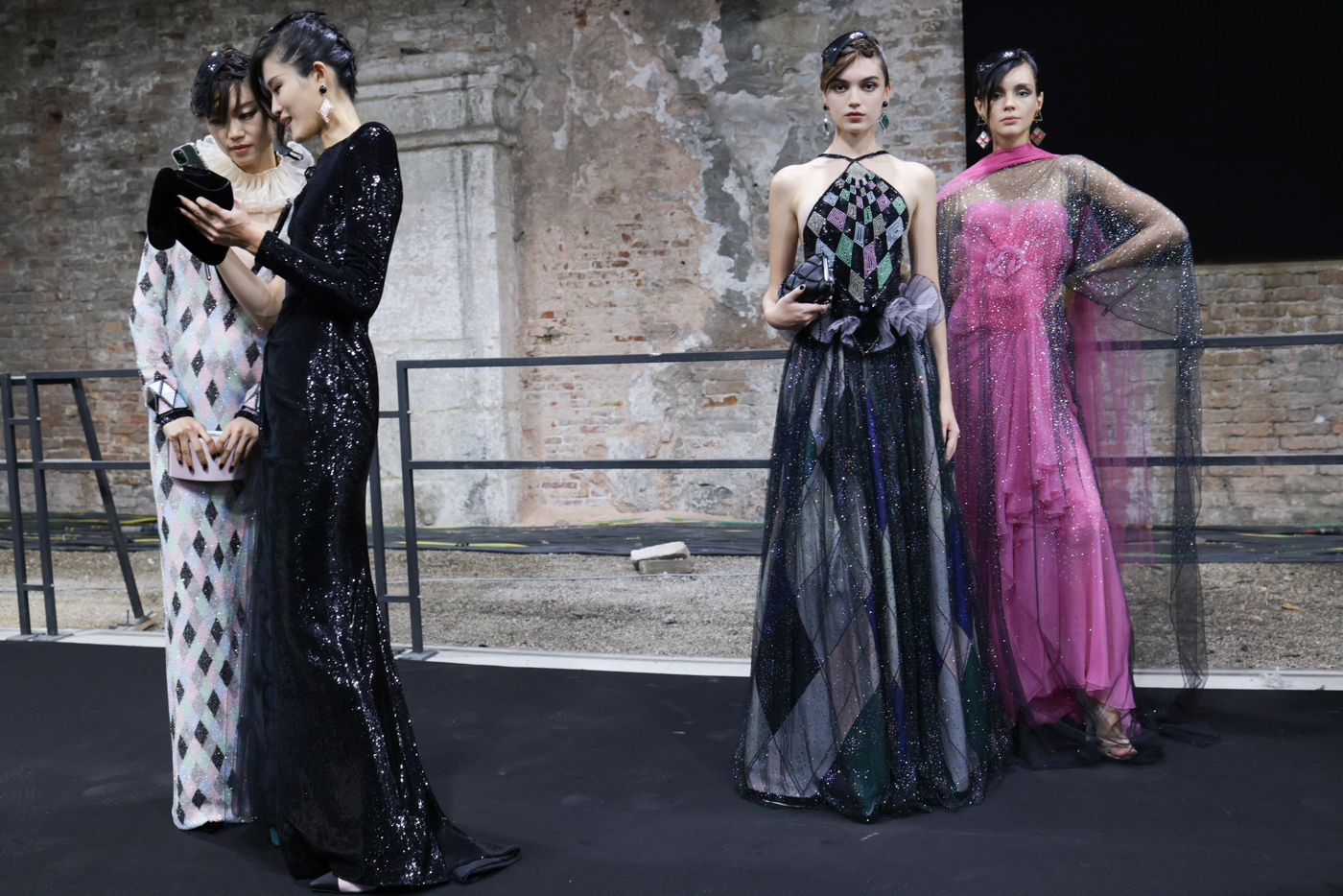 One Night Only Venezia was one of the most highly anticipated events during the 2023 Mostra di Cinema. It was held at the Tese Delle Nappe in the Arsenale. The guest list included luminaries such as Sophia Loren, Jessica Chastain, Benicio del Toro, Michelle Rodriguez, Sergio Castellitto, Giuseppe Tornatore, Gabriele Salvatores, Luca Guadagnino, and Barbara Palvin, among others. A vibrant presentation of haute couture pieces were meticulously curated by Giorgio Armani himself, most of them for their Venetian inspiration. Once again, the event was graced by the presence of Blanca Padilla and Agnese Zola, who elegantly showcased the master's creations. And for us, it was a true privilege to capture Jessica Chastain's portrait and engage in a thought-provoking conversation with the brilliant Michelle Rodriguez, adding an extra layer of magic to this unforgettable evening.
Jessica Chastain attending the One Night Onli Venezia event
One Night Only Venezia also proved to be a joyous celebration, where top models and esteemed guests savored glasses of Ruinart champagne against the backdrop of a mystical live performance by Róisín Murphy, followed by a lively DJ set by Mark Ronson.
One Night Only Venezia has been a series of international events, spanning from London in 2006 to Tokyo in 2007, Beijing in 2012, Rome and New York in 2013, Paris in 2014, and Dubai in 2021. Yet, the connection between Giorgio Armani and the Venice Film Festival runs much deeper, dating back to 1990. After the world premiere of the documentary "Made in Milan," directed by Martin Scorsese, Armani hosted a grand soirée in honor of the acclaimed filmmaker at Ca' Leone on Giudecca. Armani's signature couture adorned both actors in front of the camera and on the red carpet, leaving an indelible mark on generations of cinephiles. It comes as no surprise that Armani Beauty is the Mostra di Cinema's main sponsor, providing official makeup for the sixth consecutive year.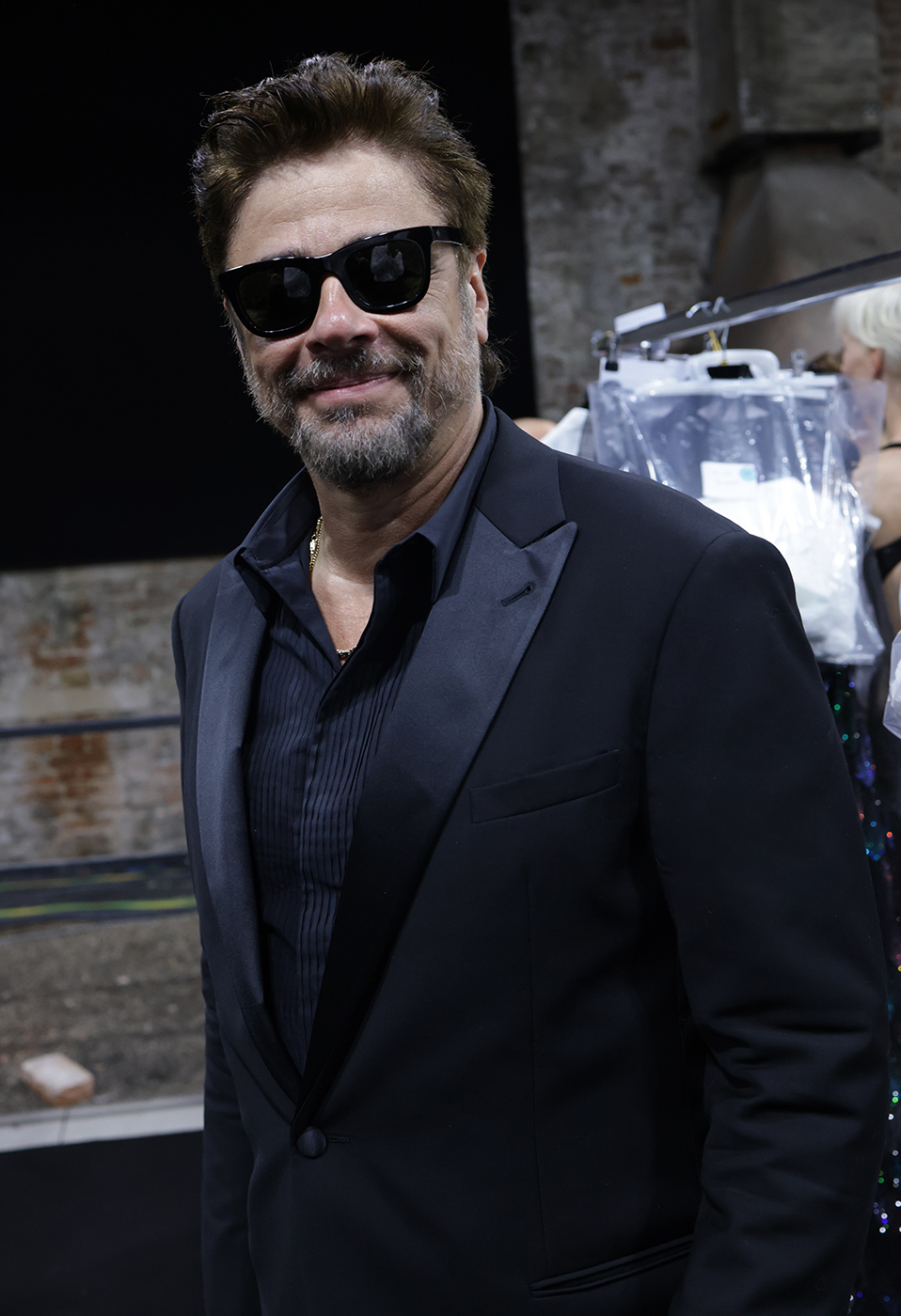 top model Blanca Padilla and actor Benicio del Toro
photos by Marco Tassini 
For Giorgio Armani, beauty holds a profound significance, and design also plays a pivotal social role, one that strives to make us more conscious and better. The Armani Group is committed to promoting the reuse and recycling of materials and advocating for low energy consumption. One Night Only Venezia 2023 was meticulously designed to minimize its environmental impact, in strict adherence to ISO 20121 standards.
All residual greenhouse gas emissions associated with the event will be offset through support for environmental initiatives managed by organizations such as 'Sea the Change' and 'Società Agricola Blue Valley,' dedicated to preserving the ecological equilibrium of the Venetian Lagoon and restoring its ecosystem and biodiversity.
Furthermore, the Armani Group has chosen to make contributions to support 'We Are Here Venice,' a non-profit organization engaged in research aimed at safeguarding the lagoon and advancing our understanding of the societal value inherent in this unique environment. Additionally, the Group will contribute to the non-profit foundation Venetian Heritage, which finances initiatives to protect and promote Venice's artistic heritage worldwide. This donation will support the conservation and restoration of selected works from the Giorgio Franchetti Gallery collection at Ca' d'Oro, enhancing the cultural wealth of the city.