"Deed Julius is an enigmatic and boundary-pushing artist who defies categorization. With a penchant for embodying multiple characters and blurring the lines between art forms, he brings to life a phantasmagorical universe through performances, visual art, and music. Rejecting norms, Deed challenges conventions and embraces the unexpected. Drawing inspiration from diverse influences and fueled by spontaneity and improvisation, he creates immersive experiences that captivate and provoke thought. So how do we label the unlabelable…  with a unique blend of humor, irony, and flamboyance, Deed Julius pushes the boundaries of art, inviting audiences to question and explore the complexities of identity, society, and artistic expression."
Alexandra Mas
interview by G.Wen
G.WEN: Deed Julius, who are you?
Deed Julius: Answering that question is difficult because my intention is to not identify myself, to reject labels, categorizations, and norms, and instead embody multiple characters. The only figure that could characterize me in my artistic activity is that of the blob. This creature with blurred boundaries, somewhat unsettling, capable of taking on any form, absorbing, transforming, and discarding everything it encounters. In one of my songs, I say, "I am not L, I am not G, I am not straight… I am just a blob, a loving blob." That's exactly it.
But more concretely, one day a few years ago, I decided to be an artist while qualifying myself as a "non-artist." Through chance encounters, desires, and intuitions, I had the opportunity to create and present dozens of "performances" in diverse venues such as art galleries, nightclubs, bars, terraces, a cave, a porn cinema, and a laundromat. I also do drawing, photography, and songs.
G.WEN: Can you tell me about your artistic work and its concept?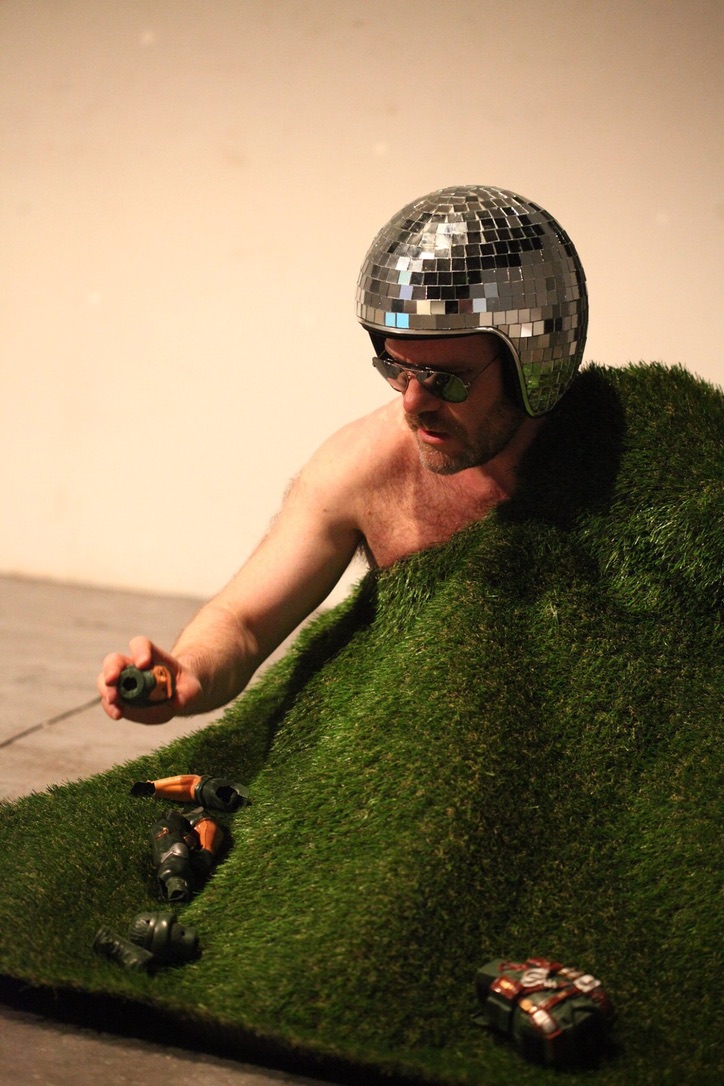 Deed Julius: Initially, I don't really have a concept but more of a desire. A desire to bring to life a mental, emotional, and phantasmagorical universe, to make it tangible through the embodiment of characters (or sketches of characters) during "performances," as well as through my visual and sonic production.
It's a universe where I mix everything, all styles. I play with contrasts, humor, irony, the ridiculous, and the flamboyant. Between refinement and coarseness, spectacle and non-spectacle, beauty and ugliness, thought and idiocy, grandeur and deliberate ridiculousness. The aim is to surpass, transcend all usual norms or frames of reference, and allow myself to do whatever comes to mind. I love and defend ambiguity. I enjoy not knowing exactly where I stand.
G.WEN: Tell me about the subject of your artistic research.
Deed Julius: I am interested in spontaneous creation and improvisation. I explore a way of creating where everything is fair game. What we call chance, what we call reality, are an infinite creative material. I explore intuition and the playful energy of childhood, embodied in an adult body. I also find it stimulating to approach an artistic field without mastering its techniques, embracing a form of raw art. I defend my characters, who all share the quality of being "bigger than life" and quite eccentric.
G.WEN: What are your artistic references and inspirations?
Deed Julius: I don't have a single reference, but I believe I have been unconsciously nourished by multiple influences, mostly outside the realm of art since I originally had a very limited artistic culture.
As a child, I loved the worlds of Hara-Kiri and the cartoonist Reiser. I was quite fascinated by bizarre universes and horror films from the 80s. I can also mention John Waters, David Lynch, the Rocky Horror Picture Show, and Monty Python.
G.WEN: Can you elaborate on the creation of a particular artwork or performance?
Deed Julius: I think of an evening spent in a laundromat as part of the Nuit Blanche event organized by Le Générateur in Gentilly, with the "noise" group Fame Fatale.
I started with the name of the laundromat, "Lavatronic," to recreate a universe referencing volcanoes, eruptions, and the idea of an ecstatic character who had come close to explosion during an exploration.
It was an opportunity for a long sound and textual improvisation, interactions with visitors, and moments of brilliance. Ultimately, we transformed this ordinary place into something strange, like a smoky spaceship, a leap outside of society, with no connection to volcanoes anymore.
G.WEN: What is your current artistic news?
Deed Julius: I often perform my songs at Castel Paris.
I will also take advantage of the summer to record new songs and continue writing a book of texts and photos, a kind of "blobist manifesto."
G.WEN: How do you perceive or feel about fashion?
Deed Julius: I'm not very connected to fashion, but I appreciate clothing or, rather, costumes as a means of expression. That being said, I think some of my costumes could be highly relevant for Fashion Week. I appreciate clothing for its ability to transform, sublimate, or distort a body. I am sensitive to how they are "embodied," not just worn but brought to life.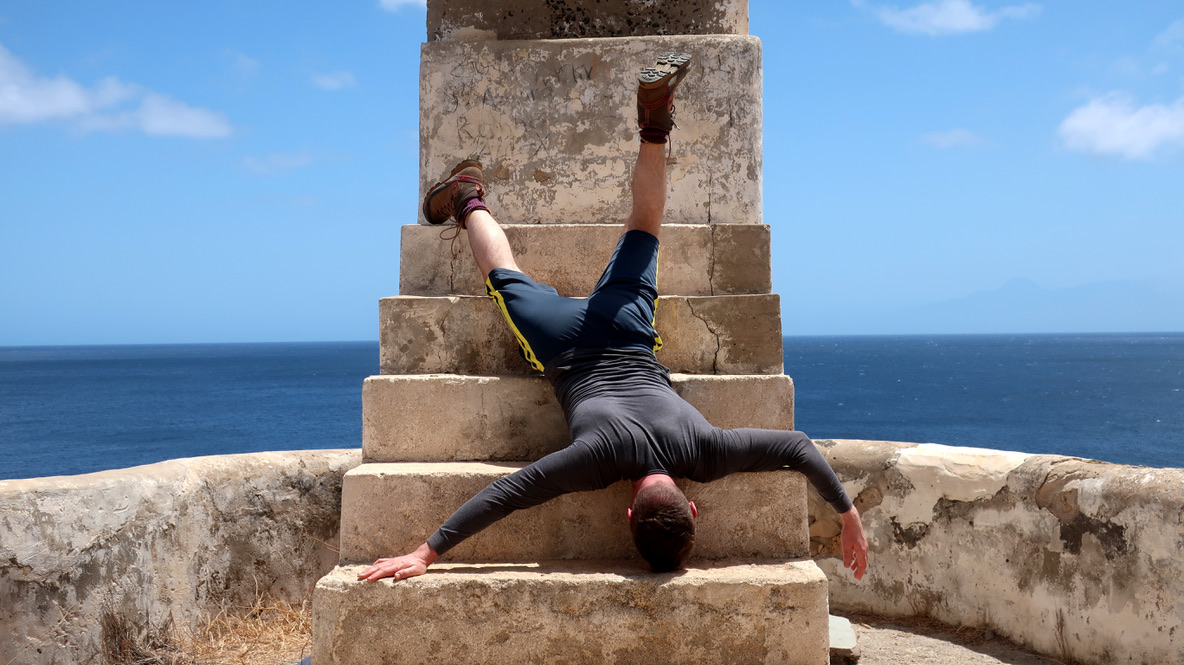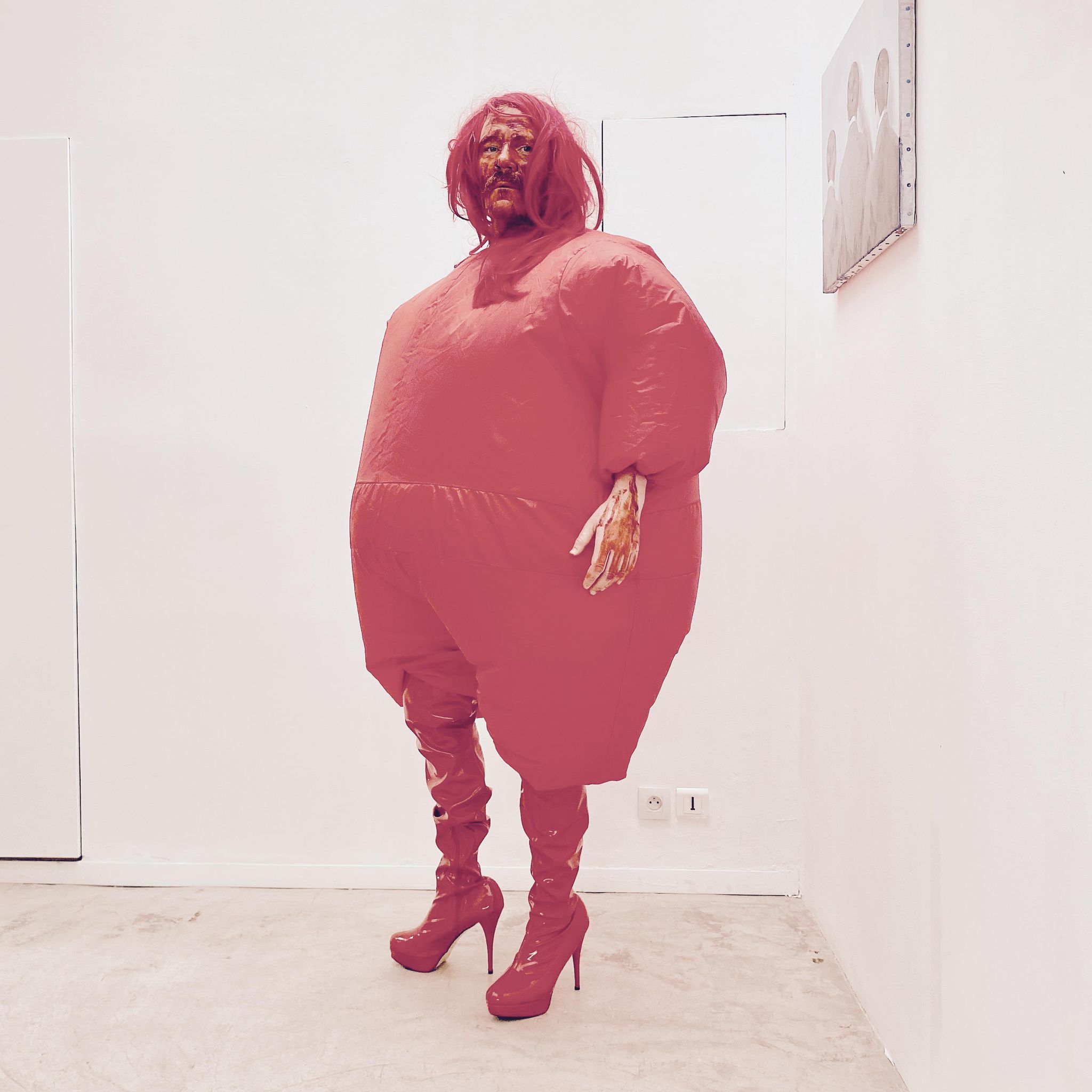 Here "Blob Rouge" – photo credit: Dom Garcia. Other photos credit: Deed Julius