by G.Wen
Author-composer and performer, Céline Aviani leaves nothing to chance. From her Gascony roots to Paris, from the Conservatoire de Toulouse in Contemporary Music to a finale in Canal+'s "Repérages" casting in 2016, and with over 150 dates in France and Paris (including the Jazz in Marciac Off and Théâtre la Cible in Pigalle), this young artist-producer (who has just created her label, 21 Productions) has known from the beginning of her journey what she wants to convey through her songs. To accompany us, her unique and deep voice invites us to listen attentively and be carried away by the profound and sincere energy that animates her. Immersed in French melodies, drawing inspiration from current pop and the artistic richness of the musicians she collaborates with, she is currently preparing for the release of her impactful and committed debut EP, "I," which reflects the woman she is (the singles "La Nuit" and "Dis-moi tout" are available on music platforms). By choosing to support her, artists like Brice Conrad (known for his huge success with "Ohla" in 2013), the singer and arranger Otta (known for his work with Slimane and Kimberose), and media outlets like France Bleu Occitanie, France Bleu Gascogne, and Rtl2 Toulouse have recognized that Céline has a lot to say and that she is only at the beginning of a profound and powerful journey that she has come to share with us.
G.WEN: Céline AVIANI, who are you?
Céline AVIANI: My name is Céline Aviani, and I am an author, composer, and performer. Originally from the Toulouse region, I currently live in Paris. I am currently preparing for the release of my first EP, "I," scheduled for the fall of 2023. It will be the first extract from the album that I plan to release later on.
I am also a producer, and I have just created my own label, "21 Productions."
G.WEN: Can you tell me about the creation of your upcoming EP?
Céline AVIANI: My first EP, "I," is the first chapter of a story that I have come to tell and unfold throughout my album. It is a project that I am deeply committed to and draws inspiration from my personal story, convictions, and my broader vision of the world and humanity. The first EP will explore the concept of fracture and what can bring about transformative changes within each and every one of us. This summer, I will be back in the studio in Astaffort with the Cabrel family to finalize the remaining tracks.
G.WEN: Tell me about the themes of your songs.
Céline AVIANI: The themes of my songs mainly come from my personal experiences and the topics that my journey and reflections have led me to address. This first EP and the subsequent album will be divided into major chapters, covering themes such as roots, school bullying, childhood, and other universal subjects that resonate with everyone.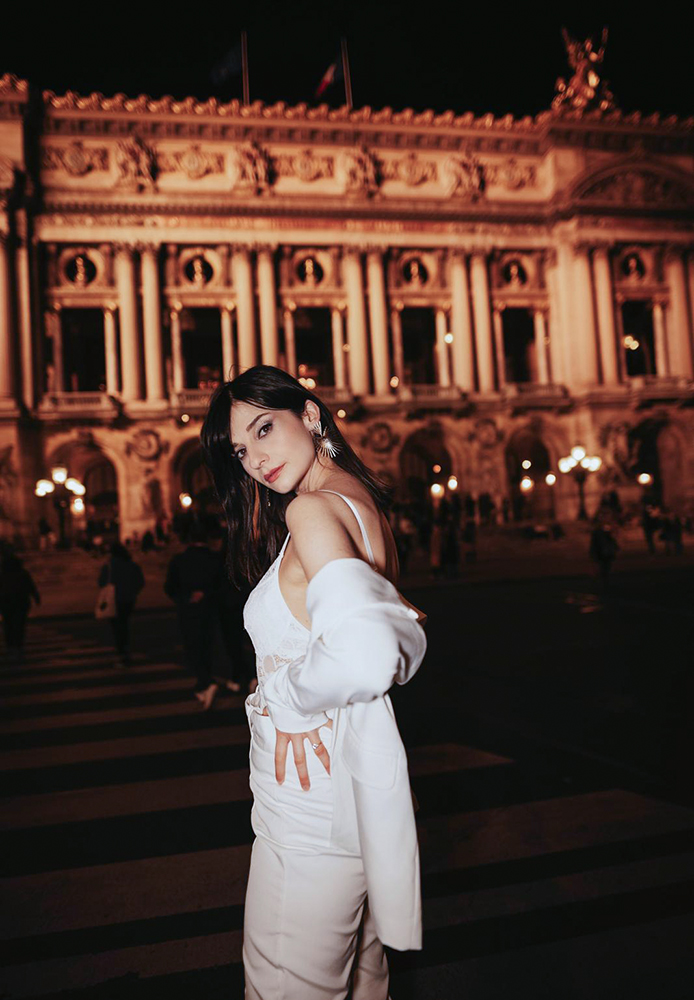 G.WEN: What is the essence of your musical universe?
Céline AVIANI: My musical universe lies between French variety and pop. I draw inspiration from artists like Calogero and Clara Luciani. The subjects I tackle allow me to alternate between emotionally-driven music and more energetic tracks.
G.WEN: Can you talk about the creation of the singles "La nuit" and "Dis-moi tout"?
Céline AVIANI: The singles "La Nuit" and "Dis-moi tout" were created at the very beginning of the EP adventure. "La Nuit" was born in Strasbourg, and "Dis-moi tout" was recorded in Paris during the final sessions at Twin Studios in the 16th arrondissement. I co-wrote and co-composed this track with the singer and arranger Otta, who has worked on albums by Slimane and Kimberose.
G.WEN: What is your current artistic news?
Céline AVIANI: This summer, I will finalize the remaining tracks for the EP before shooting the music videos that will allow the audience to dive into and discover my visual universe. Several concert dates are planned, and a video will be released on a popular YouTuber's channel on August 26. At the beginning of the new season, a new single will be released on all platforms.
G.WEN: What is your favorite playlist?
Céline AVIANI: My favorite playlist is mainly composed of French artists and songs that inspire me, whether it's through their lyrics, melodies, or the strength I feel in them. I am also greatly inspired by artists like Adele, Sia, and Barbra Streisand.
G.WEN: How do you perceive fashion?
Céline AVIANI: Fashion is a very important aspect of my life and in the creation of this artistic project. Ever since I was little, I have been passionate about this field and I try to stay updated on all the developments and new creations. I follow the fashion shows of each Fashion Week, and I have favorite brands and designers like Daniel RoseBerry at Schiaparelli or the work of Anthony Vaccarello at Saint Laurent. For my EP and album, I have created mood boards with very specific pieces and shapes. The visual aspect holds a special place, and I have the pleasure of working on it with my long-time friend Anthony Pomes, a talented photographer.