by Diane Pernet
I met Guram Gvasalia back when he had just self-published Size Zero: A Guide to Spiritual Management in 2012 and he was selling it at Art Georgia in Paris. Art Georgia was founded by Sofia Tchkonia. the idea was to introduce talent from Georgia to Paris. That was 11 years ago and I recently saw him at the Kim Jones for Dior Homme show. If you have not read the New York Times article by Vanessa Friedman, I suggest you do.
Rather than iChat's press release I'd rather give you statements from Guram himself:
VETEMENTS SS24 COLLECTION
"A tailor's dummy has fascinated me since forever. My grandmother owned a Singer sewing machine, and the dummy stood guard next to it. Its three-dimensional representation of the human body allowed me to visualize all possible designs and create garments in my head. Now, the tailor's dummy is an essential tool during my design process. I like to stay late hours in the atelier on my own and work on new pieces. After long hours, sometimes it feels like the dummy comes alive, and I can see the whole collection in front of me. I wanted you to see what I see, so I decided to bring the tailor's dummy alive and model this collection.
As a child, I would often go to a public library in search of books on fashion and art. One day, I accidentally discovered a series of books that changed my perception of reality. The books were called Magic Eye, and the pictures consisted of many patterns without giving any clear image. But if you focused your eyes through an optical illusion, a 3D image would appear out of the background. Many times, I dreamed that one day, I would be able to create this visual illusion in one of my collections.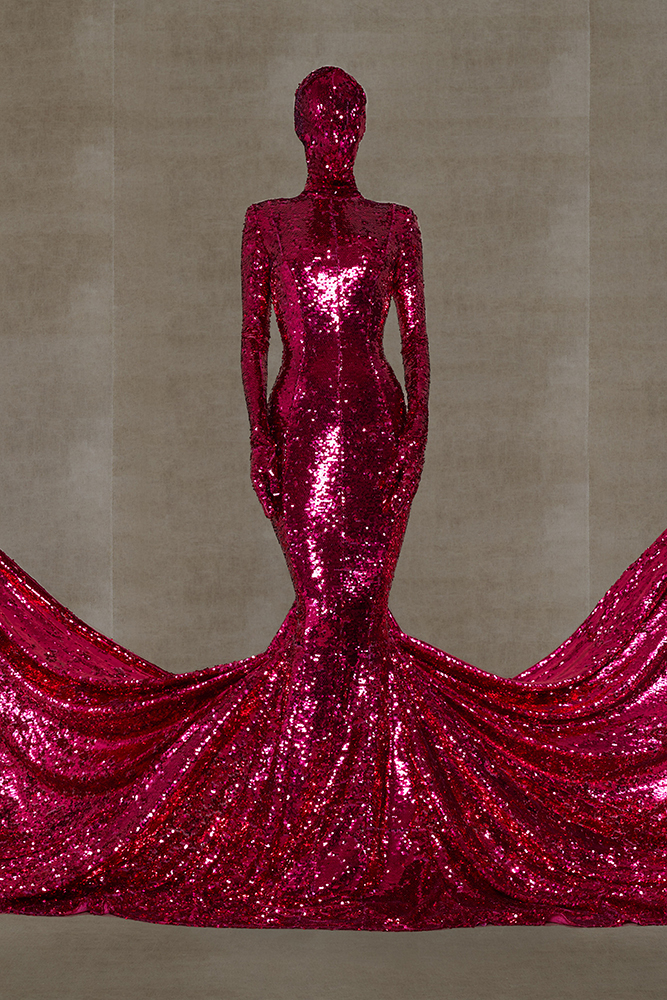 We 3D scanned a real tailor's dummy and transferred the print to a sustainably developed double stretch fabric that allowed us to create full bodysuits to transform real-life models into living tailor's dummies. We used the same materials to build a space that allowed us to create the Magic Eye visual effects. I wanted the mannequins to blend in and stand out at the same time. I wanted the collection to have a visual effect of AI-generated garments. I think AI has blown the roof off imagination, and people can now visualize things that they could only imagine before. However, we still live in a real world, as the Apple Vision headset is yet to be released. I wanted to create a physical objects that would look and feel like an AI-generated units, while exploring all the facets of what fashion is from the most casual to couture.
On the contrary, in its core, the collection is actually anti-AI, as the quality and the craftsmanship involved can only be done by human hands and with a passion that no machine can have. There is a genuine play on bringing digital to the physical world. I digitally modified the patterns of everyday items to completely blow them out of proportion, creating an extreme version with new unique silhouettes and the flow of the garments.
This season, I wanted to introduce VETEMENTS eveningwear. Partially, because it was a new uncharted territory for VETEMENTS, and partially due to a demand from celebrity clients who are constantly asking for dramatic looks every award season.
I love to work with friends and people with whom I have more than just business relationships. One of my dear friends is Elie Saab, the master of couture and evening dressing who practically invented this category and has ruled it ever since. We always discussed working together but never found the right reason. Once I decided to do eveningwear, there was no better couturier to work with. This is how the final part of the collection was born. I knew I would need the know-how to construct these garments, and Elie has it. To be honest, I think he was slightly shocked when he saw my initial designs as they had a very different aesthetic. However, it was a blast to work closely together to bring what once was just a dream to reality!
We wanted to play with AI even more and asked CHAT GPT to write our press release." -Guram Gvasalia, Creative Director of VETEMENTS