"You have to imagine Sisyphus happy."
A. Camus.
ABSURD? (2022- 2172)
42/12.000 paintings
"Painting the book by A. Camus: The myth of Sisyphus using sticky notes.
Rewrite the philosopher's essay on the theme of the absurd on "Post-It" notes, like so many things to do. Each of these little pieces of ideas will be crumpled up to express oblivion and self-denial. A painting will be made for each of these thoughts. Approximately 12,000 paintings to be made over a hundred years of work. Each of the paintings will contain the book within it, removed from the few painted words…."
Sébastien LAYRAL
The exhibitions in 2023
RIOM : Ecole d'Art (from February 24th to May 27th)
PARIS : Galerie 18Bis (from March 4 to May 2)
BRIVE : Chapelle Saint Libéral (oct. nov. dec.)
PARIS: Plateforme – Amour IV (from 21 January to 5 February)
According to the Iliad, Sisyphus lived in Ephyra (the future Corinth) and was the son of Aeolus (the eponymous ancestor of the Aeolians). When Zeus kidnapped Aegina, the daughter of the river-god Asopos, Sisyphus denounced the kidnapper to the girl's father, thereby incurring the wrath of the king of the gods who decided to kill him. But when Death came for him, Sisyphus managed to chain him up and for a while no one died. It was necessary for Hermes to come down at last to the rescue of Death, and Sisyphus had to submit. However, he had previously taken care to order his wife, the Pleiades Merope, not to perform the ritual sacrifices and to leave his body unburied: so when he arrived in the Underworld, he was given permission to return to earth to punish her for this impiety. When he returned home, he resumed his existence, not worrying to return to Hades, and lived to a ripe old age. When he died for the second time, the Gods imposed a punishment that took up all his time in order to prevent him from inventing any escape: he was condemned to push a huge boulder up a hill for ever, which would roll back down the slope as soon as he had succeeded in hoisting it to the top.
According to a posthumous tradition, he is said to be the real father of Odysseus. In fact, Sisyphus was, like Prometheus, an extremely popular mythological character, the very type of cunning wily man, punished forever in Hades for having dared to deceive Death.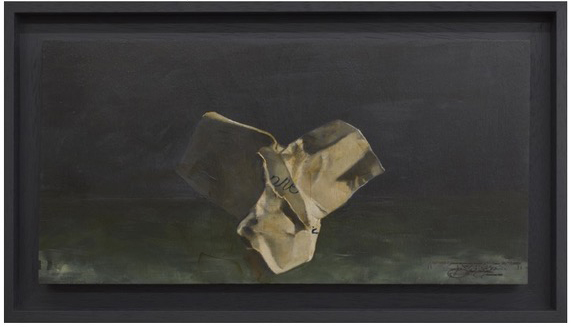 "Take the time to paint it,
The time of a book
Infinite writing
Slowly re-born each day
Falling again and again.
To dispossess oneself
 

And inhabit its fall.
 

Rise again 12,000 times
Another 100 years.
Exhaustive loss."
Layral
Opening of the Sébastien LAYRAL solo exhibition named ABSURDE on Friday February 24th  at 7pm.
Art School of RIOM, (63) from February 25th to April 27th
openings:
Wednesday to Friday from 13h30 to 17h
Saturday from 10am to 12pm and from 1.30pm to 5pm
2, Faubourg de la Bade, 63200 RIOM
information:
04.73.33.06.60
ecole.arts.plastiques@ville-riom.fr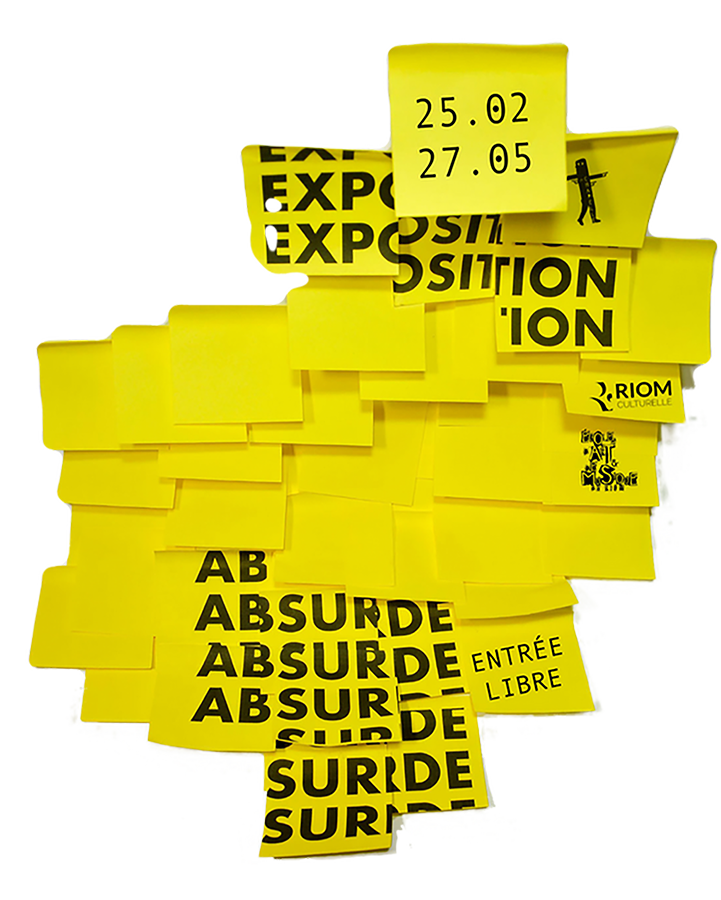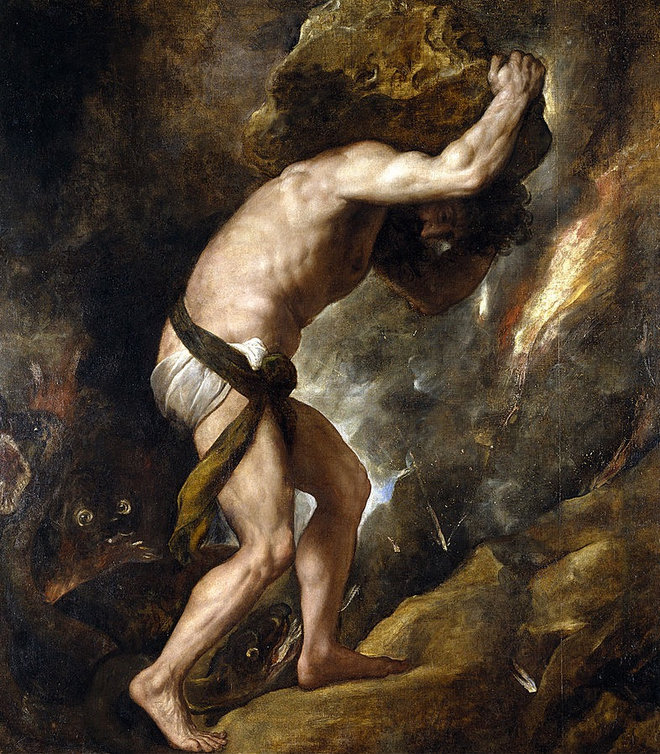 Sisyphus
1548 – 1549, oil on canvas, 237 x 216cm Titian
Prado Museum