Marco de Rivera has been a fixture on the Paris fashion scene for decades but for most of us he remains a mystery. We know he is cultured, friendly and elegant but what else do we know? Who is Marco de Rivera and what exactly does he do?
by Diane Pernet
DP: Where did you grow up and what was your childhood like?
MdR: I was born in the tropic of Cancer on June 18 in Tegucigalpa, the Capital of Honduras.  This is a symbolic date because my life was to take place in Paris. Have you read One Hundred Years of Solitude by Gabriel Garcia Marquez? Tegucigalpa has resonance with Macondo de Marquesz. One Hundred Years of Solitude tells the story of the rise and fall, birth, and death of the mythical town of Macondo through the history of the Buendia family.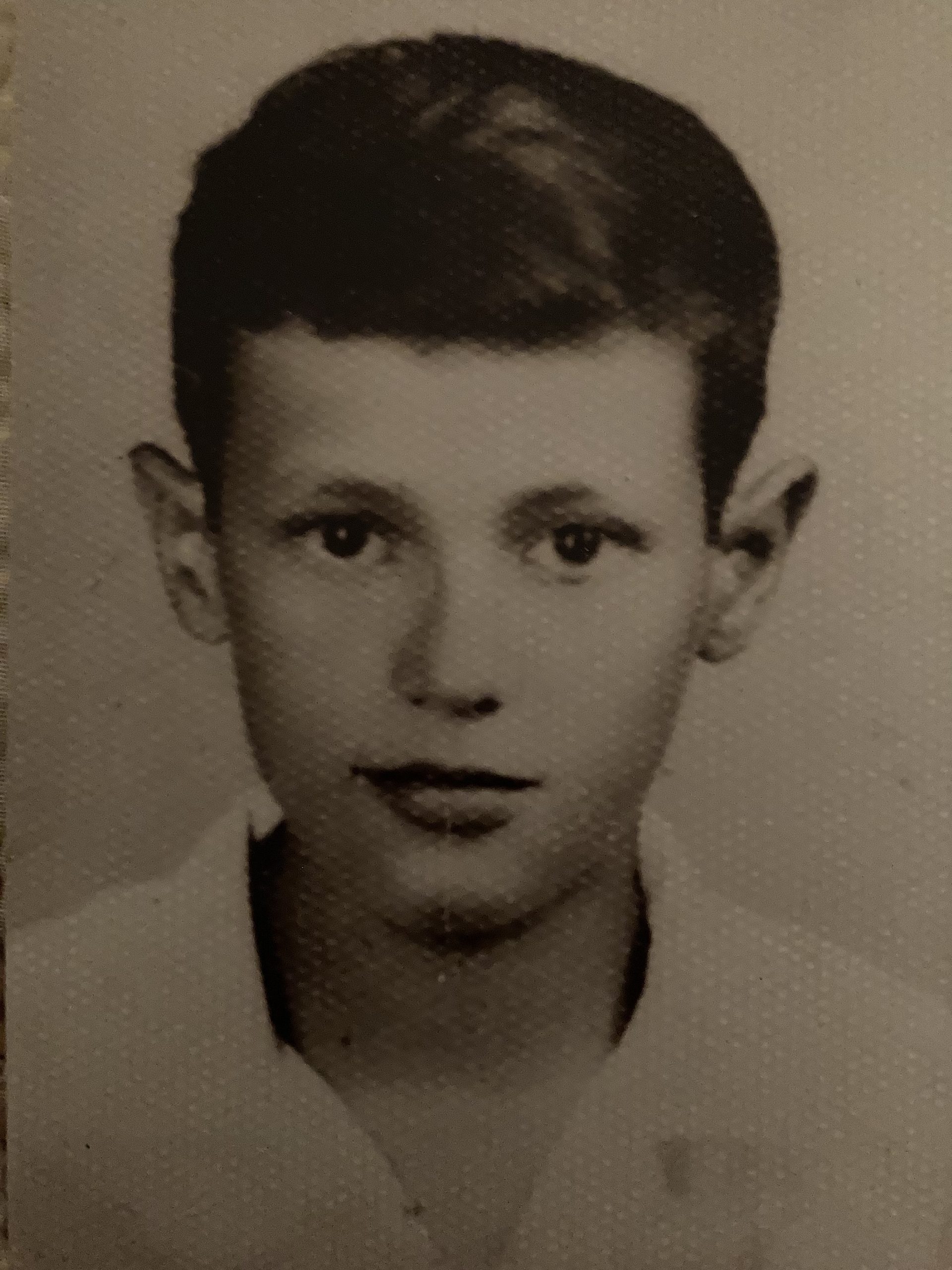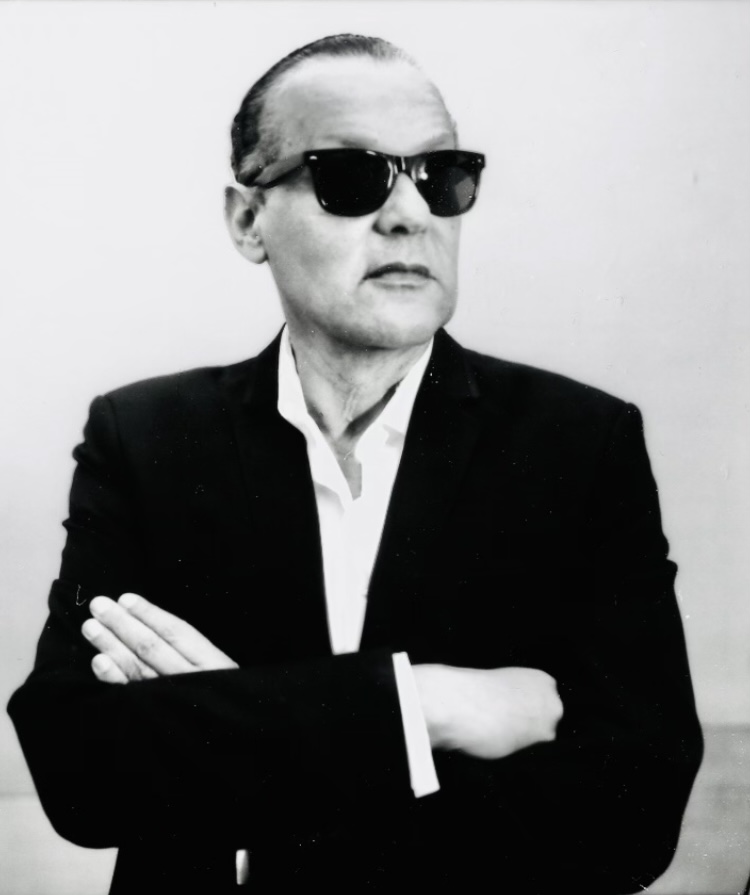 My city.
I am descended from the third generation of Spaniards who arrived in Central America in the 18th century. My childhood was governed by symbols. Because my family were builders, the bridges of my childhood, the opera, the stadium, Concordia Park and houses with a Spanish colonial spirit were all landmarks they created.  Even the walls of my school had Les Échos de ma famille.
It's hard to escape anonymity.

Having a more reserved nature in appearance in my early childhood I had to fight for another path. Luckily there was my grandmother whose life poured out like a fairy tale something out of the pages of Marquez's book. My imagination goes a mile an hour. My best memories were about Marcel Proust and his beloved madeleine.

My father was an intellectual, a lawyer by profession, his ancestors were from Seville. My mother's ancestors were from Catalonia. My upbringing was a mixture of the new world with European traditions. Today I am a citizen of the world. Because I deeply love people and their varied cultures.
DP: When did you move to Paris and why did you move here?
MdR: Living in a place surrounded by mountains my gaze was always turned towards the sky. The clouds pass very slowly. My adolescence was dazzling, I became a man very quickly, I wanted to leave far from this violent paradise. With my Baccalaureate in my pocket, my first trip was to discover a country in South America, Brazil. Brasilia designed by the architect and urban planner Lucio Costa, nuanced by the curves of Oscar Niemeyer and the landscaping of the legendary Roberto Burle Marx.
The reasons for this choice are very intimate and multiple, Brasilia was my first encounter with modernity. My taste was predestined to live in the future. My uncles built the best schools of architecture in Mexico.
Still today the work of Luis Barragán Archictecte and later the work of the Japanese Tadao Andō are the cement of my taste.
My trip to Brazil was an initiation on all sensory levels. A one-month trip back via Panama with a stopover in Guatemala via the airline Pan American World Airways was my first way to a freedom that I would allow myself until today.
All roads lead to Rome »
Back in Tegucigalpa it was impossible for me to stay put.
After tasting my cherished freedom for the first time, Washington DC, the Capital of the United States, was my second adventure. It was an uncomfortable stay because America was still a country as violent or more so than my native country. Even though I lived in a nice neighborhood the daily reality was hard to live with. I wanted to continue my studies at Georgetown University. But my father did not want to pay large sums when I could study in Europe.
Fortunately for me,  because if not I would have lived another destiny. Crossing the Atlantic to the Motherland, Spain was the third gate. It was a return to the fold of my ancestors. Great was my destination. After Madrid arrives on a winter's day, I thought that I was going back years to a small village only the grandeur of the Alhambra and the Sierra Nevada gave me an aesthetic consolation.
My cultural baggage was above all nourished by Hollywood cinema.
The owner of three cinemas in Tegucigalpa was the father of a school friend that invited us to see films that were forbidden to minors and that gave us a superior power. Films by Visconti, Pasolini, Fellini and French films gravitate in my head and also played an important role. Having a mother who was sent the best French perfumes that were unavailable in Tegucigalpa. and who changed us three times a day, ignited my love of fashion. Getting dressed was a ritual in our home.
A sign of my destiny was to have been baptized by a French priest in Tegucigalpa.
My stay in Spain was not marked by big changes. It was the end of Franco. I had lived in countries dominated by dictatorships throughout my childhood and my family rubbed shoulders with its leaders. It gave me a feeling of deja vu.
My Honduran friend was studying in France. She was my evil genius. We did the 400 hundred blows in Tegucigalpa. 400 Blows was a coming-of-age film made in 1959 by François Truffaut. She had seen me swimming at the country club and wanted to get to know me and did everything to meet me at all costs. She had studied in Heidelberg and in Paris Neuilly. She was very wanton but cultured.
This is where Paris presents itself as the final destination.
DP: How difficult was it to adjust to your new life where you are now a citizen?
MdR: Paris
 words are not words / They don't say what they say, / I have to say what they don't say, / I have to say what they say… Octavio Paz
My first stay in Paris was in the mid-1970s and it was memorable. My apartment was on rue Jean Mermoz, a stone's throw from the avenue des Champs Élysée. Paris was deep gray. May 68 still resounds, it was a time of student protests and rioting over the high price of bread.It was a seven week period of civil unrest with demonstrations, strikes, occupation of universities and factories and the economy of France came to a halt.
It was a youth quake of freedom to its extreme in all areas of life. It was quite conducive for me and I let myself be seduced by this city of light. Traditionally Paris has always been the favourite city of my father. Crossing on foot in front of a red light a car stopped, the driver seeing me gave me a benevolent smile. Another door opened. I understood that I had to adapt very quickly to Parisian life. My effort was easy. My exoticism did the rest.
My anonymity was at its height, I could live freely. A long period of learning to understand the French spirit awaited me. I had to learn the language of Molière and Racine. I did my studies at the Alliance Française de Paris, Catholic Institute and finished at La Sorbonne. This passport in hand opened up new horizons…
My first day in Paris had set the tone. My Honduran friend took me to Café de Flore to meet her friends. When I arrived, I saw Jean-Paul Sartre, Simone de Beauvoir and Yves Saint Laurent. I caused a stir when I arrived because an American couple that I had met in Washington shouted out my name Marco! 
Parisian life was at its peak, the new wave had given its particular tone to Saint Germain des Prés. Having lived in an elitist society, I had all the assets to enter Parisian life. However my desire was to know the culture. Paris is the right school. In France, literary salons are a form of society that brings together socialites and lovers of the fine arts and the beautiful spirit for the pleasure of conversation, public readings, concerts and good food. Paris had kept traces of this moment. Three mythical places played as a living room for meetings and the pleasure of conversation Lipp, Flore and Deux Magots.
The elegance, the taste of the Parisian party can be summed up in Hélène Rochas, who embodied this magic of a vanished Paris and  Hélène de Rothschild. But another woman governed Paris for three decades with her invention of the nightclub, it was Régine. Another newcomer to the Parisian scene was Fabrice EMAER Club seven rue Sainte  Anne. The place to be for the fashion world and celebrities.
My life as a student in Paris rhymes with the nonchalance of nightlife. There was in the Parisian air a desire to go out to dance to escape. However for me I had to finish my studies. Done. I could consider finding a job. France is a host country but the administrative constraints are Kafkaesque. The residence card is a small fight. Very confusing.
DP: You worked as a diplomat at the Unesco? How long have you been doing this?
MdR: My arrival at Unesco coincided with the appointment of my friend as Honduran Ambassador to Paris. The ambassador appointed me to the cabinet as alternate delegate. I participated in the nomination of my country to the coveted position Ms. Sonia Mendieta de Badaroux, President of the Executive Council. The values ​​of UNESCO were already mine: Its motto, ambitious, is engraved in ten languages ​​on a stone wall erected in its Parisian headquarters: « Wars starting in the minds of men, it is in the mind of men for whom the defenses of peace must be erected »
This very enriching experience gave me the notion that I was a citizen of the world.
DP: What were your first steps into fashion?
I arrived in Paris in the mid-seventies and really settled down in 1977. The great masses and the great names had just disappeared. Yves Saint Laurent was the little prince at the time, but a new wave of designers turned the Parisian landscape upside down not to mention the phenomenon of Japanese creators. French and Italian designers were vying for their podiums.
I met Marc Audibet in his office at Nino Cerruti grace of our mutual friend, Lady Georgia Granard. Marc was preparing his second Cerruti Femme collection. The legendary kindness of Marc facilitated the rest.
We live in the same neighborhood not far from each other. Fate had worked well. His assistant Béatrice Caracciolo speaks Spanish. Marc wanted me to not be too disoriented from my roots.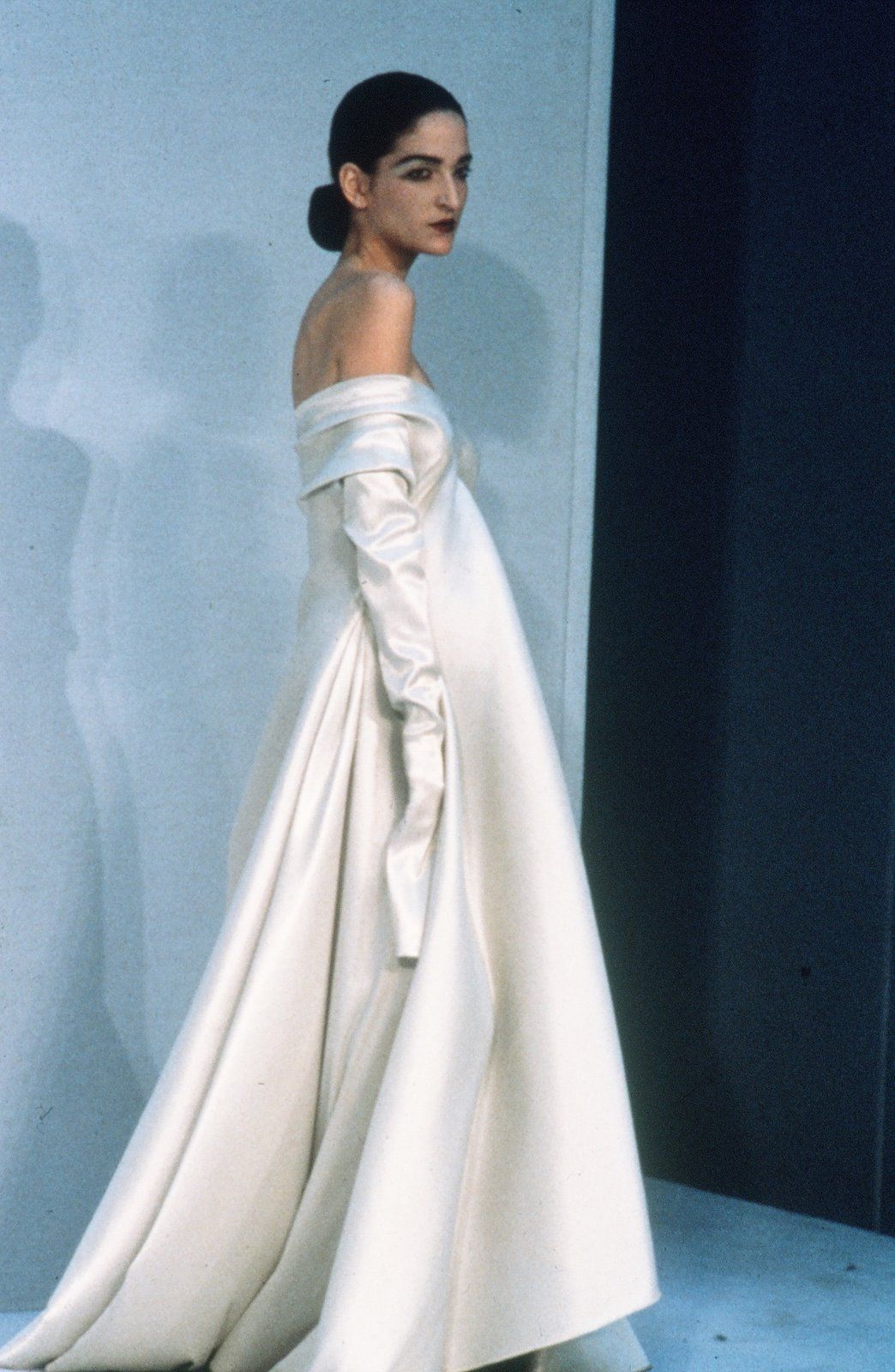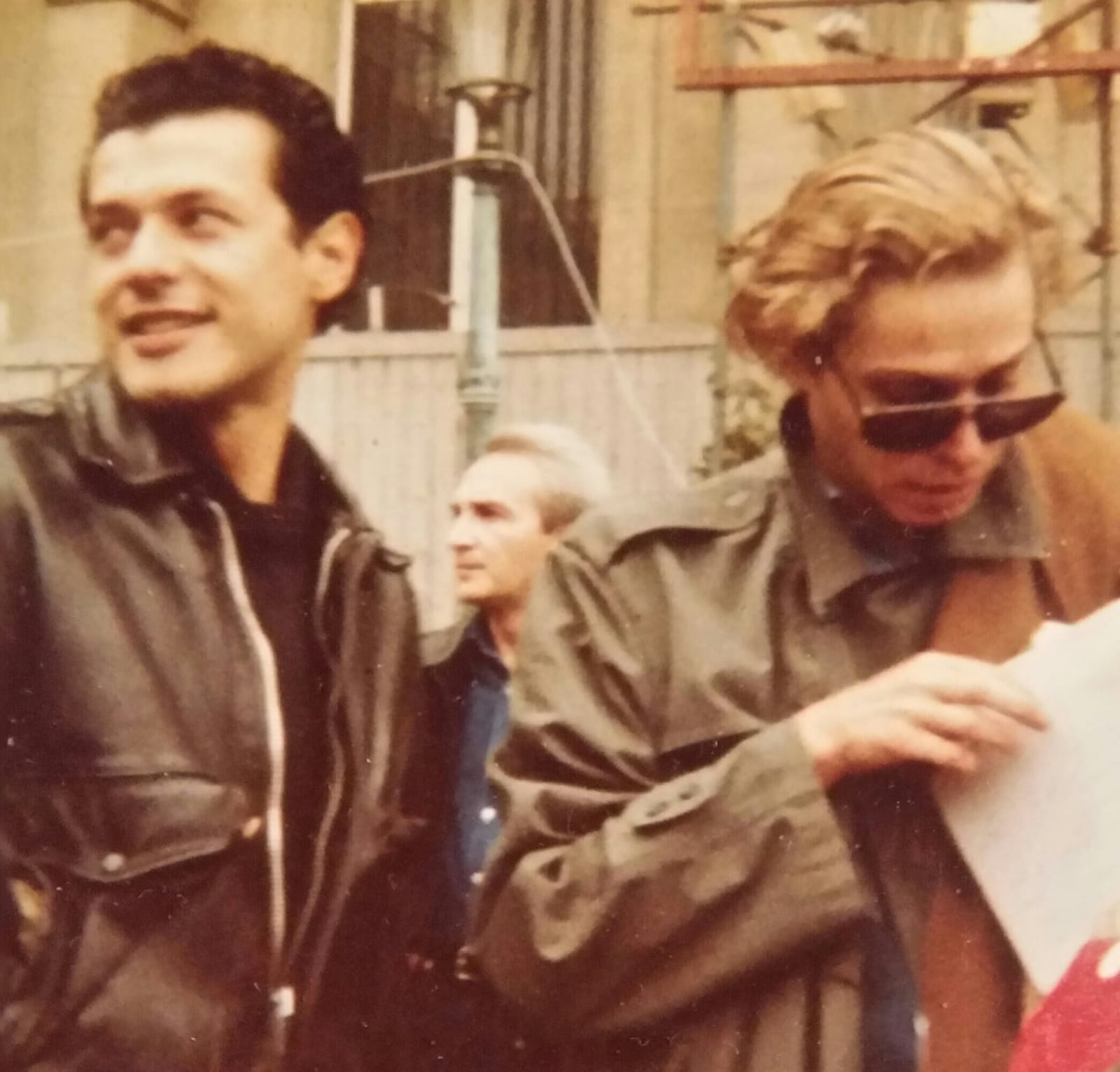 Let's get out of my classes! I went to Marc's office at place de la Madeleine. Without knowing it, I was going to attend a master class because Marc was working on the collection with the Modelist and Béatrice. My fashion initiation started there with a great door of knowledge opening for me.
DP: What were your responsibilities working with Marc Audibet?

MdR: My responsibilities within the Marc Audibet studio were to organize his workshop: that meant his staff: pattern maker, seamstresses and assistants. Also, to organize his agenda because Marc had a lot going on with his contracts in Japan and Italy. Along with developing his collection he was also creating innovations in textiles. He was the first designer to create mono-stretch and bi-stretch fabrics. In addition, I dealt with his external press office and above all I helped him with the presentation of his collection: casting, music, location… according to his wishes. In the history of fashion, it is acknowledged that his collections were game changers. Marc was considered avant-garde. His approach to fashion was in tune with the times but always forward thinking leaving much of the fashion world behind him. This experience formed the foundation of my professional fashion career and carries on until today. 
DP: What did you do for Lee Young Hee?
MdR: I met Lee Young Hee through the Federation of Haute Couture. Lee Young-Hee was a South Korean fashion designer. She was known for her work with the design of the hanbok, the traditional Korean clothing but she wanted to raise awareness of her work in the Western world and to present her collection in Paris. This was in the nineties. This was a big challenge for me because it was my first job outside of my home in Paris, it opened a whole new universe, Korea Land of the Morning Calm. I already had the experience of working with Japan through Marc Audibet. My trip to Seoul at Lee Young Hee was the discovery of a country that wanted to conquer and create a Korean fashion, it was another approach which required another way of listening. Lee Young Hee's know-how was artisanal. Her fabrics were traditionally made with their colors and her use of ancestral techniques from Buddhist monks. This was a universe that inspired me. I spent unforgettable times over several years working with Lee Young Hee.  While working with her she wanted to open a shop in Paris and to be represented in department stores in Paris and New York. Mission accomplished, she opened a beautiful shop in Paris and her hanboks were discovered and appreciated.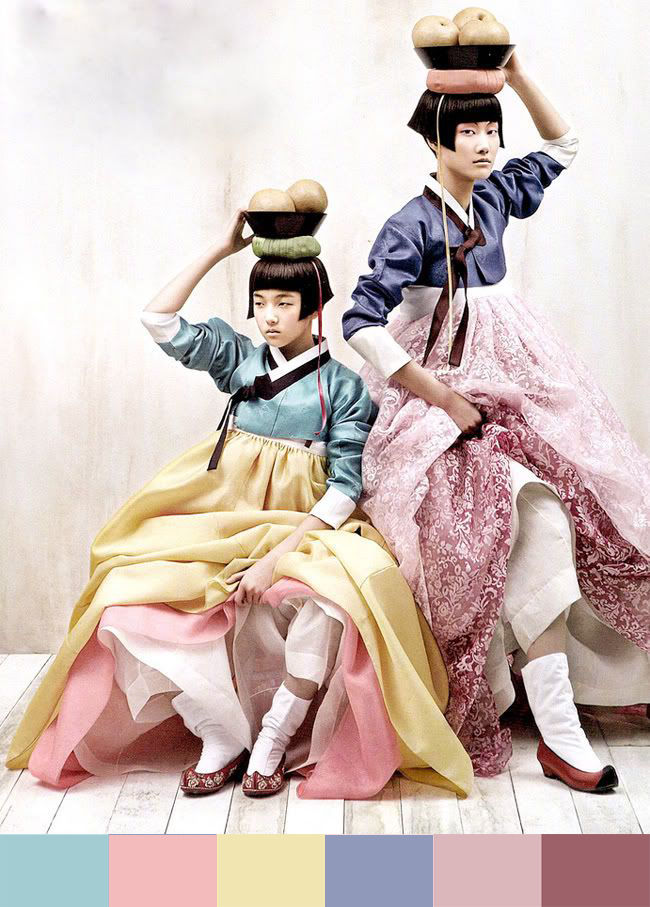 In 2019 Lee Young-Hee was exhibited at the Guimet Museum in Paris. The exhibition was the result of a generous donation by the Lee Young Hee Textiles Fund and included 1,300 pieces. The museum now holds the largest collection of Korean textiles outside of Korea!  To celebrate this extraordinary acquisition, the National Museum of Asian Arts devoted a retrospective exhibition to Lee Young-Hee, she is considered one of the greatest figures of Korean fashion.
DP: How different is it dealing with a French designer and with one based in another country?
MdR: Working with a French designer is an approach that seems easy but is more complex. Paris is the capital of fashion.
First one must understand the expectations of a French creator and identify their desires and objectives. Confidence plays a decisive role in the ambitions of the creator. Because Paris is the centre of fashion the French designers are more in the limelight in this very critical fashion landscape. To succeed one needs to find the right team to support it and I was happy to be with Marc Audibet for the long run. My experience working with Marc Audibet allowed me to understand the issues and expectations of an important designer.
DP: How did working with Yanina Couture come about?
MdR: I met Yulia Yanina, the founder of Yanina Couture, through Serge Lutens. His assistant, a longtime friend, gave my references to her. I attended her first couture show in Paris. The designer Yulia is a sunny and dreamy person. Her story gave me the opportunity to rediscover Russia. Her fashion house was created in Moscow in 1992 and has all the assets of a Parisian house. Yanina Couture's know-how follows the techniques of Parisian haute couture with Russian traditions and with time was accepted into the Official Schedule in Paris for the Haute Couture. That took a lot of work for her brand to become an international reference with numerous celebrities wearing her creations on the red carpet in Cannes and beyond. Her clients are from around the world.  My role with Yanina is tailor-made which includes multiple responsibilities. I've been working closely with Yulia for the past eleven years; it has been both an extraordinary challenge and a rewarding one.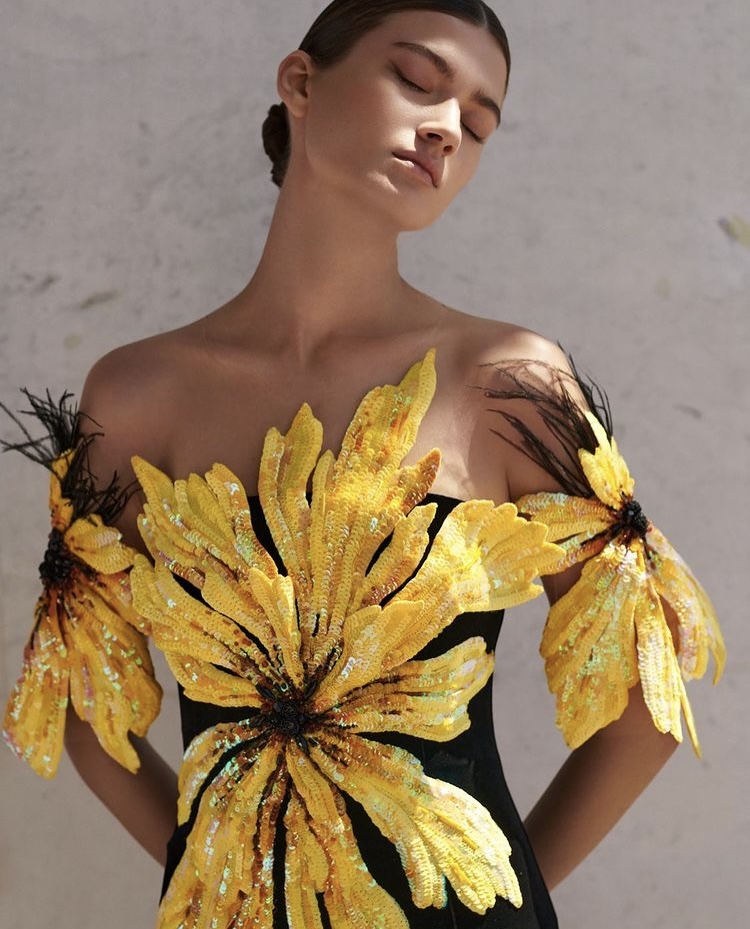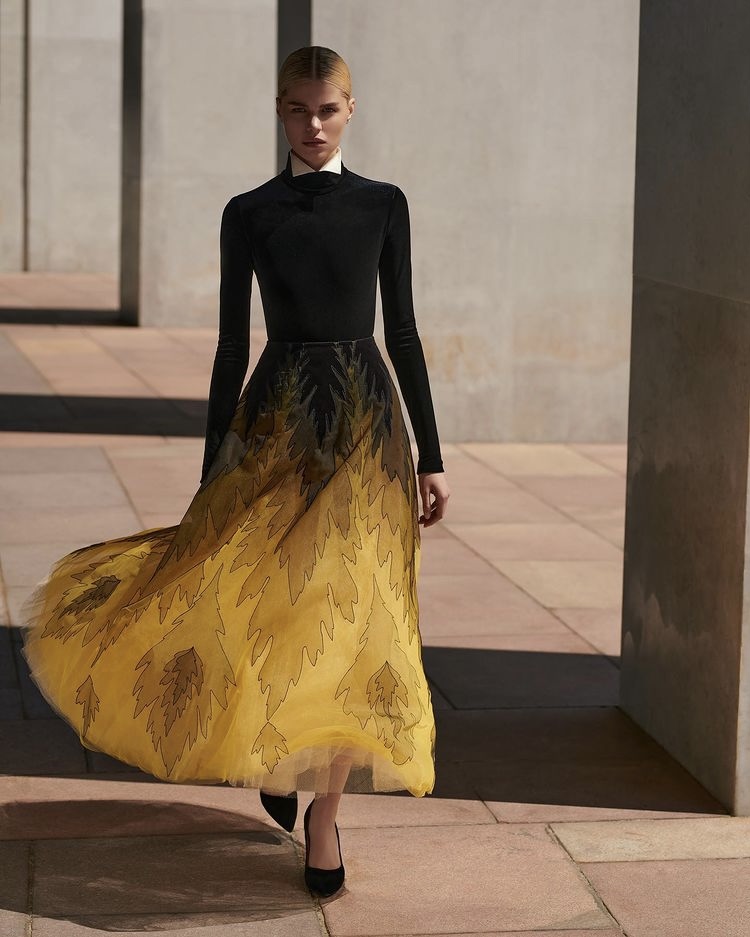 MdR: My journey in the world of art began with the desire to fill in the gaps, I took courses at the Ecole de Louvre. The education at the school opened my eye to understand how to look at a work of art, to know its history, its links… The Louvre became my second home it was like a therapy and a backup and remains such to this day. I have always enjoyed exchanges with various French and foreign artists. My work with the artists that I advise is much the same as with fashion designers, I listen and I guide them. The Secret Gallery is located minutes from my apartment in the seventh arrondissement. The gallery is a Parisian secret, prior to being a gallery it was a chapel built by Gustave Eiffel. The gallery is run by two people who have worked in fashion. Our meeting was based on our professional experience. Their concept is art and design. My collaboration consists of presenting artists with different sensabilities. Thomas Lardeur is a sculptor who works with steel, Alexandre Baldrei with paper or Jonathan A with glass. The next exhibition will be dedicated to Michel Haddi, a French portrait photographer who is known for his celebrity portraits.