Art and fashion: the twinning between Rome and Ferrara sealed by the family of artists who are restoring the former Church of San Michele in Ferrara as a cultural hub of contemporaneity.
It is within the walls of the studio in Via del Vantaggio in Rome, where she shares the exhibition space with her father, sculptor Bruno Liberatore, that since childhood Francesca Liberatore has been passionate about the artistic gesture. And it is there that we met the Roman designer with an international passport, born in 1983, on the occasion of the presentation evening of the new exhibition space dedicated to art, namely the former Church of San Michele in Ferrara, recently purchased by the family of artists and redeveloped as a multipurpose space. A place where the permanent collection of dad Bruno Liberatore's works will find its place, and where also fashion, thanks to the Roman designer, will have its stage. A twinning between Rome and Ferrara sanctioned by Prof. Anna Milia, President of the Universo Plastico Association, which will be based precisely in Ferrara with the intention of realizing a collective, open and innovative experience involving an international audience of enthusiasts, in the restored places of the former Church of San Michele.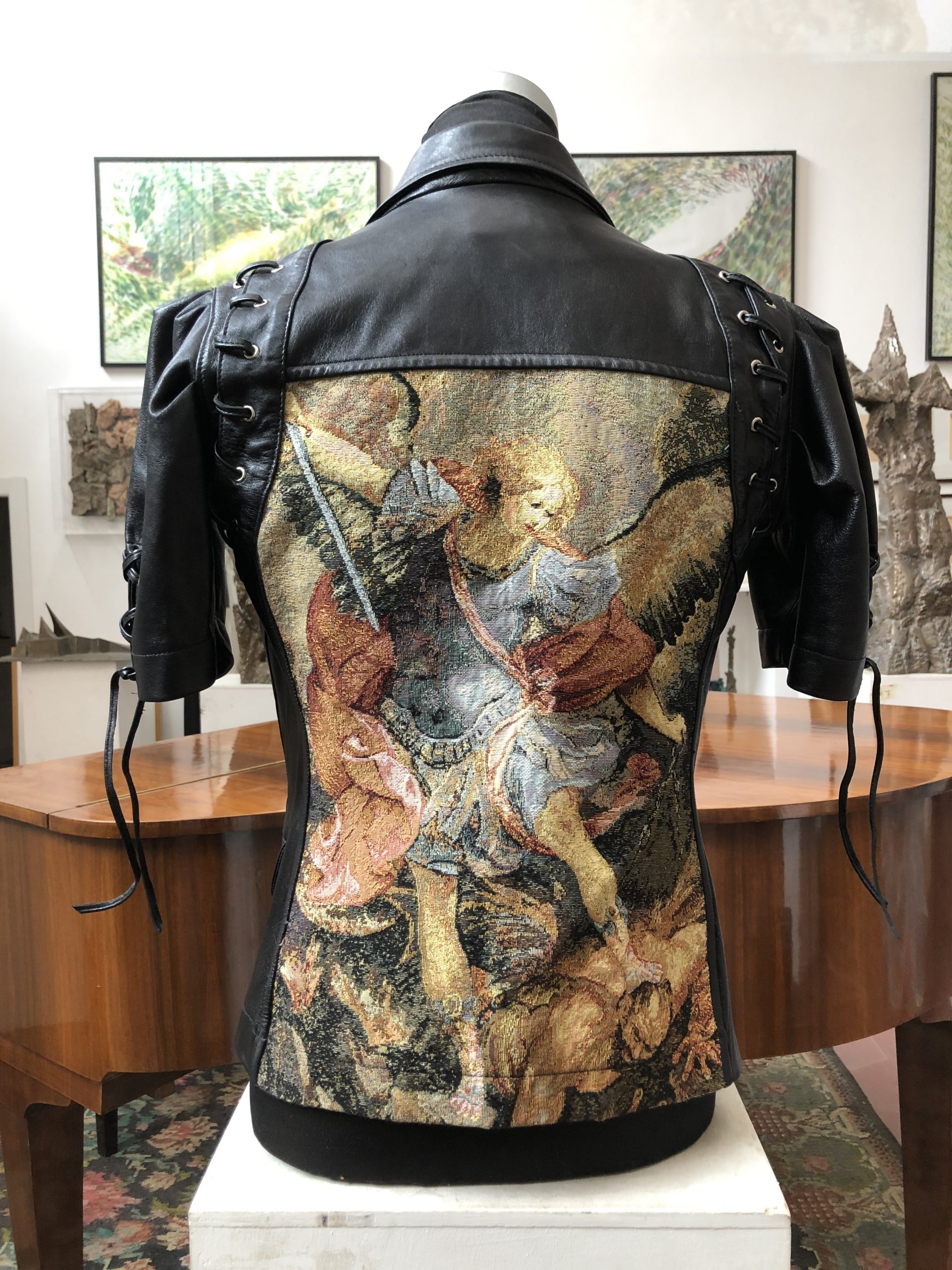 The languages of contemporaneity between fashion and art
The spark for fashion has been sparking in her since she was a child and started designing uniforms for Lady Oscar, her favorite cartoon. Then fashion training at Central Saint Martins in London, Parisian experience in the style office of Jean Paul Gaultier and in Amsterdam at Viktor&Rolf, winning the Next Generation award of Camera Nazionale della Moda Italiana in 2009, the New York stint supported by the "DHL Exported" award, and finally the return to Italy, from 2019 with original fashion show-performances. Now in her early thirties with more than a decade of career in fashion and a chair in Fashion Design at the Brera Academy of Fine Arts, she still takes refuge in the artist's studio whose doors she opened to us, to work on new projects that intersect fashion and art.
Francesca Liberatore tells her story
Fashion and art: what will happen in Ferarra's new cultural hub?
The new pole is intended to host young and dynamic events, conventions, conferences and seminars, without distorting the beauty and historicity of the context. Right here in Ferrara at Palazzo dei Diamanti, in 1984, my dad did an important exhibition. It will be a place where contemporaneity will have a way and space to express itself through many different artistic languages. For several seasons already, I have modified the classic format of the fashion catwalk, creating an event in synergy with different areas: cinema, theater, sports, technology, publishing, education and even art auctions.
Does your fashion feed on art?
Thanks to my parents, both of whom are artists, I have practically lived surrounded by art since I was born. I also love to immerse myself in art through the people I surround myself with or the occasions I indulge in, making it a filter for observing the world around me and returning it through silhouettes and fabrics. My fashion is always designed for a body in motion, because my clothes must be highly desirable and comfortable in order to be then appreciated for their intrinsic message as well. The artistic form is in the very act of creation: the designer has a vision and plays with weights, volumes, shapes and surfaces, achieving something that was not there before and remains.
Today we are in Rome, with the mind projected to Ferrara, what value do you give to this city from which everything started?
Rome is my baggage, it is my past and permanent present. Rome is in my heart, in my way of perceiving what is around me and gives me the keys to translate it into fashion.
by Silvia CUTULI