RENCONTRE
#1
Alain Albistur
Domaine les Sadons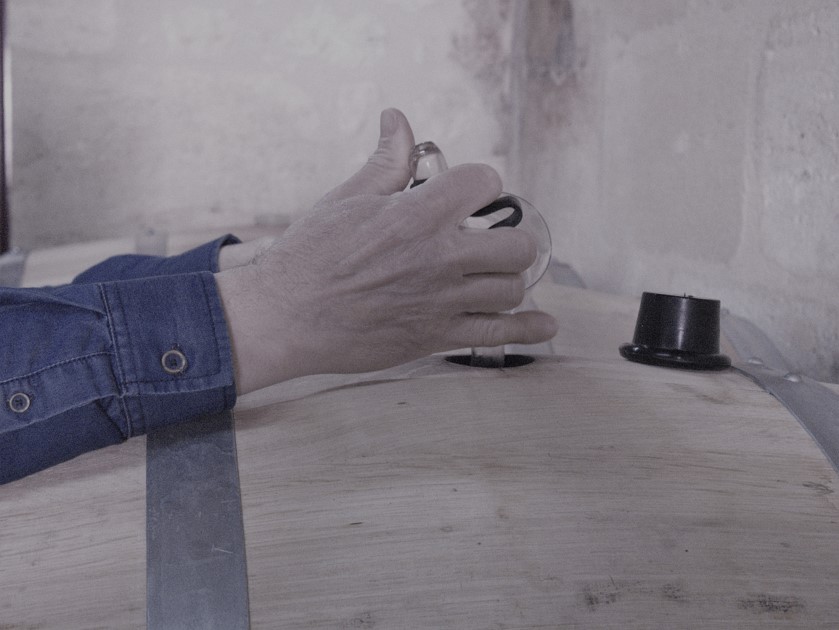 Back when I was working in the analysis laboratory of a Grand Château Bordelais, many seasonal workers came and went but some encounters mark you for life.This was the case the day I met Alain Albistur.
He was a retired worker who came to help us during the harvest, helping to sort the grapes, a long and difficult task that he did with a smile and his curiosity about my work appealed to me. In fact, he had vines and my analysis results would be used to choose the date of his harvest, his plots being next to ours.
But how had this gentleman managed to own land in one of the most prestigious appellations in the world, reserved for the Grands Crus Classés belonging to banks, insurance companies, etc.? I wanted to know the story of this man who exudes so much joie de vivre.
One fine February morning, I decided to go and see him to share a moment with him. It was cold but his story warmed my heart. What energy, what charisma! Alain is a modest man. I perceived him as a resistant, with less than a hectare of vines in the middle of great chateaux seeking to expand at all costs, but for him, he doesn't resist, he exists, and his land, he holds on to it. If one day, he has nothing left to eat, he will always have his land to grow vegetables (while keeping a little vineyard, Alain is a bon vivant). Besides, his land was the vegetable garden of his grandfather, Pierre Albistur. Of Basque origin, he arrived in the Médoc in the 1930s and worked all his life at Château Latour.
His estate is a family story. Alain counts on his sons Adrien and Valentin to continue to make it exist. It is also a story of friendship. In 2000, surrounded by his friends, Alain planted his first vines and even built his own concrete tanks. Since then, grape harvest, bottling, Alain makes a few phone calls and everyone turns up! It's always the same people, long-time friends, others who have become friends over time, from all walks of life, all generations.
His wine? It is like him, generous, powerful, a wine that you want to share, an unpretentious wine, a wine that, like its creator, simply exists. If you ever pass by, knock on Alain's door without hesitation, he will welcome you for an unforgettable moment around wine.
Stories  from the  Vine