We cannot talk about fashion without mentioning Thierry Mugler's visionary work. In march 2009he told WWD magazine he wanted to create for Beyoncé's I Am…"the duality between being a woman and a warrior". This declaration can be applied to the integrality of his work. Master of the scene, sculptor of a future super-creature, Thierry Mugler's whole work is about women empowerment. Criticised, in a time where extreme femininity due to body line would be badly seen by feminists, his designs were always ment to enhance and liberate in the same time. Often, emancipation was proposed through a masculine fashion and attitude but his approach was by far, more futuristic and subtile. The Thierry Mugler  woman is proud of her sensuality and ready to show her heroic body. After all equality is not happening by replacing the other but by re-placing ones qualities and unicity on the same level of importance.
Jerry Hall and Thierry Mugler, New York 1995 © Helmut Newton
Couturissime poster, "La Chimère" dress, HC fall-winter 1997–1998 © Alan Strutt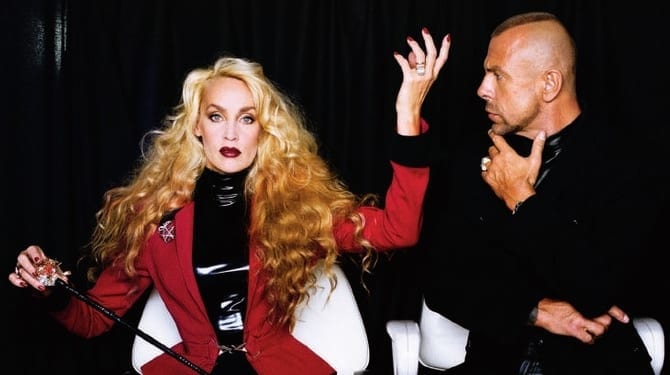 Jerry Hall and Thierry Mugler, Paris 1996 © Helmut Newton
Eva Herzigová, backstage at Thierry Mugler ready to wear collection, Les Cow-boys, Paris, 1992 © Ellen von Unwerth
"Thierry Mugler – Couturissime" the fashion art-show premiered at the Montreal Museum of Fine Arts on February 26, 2019, Folllowed by Kunsthal in Rotterdam from October 2019 to March 2020.
"Glamour Tragedy" he said, with his spectacular taste for scenography… more than130 silhouettes, some of them unseen before, it is the retrospective 35 years of legendary Monsieur Mugler's career
The Musée des Arts Décoratifs, in Paris, is hosting the exhibition "Thierry Mugler, Couturissime" from September 30, 2021 to April 24, 2022. 
During three decades, since 1973, his free spirit forged a fascinating woman. His haute couture was closer to art than any other designer of that time, and nobody arrived at his level of signature even today. Pioneer in using unimaginable materials, he was more a universe alchemist, forging fashion events with complex cinematographic vibrations. He opened the way to young designers, like Gareth Pugh and Alexander McQueen, where performance-art becomes fashion presentation.
You will discover the photographs by Helmut Newton in collaboration with Thierry Mugler. Purist, perfectionist, mr. Mugler could change several time a make up or search for hours the perfect pose. Nothing was random. No wander this staging talent took over when the fashion industry started to become to commercial for his taste. He never compromised his couture, nor his art.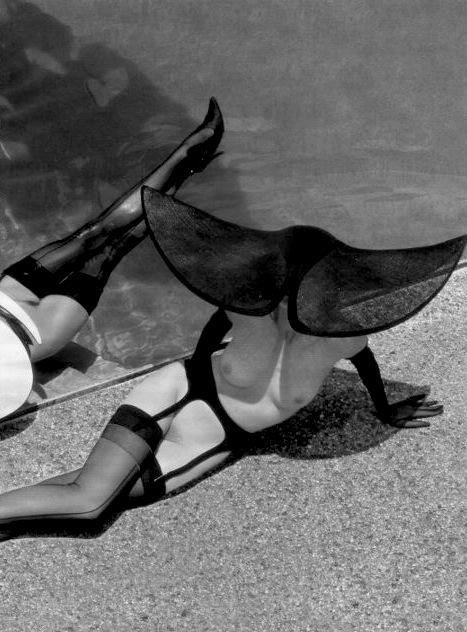 You will finally see the famous metamorphosis pieces. Thierry Mugler created a terrible woman, super-nature where beauty and fantasy oblige. He was already a super star at this stage of his career and he only knew how to go upwards, reinventing himself with every step. This vision, he had it from the very beginnings so we can say he is a walking symbol of willingness and freedom. 
Audrey Marnay © Paolo Roversi, Les Insectes collection, HC spring/summer 1997, for W magazine April issue
podium photography © Patrice Stable, Les Insectes collection, HC spring/summer 1997 
I have always been fascinated by the most beautiful animal on earth: the human being. I used all tools at my disposal to sublimate: fashion, staging shows, perfumes, photography, video …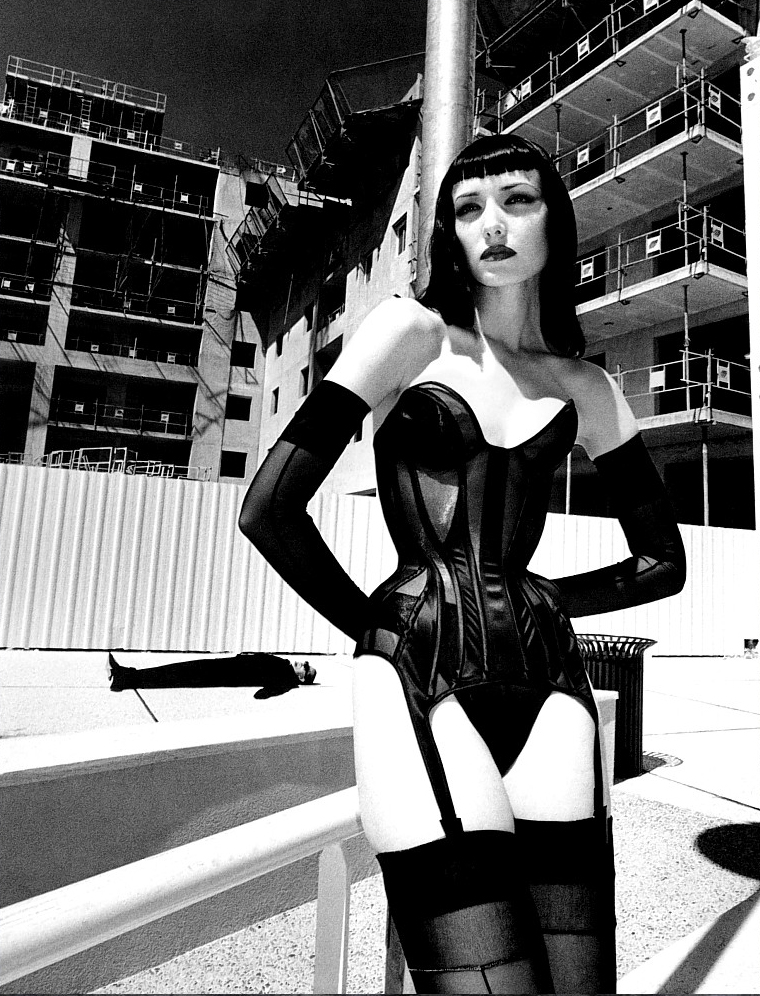 Thierry Mugler and Helmut Newton