An extravagant Golden Lion for "Poor Things" by Greek filmmaker Yorgos Lanthimos. Inspired by the eponymous bestseller by Alasdair Gray from 1992, the film won the 80th edition of the Venice International Film Festival- la Mostra di Arte Cinematografica.
by Marco TASSINI
Aerial, entertaining, witty, and naturally endowed with a visionary, extreme, and courageous gaze that never leaves one indifferent. The film, filled with wide angles, dense black and white, and vibrant colours, is a multifaceted work. While it tells the story of a young woman born from the corpse of a pregnant suicide victim, whose deceased brain is replaced by that of her foetus by a brilliant and mad surgeon/demiurge (Willem Dafoe) – also with a stitched together body – it focuses on a polarised, unjust, increasingly dehumanised society blinded by the God of capitalism.
The co-producer and absolute extraordinary protagonist is Emma Stone in the role of Bella Baxter, a kind of female Frankenstein framed on the path to emancipation within a coming-of-age and social criticism novel disguised as a dark fairy tale and macabre comedy with a gothic flavour, interwoven with clear references to horror, fantasy, family, romance, and eroticism. 
Through the horrifying union of a deceased adult body and an "unborn" infantile brain, a initially monstrous creature is generated, which, as it grows, will illuminate all the original sins of human fate. The true monsters, in the end, turn out to be the so-called normal ones, that is, those "in compliance" with a conformist society.
Bella is indeed a freak among freaks in a Victorian London still structured on radical classism.
Bella Baxter's "rebellion" journey is undoubtedly a quest for the freedom to think, speak, act, empathize, love, and hate of anyone, anywhere, and at any time in history.
And if these are the main themes of the film, it should not be forgotten that the film is above all an imaginative substance, an artistic and representative device of truth more than reality in which the vibrant characters are placed in a scenario of pure phantasmagoria, full of references but also of audio-visual ideas where light blends the black and white of 1930s silent cinema with unnatural colour palettes.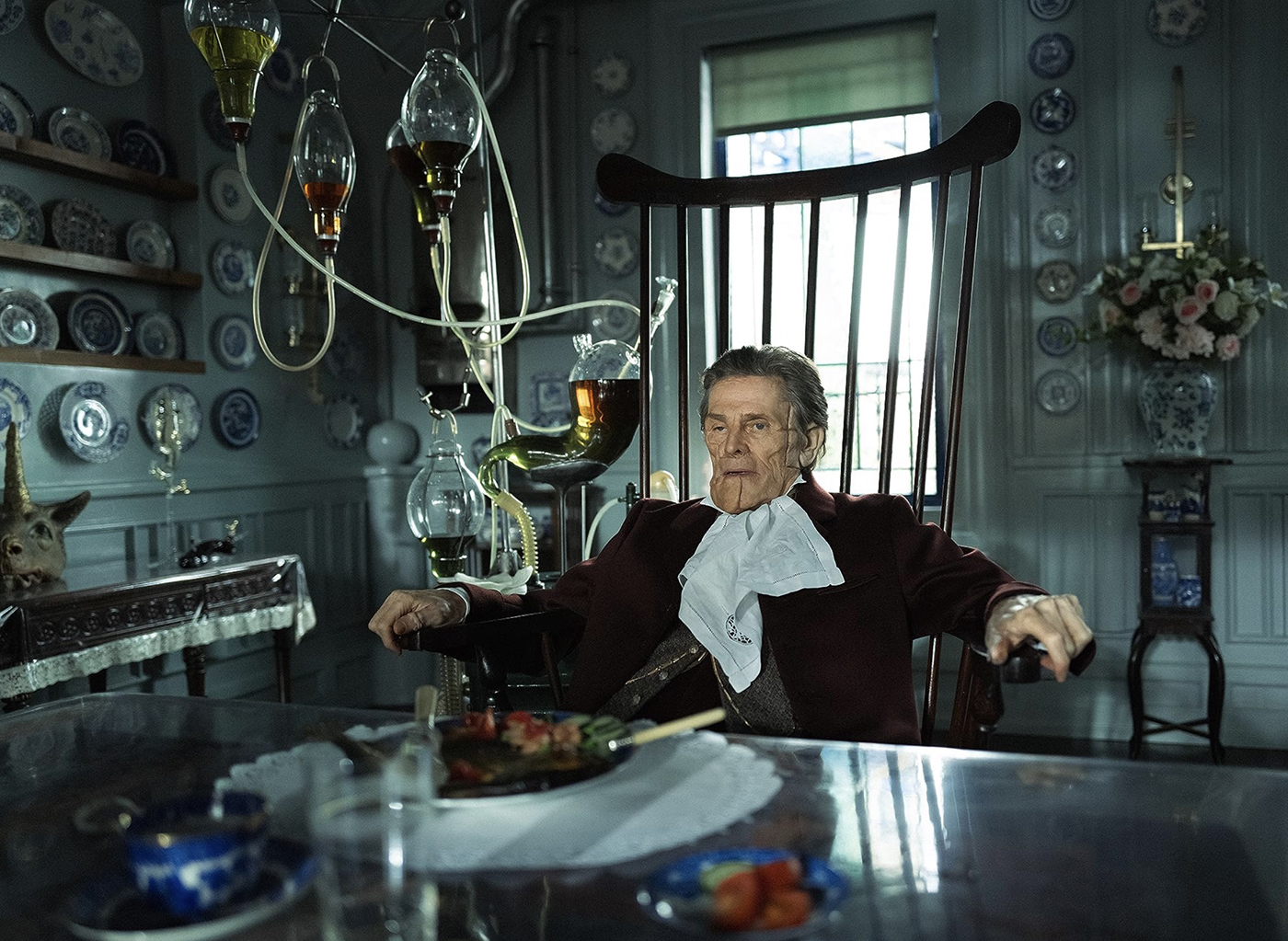 In this cinematic masterpiece, Yorgos Lanthimos weaves together a complex narrative that explores the intricate facets of our humanity
The film received the prestigious Golden Lion, a testament to its exceptional acclaim and reception at the illustrious Venice International Film Festival, aka la Mostra di Venezia. This recognition of Lanthimos' work is a testament to his unique storytelling prowess, as he skillfully navigates through the complexities of life, inviting viewers to ponder the mysteries and intricacies that make human existence fascinating and, at times even delightfully humorous. Through his lens, he captures the essence of our shared experiences.