The Hip HopArchives
text and analog photography by Maria Fatima HASELHUBER
The carefully curated exhibition put together through the Black Man Time culture hub and its founder Alain "Fusion" Clapham in their creative camp "Hoxton Cabin" invites viewers on a music history adventure.
As one steps into the space one is welcomed by starkly contrasting black and white photographs of iconic music makers captured skilfully for various renowned music publications at the time. Most of these photographs stem from the time that Tee MAX, photographer, and Alain "Fusion" Clapham, then working as a journalist, travelled the music world while shaping the media of music by engaging with the people creating the sound of music through authenticity.
At a time where many of the artists, although known, had not deeply established themselves yet, Fusion and Tee understood the importance of documenting and appreciating these future history makers in the era that truly made them. It was a time of growth and becoming, not only for the artists captured, but also for Tee MAX and Alain "Fusion" Clapham themselves.
When asked what this means to them, FUSION responded:
"It has let me know that there is value in looking back without nostalgia", with Tee MAX adding it has been: "an opportunity to have conversations I've been wanting to have for a long time".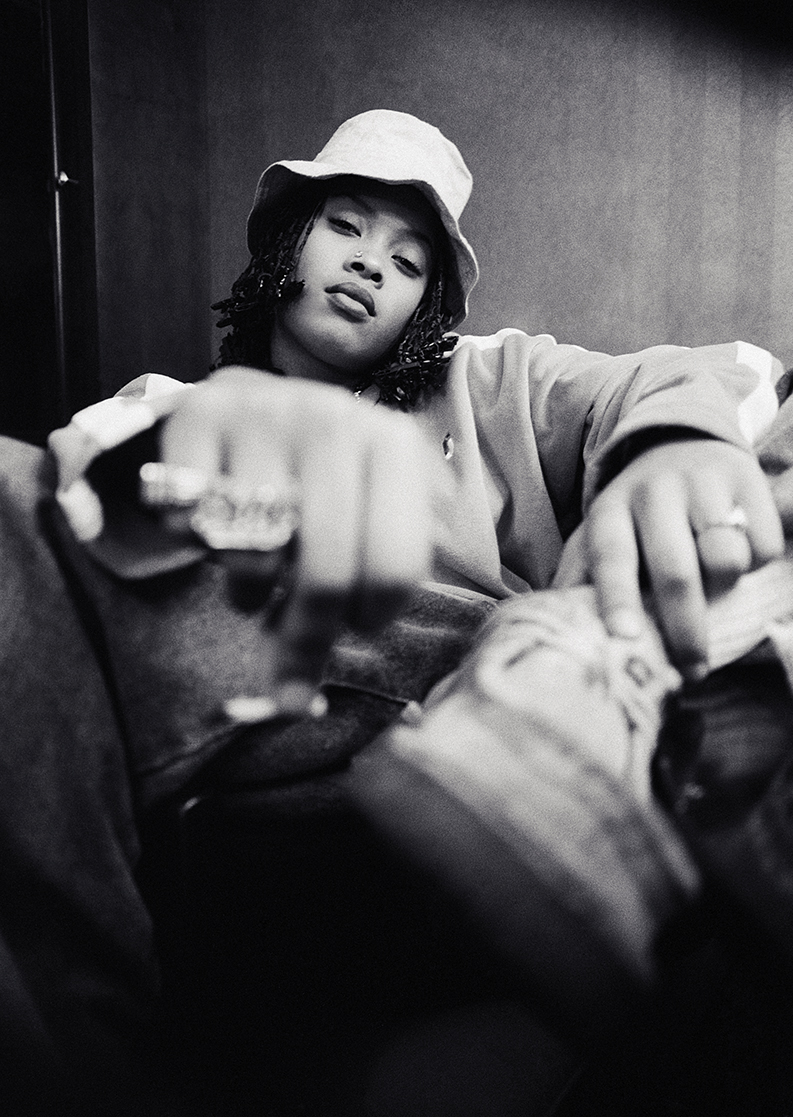 Da Brat • 1996 giclée Hahnemühle etching print • 16.5"x23.4" • fine art edition of 6             TEE MAX
Coming from different parts of the United Kingdom, the two did not meet until later in life, somehow having a parallel ascend into the world of music and documentation. When Tee MAX first went to Barbados to visit his origin country, his mother handed him a camera which her father, his grandfather, had gifted her. Tee recalls the joy and connection he gained through documenting his travel as well as his country through the film photographs taken, having only been 11 years old. Thereafter he enrolled in a photography class for his GCSE's, where he learned about composition, development and printing. Skills he would put to great use and which would create the base to his rise into the impactful documentation photographs he would later produce. Fusion having grown up in Tottenham, a rough part of London, describing the neighbourhood as "wild back then" started his path into the music scene through DJing hip hop on vinyl, making a name for himself as DJ Fusion. Despite this getting him a reputation, it did not give him financial stability but brought him to the attention of Pirate Radio landing a slot on Bars FM. By 19 he had a hip hop group with some young, talented kids even receiving some radio plays but acknowledges "we were great, but the time was not right". He then went back to university finally studying journalism, where the focus on music for him was already a given.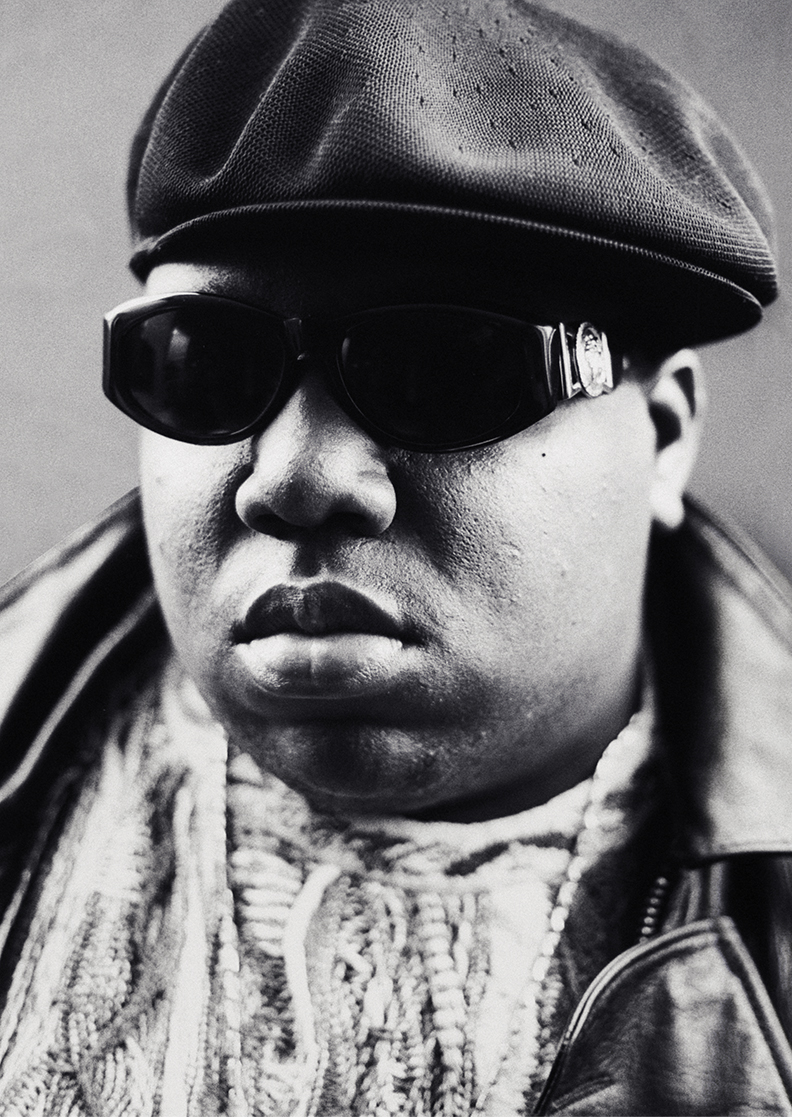 Notorious B.I.G. • 1994 giclée Hahnemühle etching print • 16.5"x23.4" • fine art edition of 6        TEE MAX
While being a freelance writer, Fusion meets "Sonia" who leads him to a job at ECHO magazine, leading him to drop out of university given his teachers did not believe in his capability to succeed. Despite now being a staff writer, he tried to always find a way to cover hip hop stories. Fusion would meet Tee MAX through his work at ECHO, starting to cover various UK and US artists as a team. When Sonia left the magazine, she entrusted Fusion with her one-page Hip Hop column, which he quickly expanded to two pages. His dedication meant this became the 'go to' Hip Hop column in the UK for all that was culture and music. Fusion later, using the opportunity whilst his editor was on holiday, put together a new magazine, CODE OF THE STREETS, building his own team, which included none other than Tee MAX.
"I knew writing was my superpower"

Fusion
After launching CODE OF THE STREETS in '96 they paved their way by breaking "all the rules" and giving coverage to people in the magazine that wouldn't have had the opportunity otherwise.
Fusion recalls "Yeah, that was freedom. All it cost was everything",
underlining the determination for the path they were both carving. When MTV called asking them to come in for an interview, which turned out to be an audition, they both secured a show on the platform, with a focus on hip hop, music and culture.
Tee recalls it having been a great tool to articulate Hip Hop to the UK audience, stating "Everyone got to watch a slice of Hip Hop".
It later also enabled them to showcase UK culture to an audience outside of their backyard. Tee and Fusion had found themselves on the global TV screens of the youth sharing their passion and cultural understanding with the minds of the future. After the show ended in 2001, due to new management and them not having an interest or understanding for their irreplaceable knowledge, they both found themselves in the 'find yourself phase' and their paths once again set apart. The 2003 rise of grime allowed them to comprehend the impact of their documentation. Despite now being on separate paths, the seed they embeded grew.
"Kano made me realize that what we planted was going to grow into something", sais Fusion
after having mentored this now successful artist as a young kid. In 2022, after always having stayed friends, Fusion felt a lack of appreciation for Tee MAX's work and thought black history month was a great opportunity to shine a light on his remarkable work.
"Black History Month was a way of getting people to pay attention"
Therefore, Tee MAX's first UK solo exhibition featuring never before seen film photography of our favourite musical legends, such as Notorious B.I.G. and NAS, are exhibited through the BMT culture hub, curated by Alain "Fusion" Clapham & Christopher Aplerku, can be seen in Hoxton Cabin, London. Personally, I found myself in awe of this tag team, pushing culture forward even when they did not know where it would lead them. It was a true honour to be able to capture the historical Tee MAX, usually behind the lens, in front of mine, through the black and white film medium we both appreciate. I urge the community to immerse themselves in Tee MAX's photography, alongside his prints and the future endeavours of Alain "Fusion" Clapham and the BMT culture hub.
"It has been celebratory, which is what I most like about this. I need an exchange, I don't want people to just look at the stuff"
Tee MAX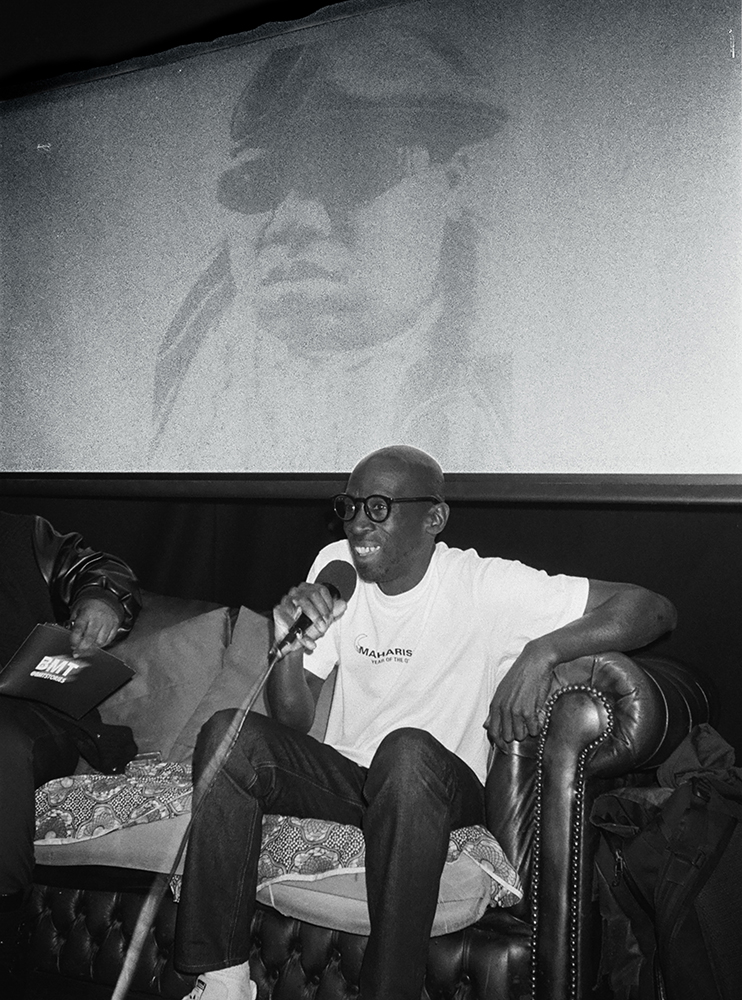 Tee MAX and FUSION, London 2022, photo by Maria Haselhuber for EDGE mag