by Alexandra MAS
A beautiful morning by the sea, my friend appeared on her villa terrace in a flowing dress, her finger adorned with several vibrant Nudo rings. "These are my favorite candies, I have them in every possible gem," she told me with a crystal laughter and delicate gestures. In her late 50s, she has been passionate about Pomellato jewelry for years, embracing the brand's light and effortless mentality. As an art collector and fine jewellery enthusiast, she was the first to tell me about the exquisite high-end line introduced with the Pom Pom collection back in 2007. 
If you haven't yet had the pleasure of exploring this facet of the Pomellato universe, allow me to introduce you to their extraordinary collection. It is worth noting that the year 2023 holds a significant milestone as it commemorates the 20th anniversary of Creative Director Vincenzo Castaldo's remarkable journey with Pomellato. Throughout his tenure, Castaldo has consistently pushed the boundaries of the Pomellato design. To commemorate this milestone and pay homage to the brand's deep-rooted connection to Milan, a constant source of inspiration since 1967, Castaldo and the Pomellato high jewellery atelier proudly present their latest masterpiece: 'Ode to Milan'.
Pomellato takes you on a magnificent tour of the Lombardic capital, its enchanting citadin poetry, architectural icons, mesmerising sunsets, and even its glamorous smog. Each stop along the way offers a masterful exploration of design and craftsmanship paying homage to Milan's rich and eclectic history. In 33 boldly modern yet timeless designs, the collection serves as a testament to the city's captivating allure, skilfully captured in each meticulously crafted piece. Pomellato has chosen to unveil this remarkable collection in Paris, the epitome of haute joaillerie. By transcending traditional boundaries and sparking conversations around diverse visions of high jewellery, Pomellato ignites a new dialogue within the industry.
Sabina Belli, CEO of Pomellato says:
"We are very proud to present our most precious high jewelry collection ever in Paris, the capital of high jewelry, where we will share our unique vision. Pomellato is different as all of our designs are made to be worn everyday. We have always put women at the centre of the creation process, offering modern pieces of great quality and beauty that are easy to wear. This collection is no exception. Even the most precious pieces are designed to be worn casually and not just for special events. We believe that jewelry should accompany women on all occasions, in line with the emancipated and contemporary character of the Pomellato woman."
Just like a meticulously cut gem, the collection showcases four sides, each drawing inspiration from iconic Milanese elements and evoking distinct emotions.
"Vertical Landscapes" Architectural Marvels: This chapter embraces the unconventional beauty of Milan's 21st-century architectural styles, highlighting the Rationalist skyscrapers such as the groundbreaking Torre Velasca and the vibrant façades of Gio Ponti's buildings.
A cascade of 52 magnetic green tourmalines combined with six violet-blue tanzanites make up the dazzling Giardini Verticali earrings. Each emerald-cut stone is reverse-set in green titanium to create a spectacular mosaic of movement, colour and texture, reminiscent of Gio Ponti's building with its façade of glazed, green tiles. Three magnificent emerald-cut indicolites also star in the Princess-style Giardini Verticali necklace composed of outsized rose gold links set with diamonds. The distinctive petrol-green shade of the indicolites echoes the velvet often seen in Milan's most elegant interiors.
The Nudo Cascade is an ode to this most Milanese of tones, with a shower of monochrome smoky grey hourglass-cut moonstones suspended on gold and titanium chains from a choker composed of jumbo-sized diamond-set links. A matching pair of earrings is full of movement featuring slender white gold and titanium chains tipped in grey moonstones. The shape of the moonstones is echoed in diamond paved gold squares that sit on the lobe.
"Contemporary Heritage" captures Pomellato's idiosyncratic interpretation of Milan's history, particularly the medieval Castello Sforzesco. The cover photo features a masterpiece—a 1972 choker from the archives—providing the creative spark for nine exquisite jewels that serve as a bridge between Pomellato's design tradition and the city's most commanding monument. The Castello necklace, with its neo-medieval aesthetic, comprises rose gold plaques connected by chunky diamond-set gourmette links, embellished with over 28 carats of baguette, princess, and brilliant-cut diamonds, as well as five reverse-set rubellites totaling more than 29 carats. By setting the gems unconventionally, their sharp angles reminiscent of the rusticated stone masonry of the Castello's façade are achieved, forming a new type of pavé known as "bossage." This technique, with its clearly defined edges and raised central area, exudes a sense of power and invincibility. Adding a historic touch, a removable rose gold and diamond-set chain accompanies the necklace. Two pairs of earrings, adorned with either a reverse-set tanzanite or rubellite, surrounded by diamonds, embody the same saturated tones and imposing reverse-set shapes. The collection also includes two rings featuring an oval faceted rhodolite garnet of nearly 19 carats and a "sugarloaf diamond-cut" tanzanite of over 16 carats. The contoured gold bezels of these rings are delicately dusted with an irregular white diamond pavé.

Creativity on Stage: Chains have always been at the heart of Pomellato's history, intrinsically linked to the house's tradition of goldsmithing. Drawing upon their expertise, Pomellato fearlessly pushes boundaries with three opulent necklaces paying homage to the creativity of La Scala theatre. These necklaces present chains in reimagined proportions, adorned with shimmering diamonds assembled using innovative setting techniques. The result is an irreverent and ironic twist on this timeless signature jewellery essential.
We love the modernity of the stunning Dama rose gold bracelets, one for either wrist. The sensual form of the solid curve of rounded gold is based on a super-sized version of the gourmette link. A double line of white diamonds runs along the edge of the seamless sweep of gold of these sumptuous bracelets.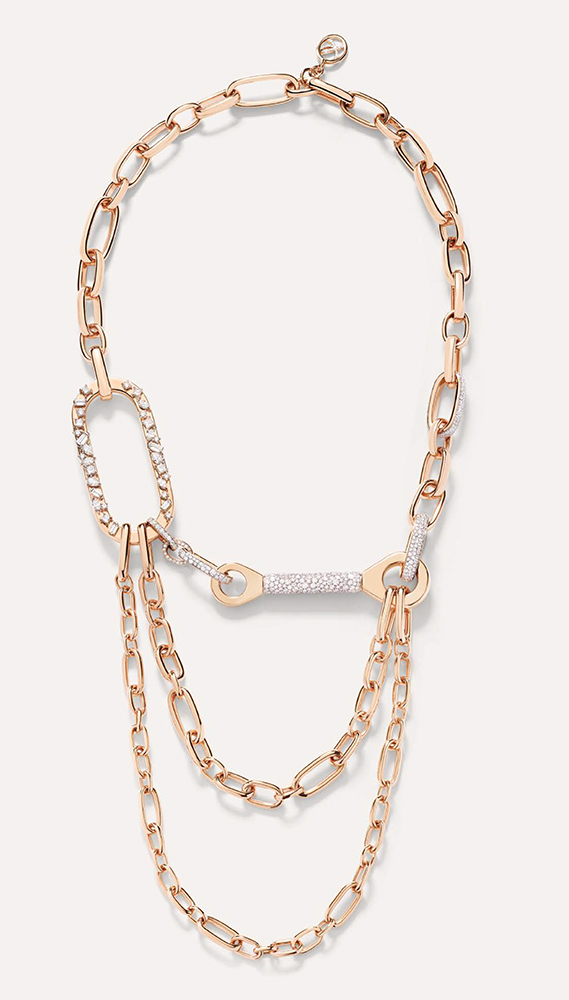 A true Pomellato signature, the Lirica necklace is composed of swathes of links of varying sizes that fall like the swags of the curtains at La Scala. The larger link is set with diamonds in different cuts and arranged in a seemingly haphazard pattern in this large asymmetrical necklace.
Even more theatrical is the Sipario body chain necklace that captures the magic and awe of the theatre. Various styles of chains and diamond-set links drape down and around the torso that dress the body in a mesmerising web. The large central link is set with a random pattern of sizeable brilliant and fancy-cut diamonds.
Terrazza Duomo collection stands as a testament to Milan's design prowess. Deconstructing the ornate white marble façade of the Duomo, Pomellato reveals key geometrical shapes that serve as the foundation for four elegantly simple earrings and two bracelets. By extrapolating essential forms from this masterpiece of 14th-century Gothic architecture, Pomellato highlights the intellectual rigor ingrained in their design ethos—a deep appreciation for the rule of everything nature and man made, a timeless nature of design.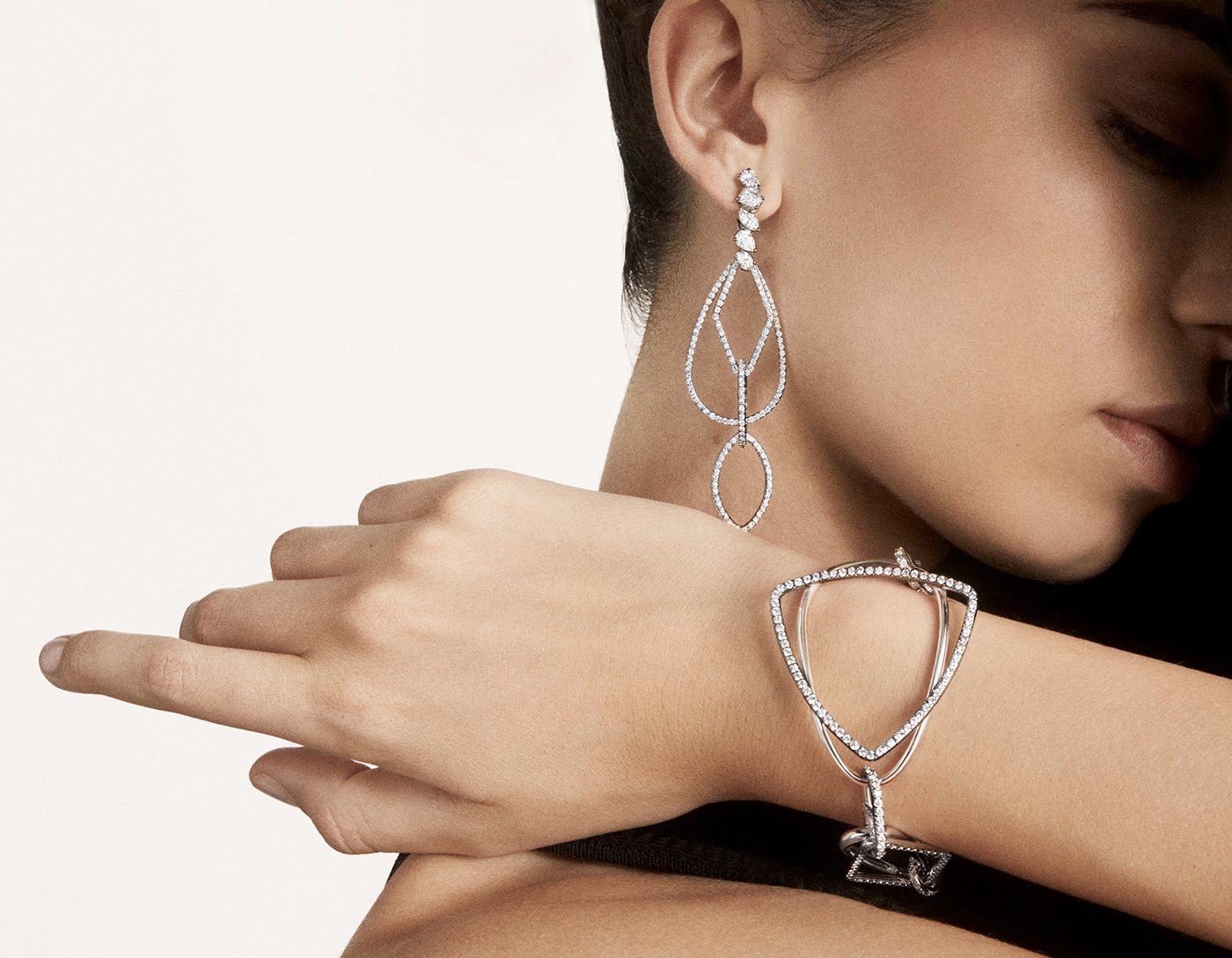 The Losange, Marquise, Drop and Trilliant earrings are light ( I tried them ), airy, mobile sculptures in white or rose gold swathed in white diamonds that gently sway with each move of the body and can be worn solo or as a pair. The symmetry of the geometrical composition contrasts with the clusters of diamonds that sit on the lobe.