by Diane Pernet
I adored this collection, where do I start?  Perhaps it all began with the invitation— Demna's version of a couturier's pin cushion, featuring a smooth, metal disc. That smooth disc perfectly encapsulated the essence of the collection showcased at 10 avenue George V. Couture which epitomizes perfection, and Demna's approach to design. Demna's approach to fashion is to define and refine, it is not about a desire to change every season but to constantly evolve his signature in the search of perfection. To have a signature in fashion is something extremely rare.
The first model to grace the runway was Danielle Slavik, she had previously worked as the fit model for  Cristóbal Balenciaga from 1965 to 1968. She was wearing Demna's recreation of her favourite dress from Cristóbal, a black velvet gown strung with pearls. Demna gifted it to her.  As Cristóbal's preferred model, Danielle continues to be featured in Demna's collections,  even a pair of earrings were named in her honor. During the presentation, she wore a replicated archival pair from 1967. The Rivoli jewelry line elevates the iconic tubular chain style, exaggerating the volume of a subtle loop that delicately hugs the ear. Demna ingeniously infuses the world of haute joaillerie with modernity, employing sophisticated craftsmanship. For the first time, select pieces from the presentation are now available at the Couture Store, at the same address,  and can be accessed through www.balenciaga.com. Additionally, the store offers exclusive items that can be tailored to fit during in-person appointments. It's an expansion of the couture realm, encompassing jewelry, eyewear, shoes, garments, outerwear, and accessories—a reflection, perhaps, of the bracelet that served as an invitation.
While we are on the topic of accessories the eyewear….Balenciaga Couture, as sunglasses make their debut within the collection. The regata frames, solid and crafted from die-cast 18K gold, exude elegance. Another style offers a wraparound design in galvanic 18K gold or palladium-plated milled aluminum. The lenses for Regata and HRH sunglasses are coated with a mirror-like layer made of bio-nylon, treated with genuine gold or platinum—a testament to the exquisite craftsmanship of couture. The Blackout line showcases frames with extra dark-tinted mineral glass lenses encased in acetate derived from wood pulp cellulose and landfill-bound plastic, finished with temples plated in 18K gold. If only my pockets matched my dreams, I would indulge in them all.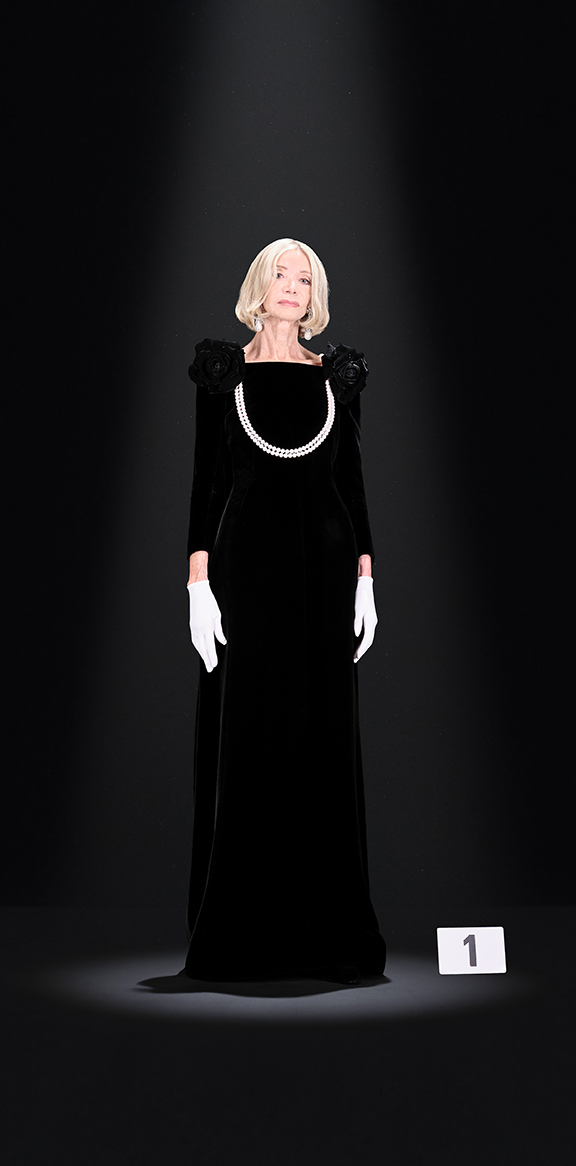 Danielle Slavik wearing Demna's recreation of her favourite dress from Cristóbal
and a replicated archival pair of earrings from 1967, named in her honor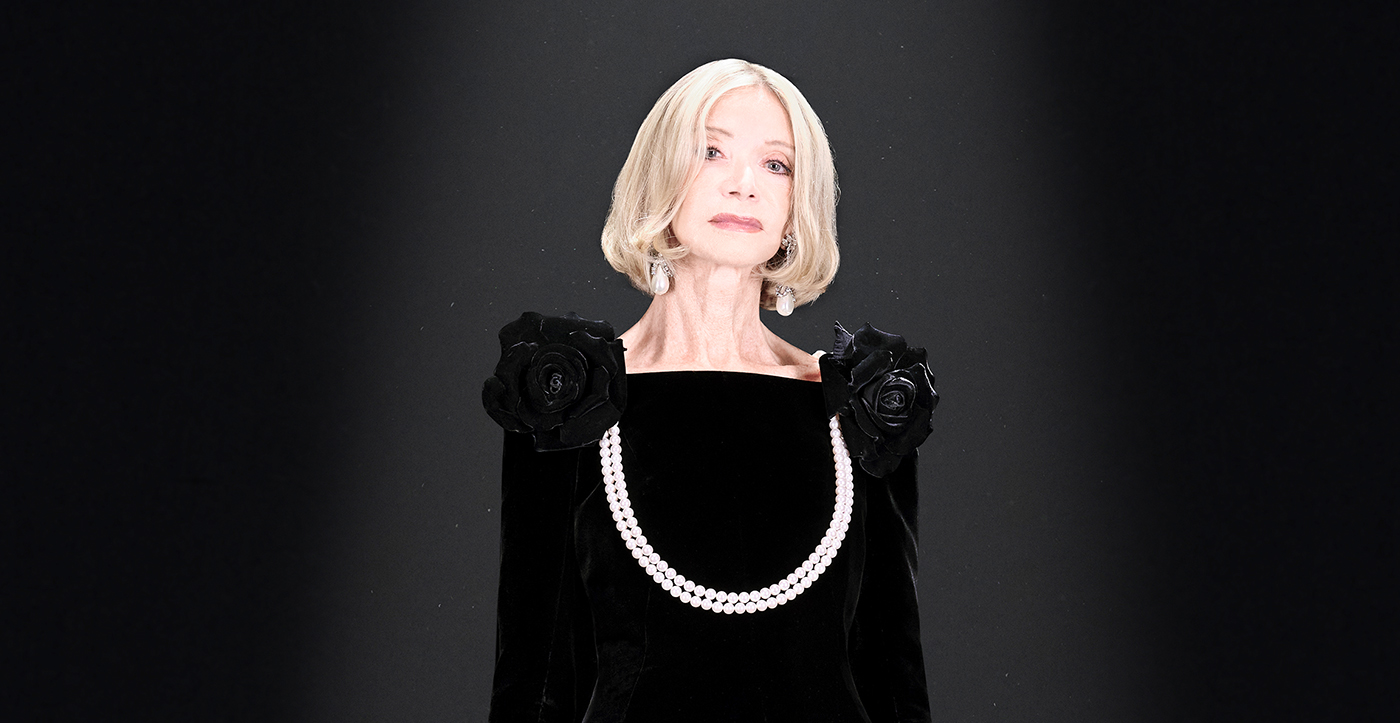 Trompe l'oeil items within the collection interpret familiar materials using jacquard weaves, embroidery, and hand-painted panels.  The illusion was so good with linen canvas hand-painted to look like a houndstooth blazer, a fur coat and a sharkskin suit that from my seat I had no idea that it was not the real thing. The same goes for what looked like a denim jacket and jeans but was actually hand-painted cotton.  Some pieces draw direct inspiration from Cristóbal Balenciaga's original designs, resurrecting his inventive techniques with a modern twist. A parka with a cocoon-like silhouette is crafted from heat-sealed technical cotton, while a dress deserving of the red carpet at Cannes Film Festival appeared in  sequins and embroidered corkscrew tulle ribbons in varying sizes and curls. A cashmere overcoat and scarf are made using an innovative knit that are heat-sculpted to affect a windblown look. This structured windblown look was carried out in various pieces of the collection. The last piece in the show was a CAD designed, 3D printed, chromed resin Joan of Arc armour, lined in velvet. Couture saves fashion with the art of pure creation. Long live couture and Long Live Demna.
The Opera derbies and pumps beautifully amplify traditional silhouettes of men's and women's shoes with internal prosthetics, employing patinated leather or sumptuous velvet crafted through artisanal processes. The collection also includes sculptural tailoring shirts in stretch silk, turtlenecks made of matte stretch velvet spun from silk yarns, and unique knits developed exclusively for the House. There were raw-edged tuxedos, leather bombers with voluminous collars, and high-waisted seamless boxer shorts that echo ready-to-wear concepts. These designs imagine minimalistic aesthetics in unexpected, luxurious fabrics, adorned with intricate and precise details.
As always all senses were addressed from the scent, a mix of smoke, leather and incense by Sissel Tolaas, the forensic scientist that brought us the anti-depressant molecules at Demna's mud show and the AI assisted sound track by BFRND, musical artist and partner of Demna,  that managed to separate Maria Callas's voice from her orchestral backing. This was a unique version of Maria Callas never heard before. It might not have been science fiction but it was definitely Back to the Future.