Issey Miyake's measured smile overlooks the black-and-white, maxi-format portraits that descend from above, just before the start of the womenswear ss 2023 show inside La Villette, Paris. It is the discreet yet powerful tribute that Satoshi Kondo, now creative director of Fashion House, pays to an unforgettable master of fashion and life.
by Cinzia MALVINI
I believe there is hope in design. Design evokes surprise and joy in people.
Issey Miyake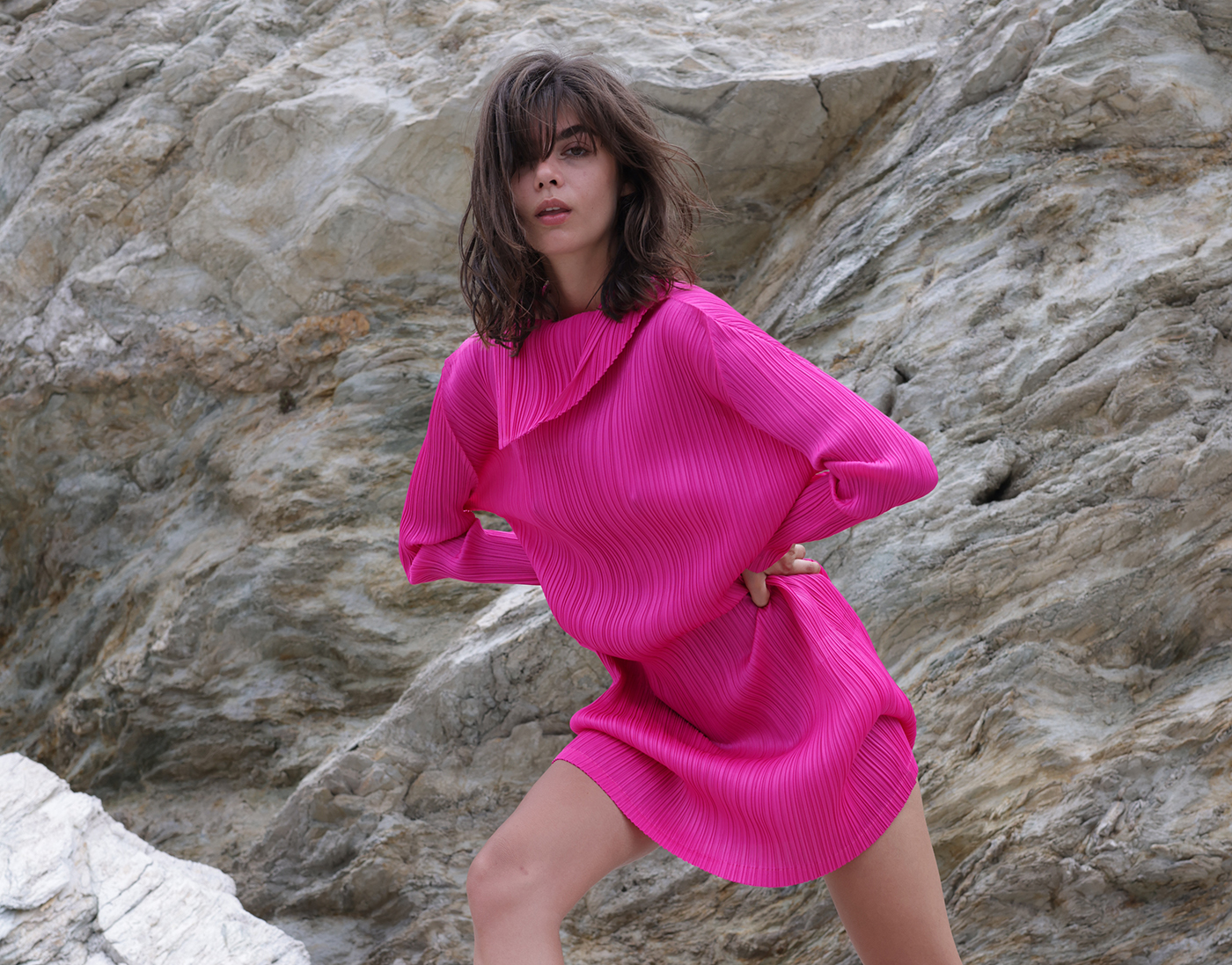 The passing away last August 5th in Tokyo of the great Japanese designer and stylist who died at the age of 84 from a serious form of cancer, deprives the international fashion system of one of the greatest experimenters of all time, a man with an extraordinary life and always out of the ordinary, starting right from his childhood, surviving the Hiroshima bombing, which did not spare his mother. And who knows if that was also the reason and the driving force behind the investigation of the beauty of the body thanks to fashion that has always accompanied Miyake's work, the value and attention to the physique always highlighted by clothes that are a constant celebration of grace and movement. Pleats and waves of fabric become a banner of an unmistakable style that dances around and with the silhouette. Miyake will also always be remembered for his first fashion show in Paris in 1973, an innovator ante-litteram even then with his collections with liquid boundaries between art and fashion.
A constant for his future life but also a lesson to be passed on to his heirs, first Naoki Takizawa and later Satoshi Kondo, who took over from the Japanese master, who left since 1998 to devote himself above all to research. Promoting craftsmanship rooted in Japanese culture and combining it with increasingly innovative and sustainable solutions has been the constant goal and vision of Miyake, who has always worked on the perfect encounter between art, tradition and technology.
The Japanese avant-garde intertwined with a classic vision of fashion takes shape precisely through the fabrics that have become the designer's identifying symbol, from Pleats Please, the name of the narrow pleating taken from an ancient 20th-century technique to the avant-guarde vision of A-POC, a seamless tubular knit born from a single yarn. Dubbed "the tailor of the wind" for the characteristic of his clothes capable of combining a futuristic and boundless levity with the echo of tradition, Issey Miyake won the heart even of Emperor Akihito, who awarded him the Order of Culture in Japan in 2010. Maximum recognition for the man who also helped build the image of David Bowie and Steve Jobs, a designer never nostalgic, never repetitive, never retro, capable of entering the future with unparalleled lightness and staying there forever.
photos by Marco TASSINI
model Melanie Molard