Aurélie Dubois is a Paris-based artist known for her focus on themes of madness, sexuality, impulses, faith, outcasts, and animals. She graduated with honors from the Ecole Nationale Supérieure des Beaux Arts de Paris in 2002 and from the Villa Arson. Dubois has participated in numerous group exhibitions and fairs, including the FIAC, Art Paris, SALO, DDessin, and Fotofever. In 2022, the Rue Française Gallery featured her latest exhibition.
Dubois defines herself as a "Guardian Artist" and sees her creative work as a commitment to the truth, a path of faith, and a way to challenge societal norms. Her artistic approach reveals a certain collective lie that is often ignored. Aurelie Dubois' art reflects her commitment to uncovering the truth and challenging societal norms.
by G.Wen
G. Wen: Aurélie Dubois, who are you?
Aurélie Dubois: I am a conjugate mutant.
De la Terre au Ciel – REBIS
ORA LABORA Anamophose
195x130cm, 2022
No Title, anamophique 
Peuple Objet and Pétrole Rouge, series
40x30cm – plume et encre carbone, 2023
G. Wen: : Tell me about your work. What is your favorite artistic medium?
A. D.: My research focuses on the human being as a whole, between what they make visible and what they hide about who they are. My primary sources are my six senses, and then all mediums and modes of expression are linguistic witnesses adapted to what needs to be expressed through the subject matter.
G. Wen: How do you approach feminism?
A. D.: As a hybrid.
G. Wen: Can you tell me about the political dimension of your artistic work?
A. D.: About the revelation of the pulsional belly-button of freedom of expression beheaded without brotherhood.
G. Wen: What is the poetic process?
A. D.: The love of God.
G. Wen: Where do you see yourself on the French artistic scene?
A. D.: Among the brass.
G. Wen: Tell me about your artistic references.
A. D.: Gina Pane, Elke Crhistofec, Sahra Lucas, Louise Bourgeois, Frida Kahlo, Caravaggio, seismic movements, peace, love, and Merlin the Enchanter.
G. Wen: Tell me about your videos related to Instagram Stories.
A. D.: Iconic scenes for symbolic figurations. Homage, quotation, recycling, and after… Amnesia of a story.
G. Wen: Tell me about your performances and the link with music.
A. D.: My performances are a moment of revelation, a laboratory of the powers of the voice embodied by liberated states of mind. How to paint the air of the wind.
G. Wen: What is your sound playlist and now your artistic playlist?
A. D.: Hildegard von Bingen and Paracelsus.
To find out more about Aurelie, she is present in the pages of the WINTER PRINT ISSUE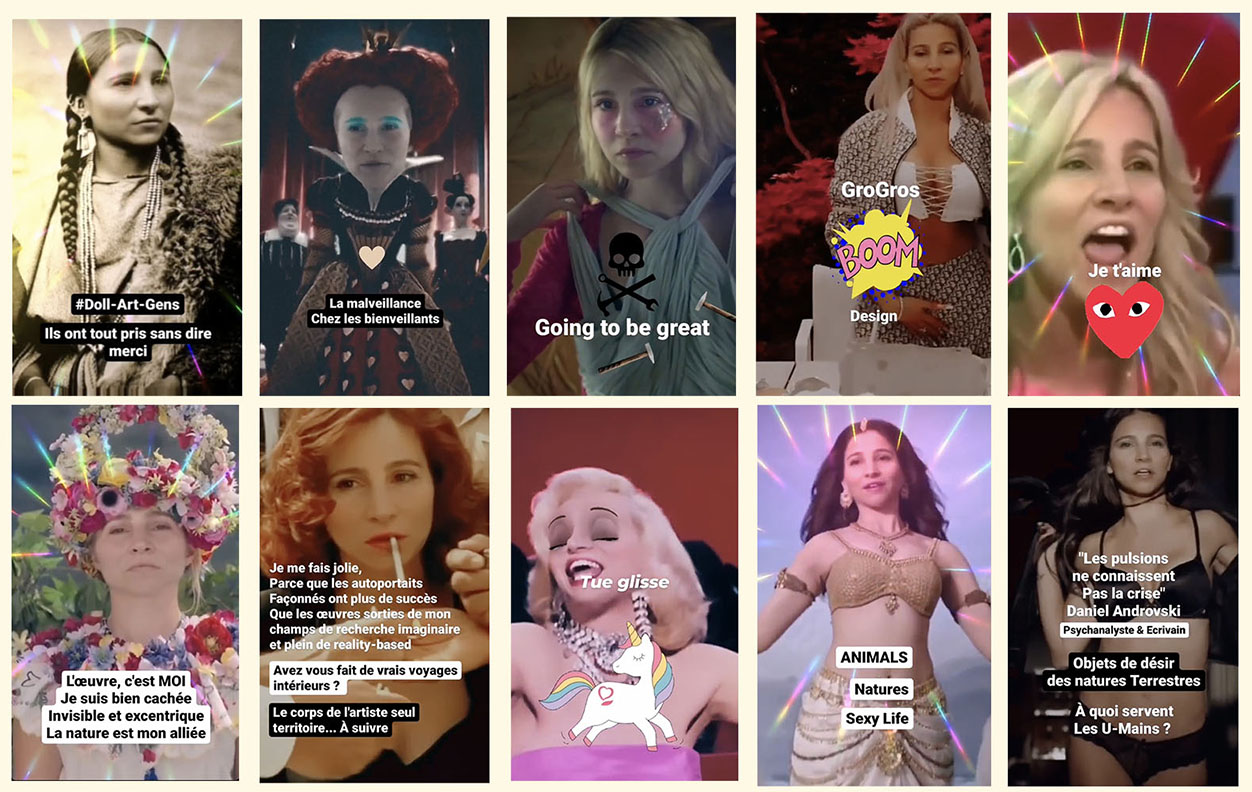 Stories – images extracted from the continuous thread of my anamorphic expressions in connection with current events, daily life, philosophical questions. Symbolic and semantic work on the search for hidden realities.