Elsa Schiaparelli was a prominent fashion designer in the early 20th century who was known for her avant-garde designs and collaborations with artists of her time. Born in Rome, in Palazzo Corsini, from an aristocratic and intellectual family, she studied philosophy. She moved to London very young, in the early 1910s, where she married Count Wilhelm de Wendt de Kerlor, a theosophist whom she met in 1912. Together they had a daughter, Countess Maria Luisa Yvonne Radha de Wendt de Kerlor.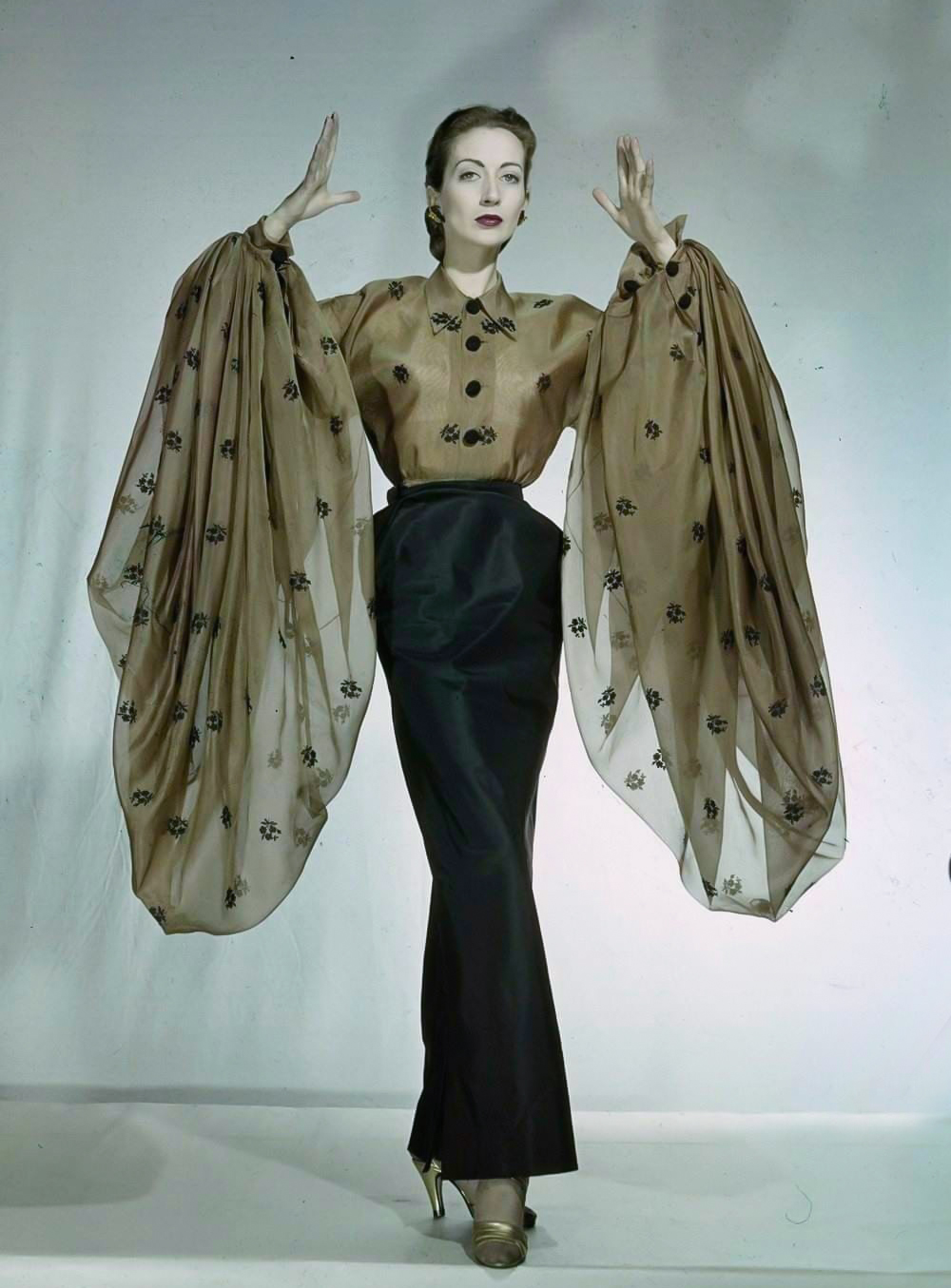 haute couture blouse by Elsa Schiaparelli, 1950
Elsa in her own ski outfit design, Schiaparelli pour le Sport
One of Schiaparelli's most famous collaborations was with Salvador Dali. The two artists shared a fascination with surrealism, and together they created some of the most daring and innovative designs of the time. One of their most famous collaborations was the Lobster Dress, which featured a bright red lobster draped across the front of the dress. The dress became an iconic symbol of the surrealism movement and is now considered one of Schiaparelli's most well known designs.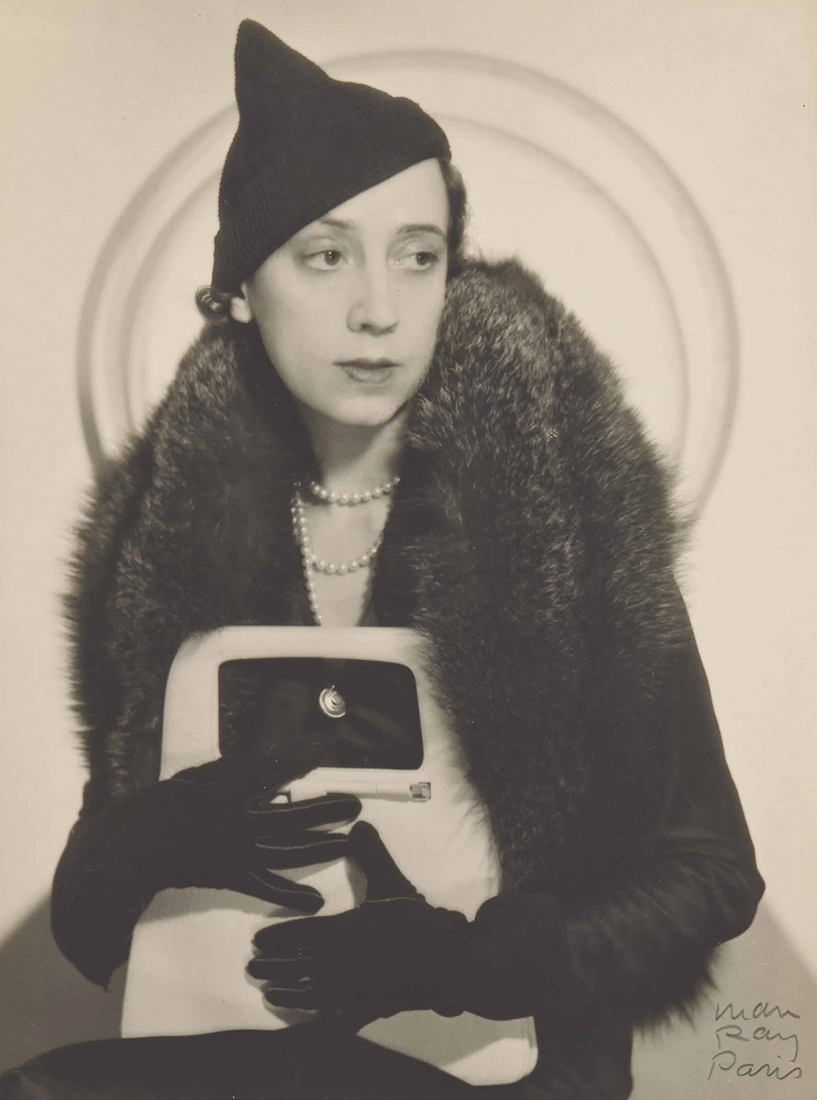 portrait by Man RAY, cca 1931
Historian Gertrud Lehnert considers Elsa Schiaparelli as one of the most brilliant personalities of the fashion industry.
She learned her couture skills from non other than Paul Poiret. Schiaparelli's interest in art and her unconventional approach to fashion led her to collaborate with some of the most important artists of the era, including Salvador Dali, Jean Cocteau, and Alberto Giacometti.
Elsa Schiaparelli opened her first boutique in 1930. The boutique was located at 4, rue de la Paix in Paris, and was called Schiaparelli Pour Le Sport. It was a small boutique that sold activewear and sports clothes for women. In 1934, she opened a larger boutique at 21, place Vendôme in Paris, which she called Schiap Shop. This boutique was a showcase for her more avant-garde designs, which were inspired by Surrealism and featured bold colors and unusual materials. The opening of the Schiap Shop was a significant moment in her career and helped to establish Elsa as one of the most innovative designers of her time.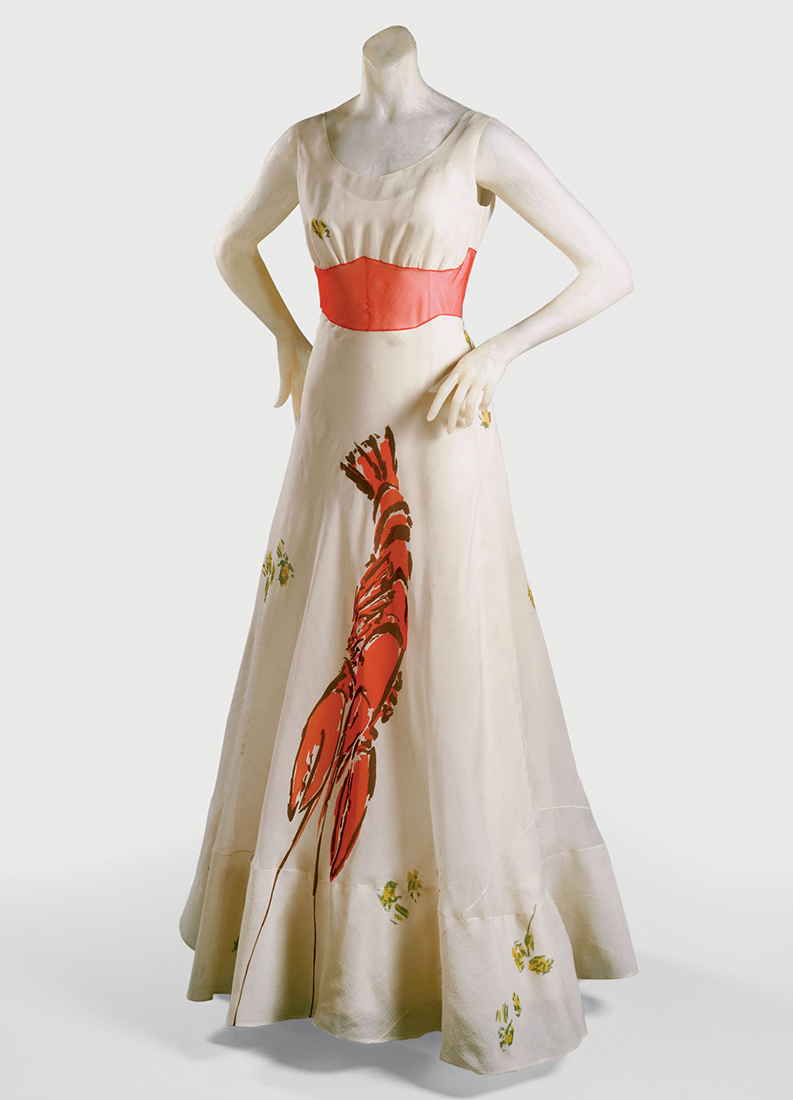 Salvador Dali and Elsa Schiaparelli had a passionate and tumultuous love affair that began in the 1930s and lasted for several years. The two artists first met in Paris, where Schiaparelli was establishing herself as a prominent fashion designer, and Dali was already known for his surrealist paintings and eccentric personality.
Despite their different backgrounds, Dali and Schiaparelli were immediately drawn to each other. They shared a fascination with the surrealism and a desire to push the boundaries of art and fashion. Dali was particularly taken with Schiaparelli's innovative designs, and he saw in her a kindred spirit who shared his passion for creativity and experimentation.
Their love affair was intense and passionate, but it was also marked by conflict and jealousy. Dali was known for his possessiveness, and he often resented Schiaparelli's close relationships with other artists and designers. Schiaparelli, for her part, was wary of Dali's mercurial moods and his tendency to manipulate those around him.
For Dali, Schiaparelli was a source of inspiration and creative energy. He was fascinated by her unique approach to fashion and her willingness to take risks and experiment with new materials and designs. Schiaparelli was deeply influenced by Dali's surrealism and his unconventional approach to art. Their collaboration helped to blur the lines between fashion and art and contributed to the development of a new kind of avant-garde aesthetic.
The love story between Salvador Dali and Elsa Schiaparelli was a complex and passionate affair that had a significant impact on both of their lives and careers. Their collaboration helped to shape the direction of art and fashion during the 20th century, and their influence can still be felt today in the work of many contemporary artists and designers.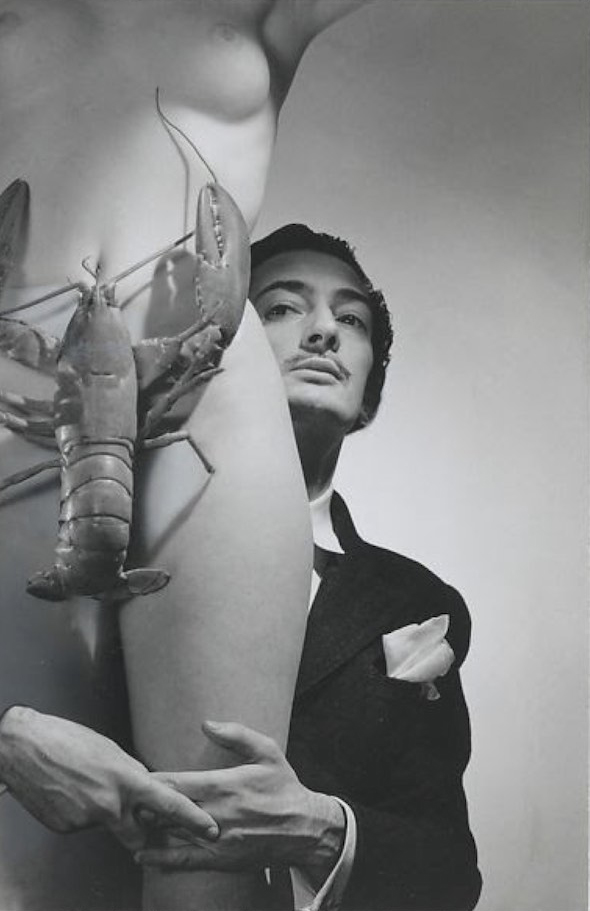 Schiaparelli also collaborated with the writer and artist Jean Cocteau, who was known for his avant-garde approach to literature, art, and film. Together, the two artists created several designs that incorporated Cocteau's drawings and poetry into Schiaparelli's clothing.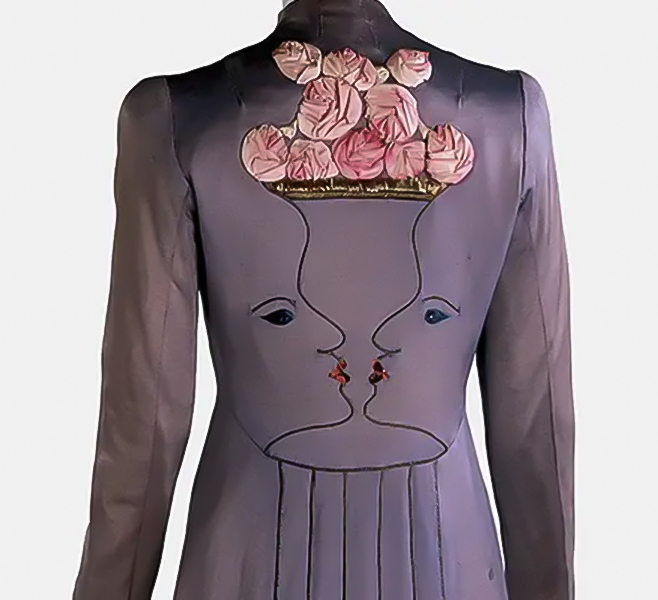 here embroideries after drawings by Jean Cocteau
Schiaparelli also collaborated with the Swiss sculptor Alberto Giacometti, who was known for his abstract sculptures and surrealist paintings. Together, the two artists created several pieces that combined Schiaparelli's fashion designs with Giacometti's sculptural sensibilities. These collaborations resulted in some of Schiaparelli's most experimental and avant-garde designs.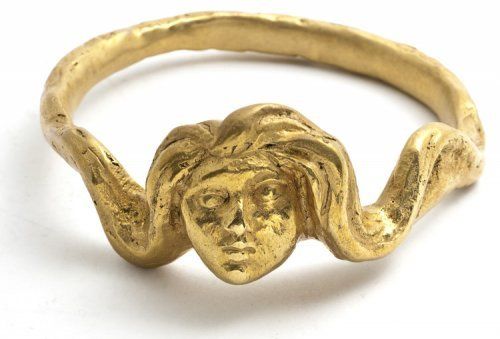 Alberto Giacometti and Elsa Schiaparelli
"Salvador Dali is a genius, but not a great designer, since he is too much involved in his own personality. For him, a dress is just another canvas, and his ideas, though often brilliant, are not always wearable. However, he has brought a new fantasy into fashion."
(Schiaparelli, Elsa. Shocking Life. New York: E.P. Dutton & Co., 1954, p. 153.)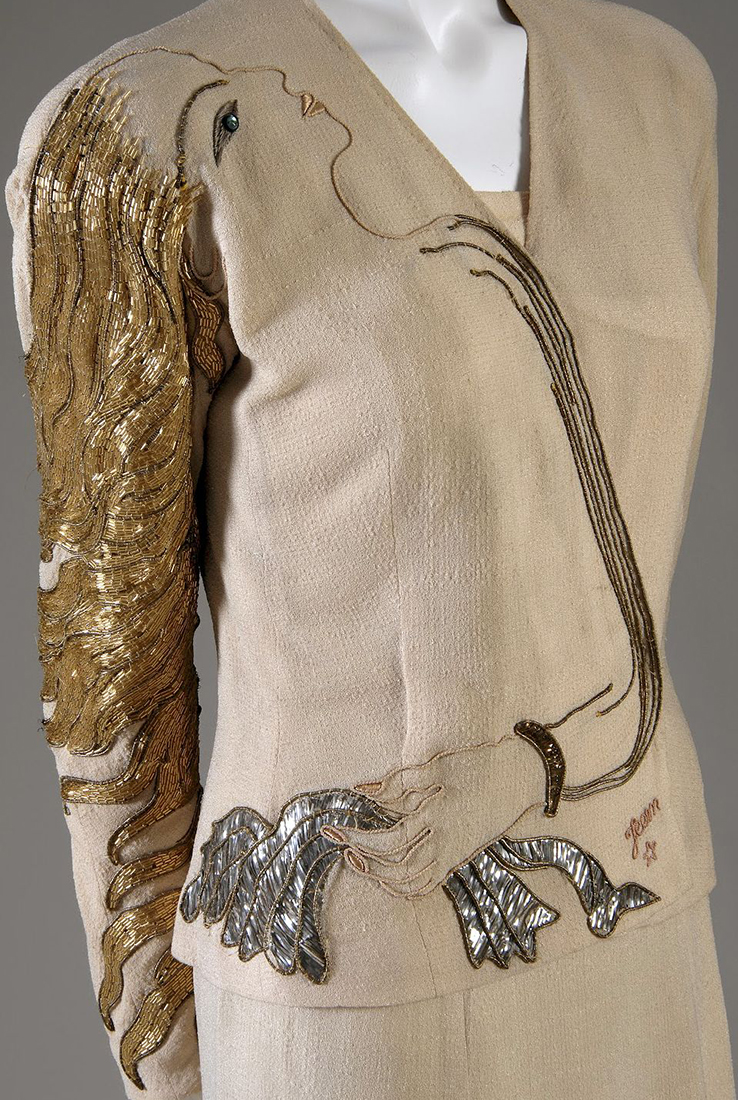 In addition to her collaborations with individual artists, Schiaparelli also worked with the Surrealist movement as a whole. She organised several Surrealist exhibitions in her Parisian boutique, which featured works by artists such as Giorgio de Chirico, Max Ernst, and Rene Magritte. These exhibitions helped to popularise the Surrealist movement and brought attention to Schiaparelli's own innovative designs.
Elsa Schiaparelli was a feminist pioneer who challenged traditional gender roles and norms through her innovative fashion designs. In a time when women's roles in society were still very limited, Schiaparelli broke down barriers and paved the way for future generations of women to pursue their dreams and aspirations.
This is why she started to design costumes for the cinema, including the films Femmes and Every Day's a Holiday. Schiaparelli's fashion designs were known for their bold and daring style, incorporating unusual materials, colours, and patterns that had never been seen before. She also played with gender roles in her designs, creating pieces that challenged traditional notions of masculinity and femininity, featuring a masculine cut and tailoring.
In addition to her fashion designs, Schiaparelli also used her platform to advocate for women's rights and empowerment. She believed that women should have the same opportunities as men, and she was vocal in her support for the feminist movement. In her autobiography, she wrote:
"I firmly believe that it is a woman's right to express herself in any way that she sees fit…I have always championed the cause of women's liberation and I have always tried to create fashions that reflect that spirit."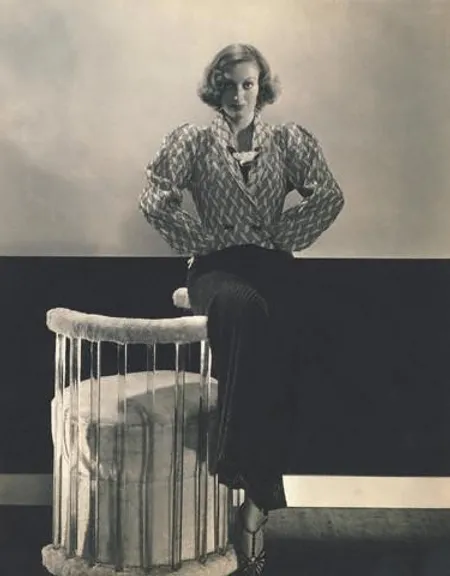 Joan CRAWFORD wearing Schiaparelli, 1932
photo by Edward STEICHEN
shaping the fashion trend with a trouser-skirt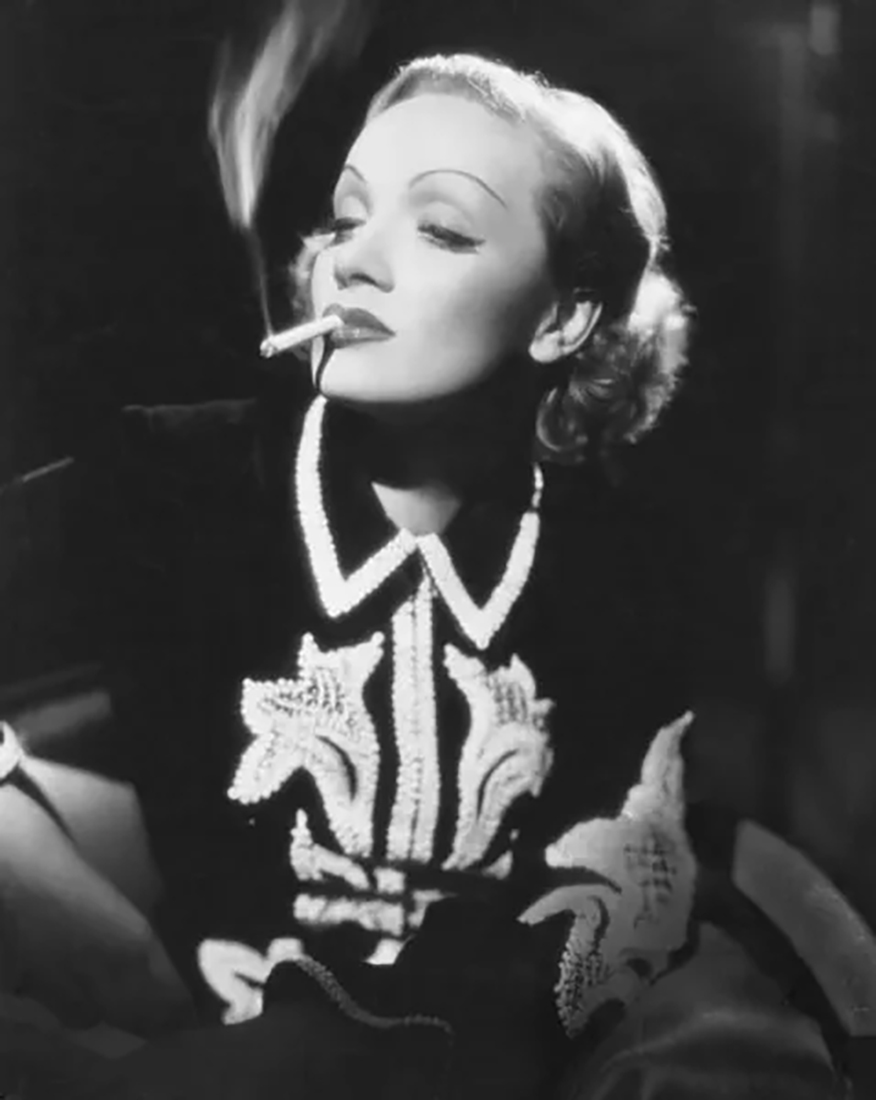 Marlene DIETRICH wearing a trompe-l-oeil pullover by Elsa Schiaparelli , 1930s
Schiaparelli's legacy as a feminist pioneer can still be seen today. Her bold and daring fashion designs, as well as her outspoken support for women's empowerment, continue to inspire and influence future generations of designers and activists.
"The perfect dress, the one that will never go out of style, is just one: the dress of freedom". 
Elsa Schiaparelli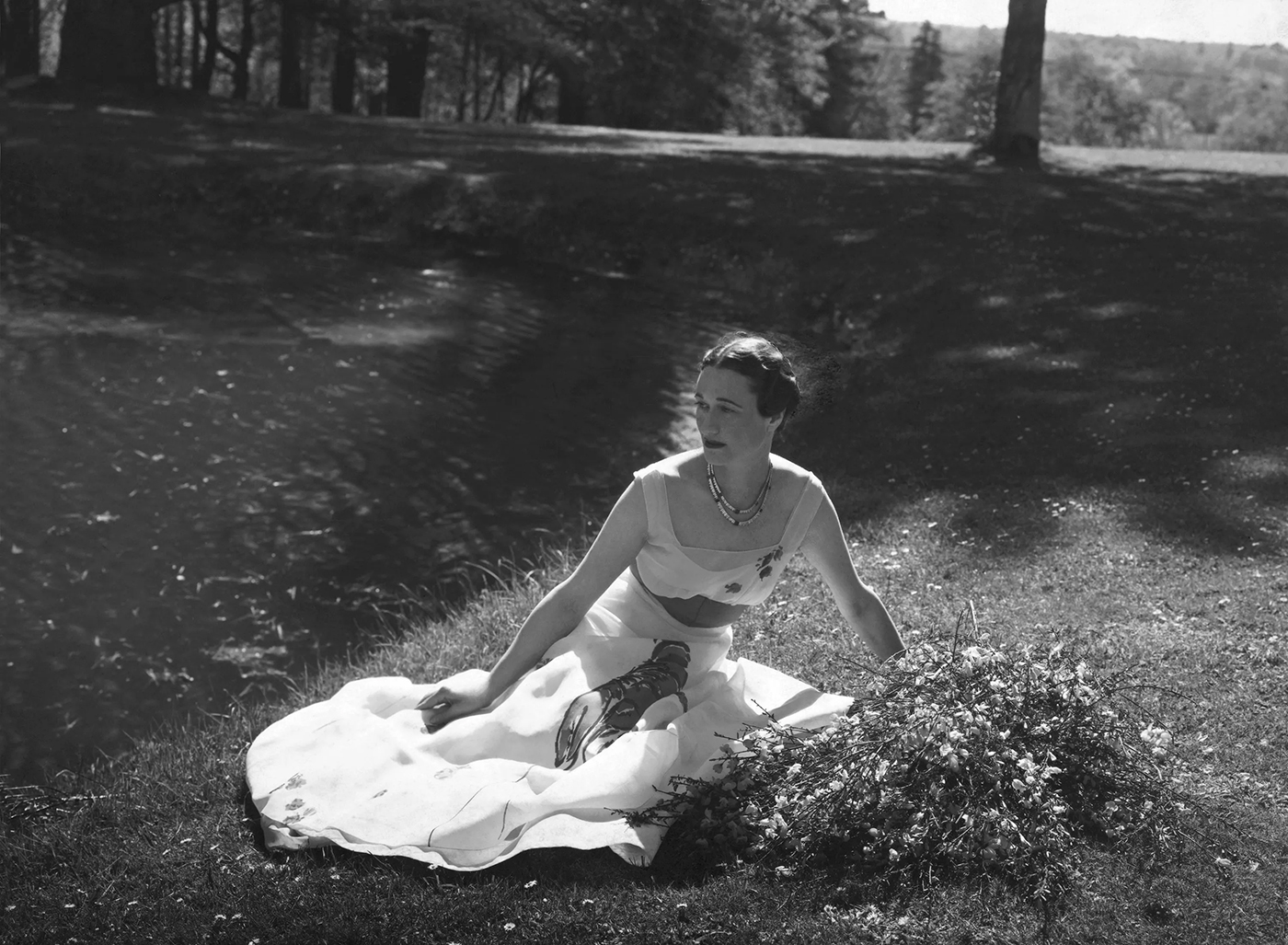 Wallis SIMPSON wearing the Lobster dress
Elsa Schiaparelli was not only known for her innovative fashion designs, but also for her iconic perfume bottles. One of her most famous designs was the Shocking perfume bottle, launched in 1936, which was moulded after Mae West's torso. The bottle was inspired by Schiaparelli's love of surrealism and her desire to create something that was both beautiful and unexpected. It dis caused a scandal. The bottle was designed by the artist Leonor Fini, who was a close friend of Schiaparelli's.
The Shocking perfume bottle became an instant icon when it was released in 1936. Its shape was unlike anything that had been seen before in the world of perfume, and it quickly became a must-have item for fashionable women around the world. The bottle was made of glass and was adorned with a bright pink stopper, which was meant to resemble a hat. The perfume itself was a bold and daring scent, with notes of gardenia and ylang-ylang.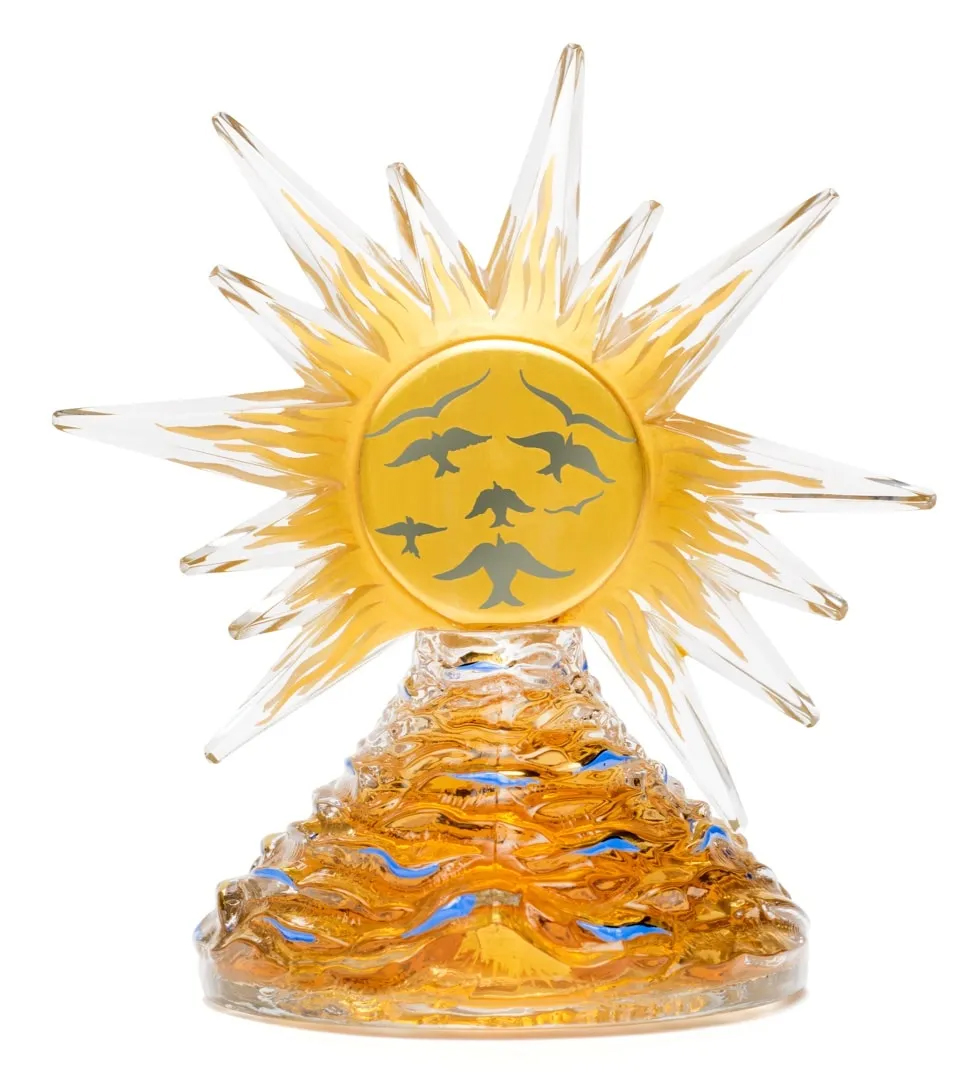 Drawing by DALI and Elsa SCHIAPARELLI for the Le Roi Soleil perfume bottle
Decades later, Jean Paul Gaultier would draw inspiration from Schiaparelli's iconic perfume bottle when he designed his own perfume bottle for his signature fragrance. Gaultier's bottle was shaped like a woman's torso, just like Schiaparelli's, but with a modern twist. The bottle was designed to resemble a corset, with a metal cap that was meant to look like a padlock. The fragrance itself was a bold and provocative scent, with notes of vanilla, musk, and orange blossom. It became an instant icon, as well, when it was released. The influence of Schiaparelli's original Shocking perfume bottle can still be seen in many of the perfume designs that are released today, making it clear that her legacy continues to inspire and influence designers in a variety of fields.
Jean Paul Gaultier, who rose to fame in the 1980s, was known for his daring designs that mixed elements of punk rock and haute couture. He considered Schiaparelli the first to use the zip as a decorative element and to introduce tweed for evening wear, the culotte skirt, and silhouettes with pronounced shoulders. Like Schiaparelli, Gaultier was interested in blurring the lines between genders, fashion and art, and his designs often incorporated unexpected materials and unconventional silhouettes.
"I think what I liked about Schiaparelli was her imagination. She was a very creative woman, and she did many things that were quite crazy at the time." 
(Vogue, "Jean Paul Gaultier Talks to Tim Blanks About His Legacy," June 2015) 
Other designers who were influenced by Schiaparelli include Yves Saint Laurent, Marc Jacobs, John Galliano, Miuccia Prada and Alexander McQueen. Each of these designers incorporated elements of Schiaparelli's innovative approach to fashion into their own work, and they continue to be celebrated for their contributions to the industry. 
In an interview with Vogue in 2011, McQueen's creative collaborator, Sarah Burton, discussed McQueen's admiration for Schiaparelli:
"Lee [McQueen] was fascinated by her, especially the idea of the surreal and the unexpected. He was always drawn to that in fashion, the idea that you could create something that made people think." 
(Vogue, "Sarah Burton on Alexander McQueen," August 2011)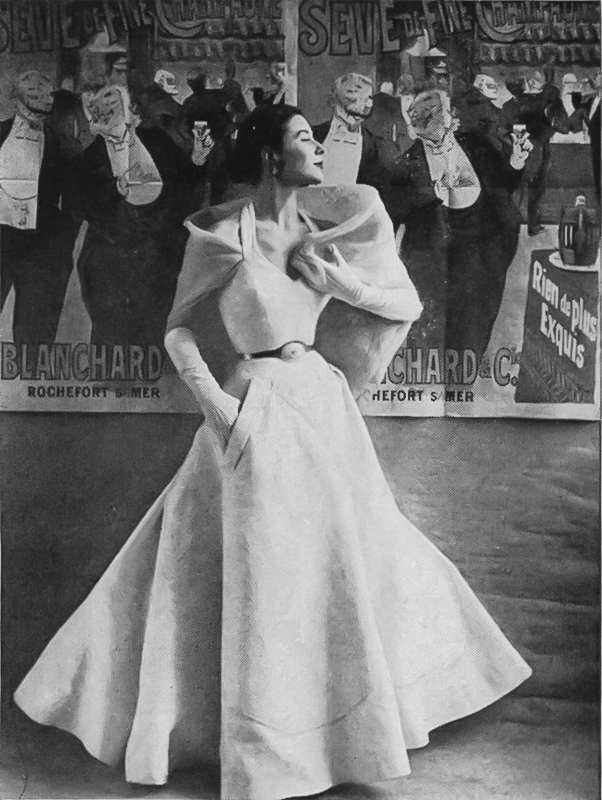 Vogue, 1951, photo Henry CLARKE

Les Yeux de Elsa, the Arago look by Yves Saint LAURENT
In 1940, Elsa Schiaparelli went into exile in the United States until the end of the Second World War, leaving her fashion house in the hands of a trusted assistant. After the Liberation she returned to France. It is then she mentored a young designer, Hubert de Givenchy, who went on to open his own haute couture house. 
Elsa Schiaparelli expanded her business by developing manufacturing licenses. However, in 1954, due to financial difficulties, the Schiaparelli house closed its doors. She moved to New York but remained active in the fashion world and was a member of the Reception Committee of the Paris Biennale. Elsa Schiaparelli passed away on November 13th, 1973, in Paris, leaving behind a legacy of creativity.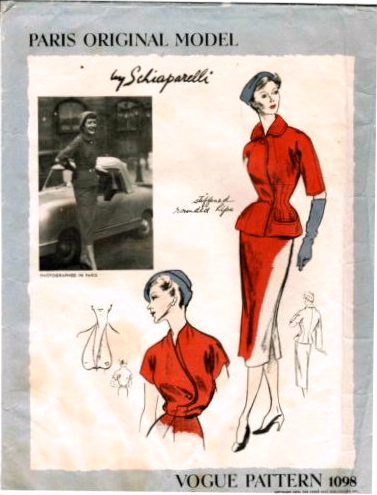 In 2012, the house was reborn under the leadership of Diego Della Valle, the owner of the luxury goods conglomerate Tod's Group. Della Valle was a longtime admirer of Schiaparelli's work and was determined to revive the brand he bought in 2006, while staying true to its heritage and spirit.
"The idea with Schiaparelli is to restore it in all its modernity and make it a brand that represents dreams, art and everything sophisticated,"
(Diego Della Valle for the Milanese daily Il Sole 24 Ore)
He enlisted designer Marco Zanini to serve as the house's creative director and charged him with reinterpreting Schiaparelli's iconic designs for a modern audience. Zanini drew inspiration from Schiaparelli's love of surrealism and her bold use of colour and pattern.
Marco Zanini, Schiaparelli 2014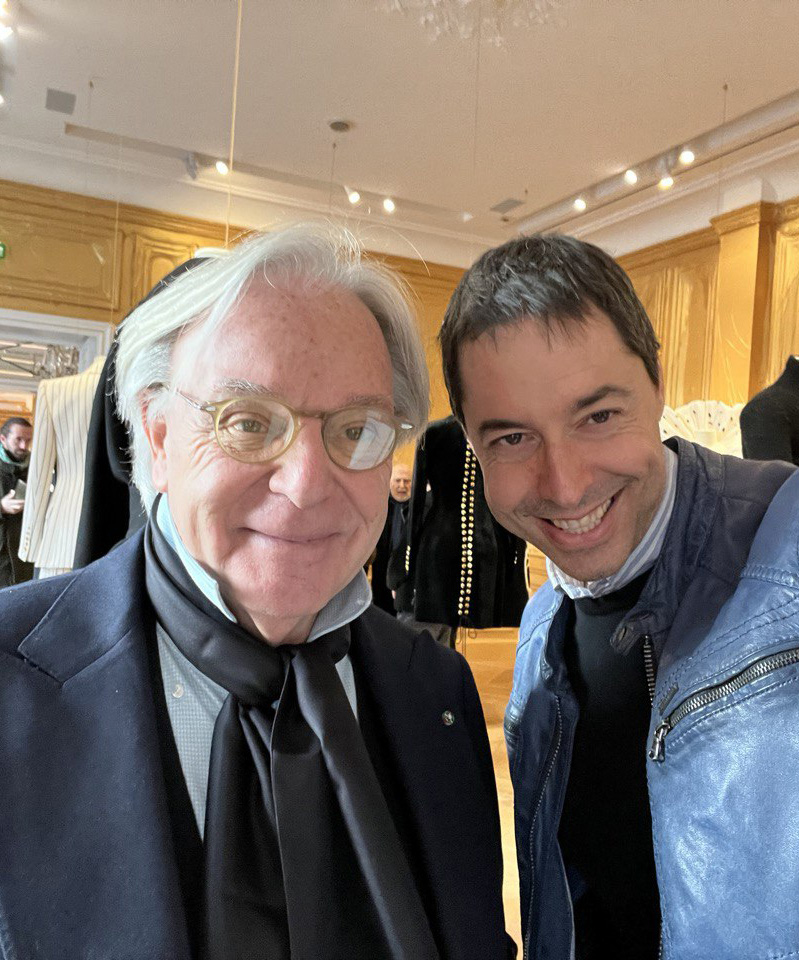 Mr. Diego DELLA VALLE and the EDGE photo editor Marco TASSINI 
The rebirth of the Schiaparelli house was met with much excitement and anticipation from the fashion world, and the first collection under Zanini's direction was well-received. The collection featured a mix of modern and vintage-inspired looks, paying homage to Schiaparelli's iconic designs, including the "shocking pink" hue, her signature.
The house has collaborated with artists and designers from a variety of fields, including filmmaker Baz Luhrmann, jewellery designer Harumi Klossowska de Rola, and French sculptor Michel Carel. His work is known for its surreal and dreamlike quality. He produced a number of stunning sculptural creations that perfectly captured the brand's spirit. Carel's work for Schiaparelli also included a number of other sculptural pieces, such as intricate headpieces and jewellery, as well as more conceptual pieces, like the dress made entirely of paper. This collaboration celebrates the ability of fashion to transcend traditional boundaries and become a true work of art.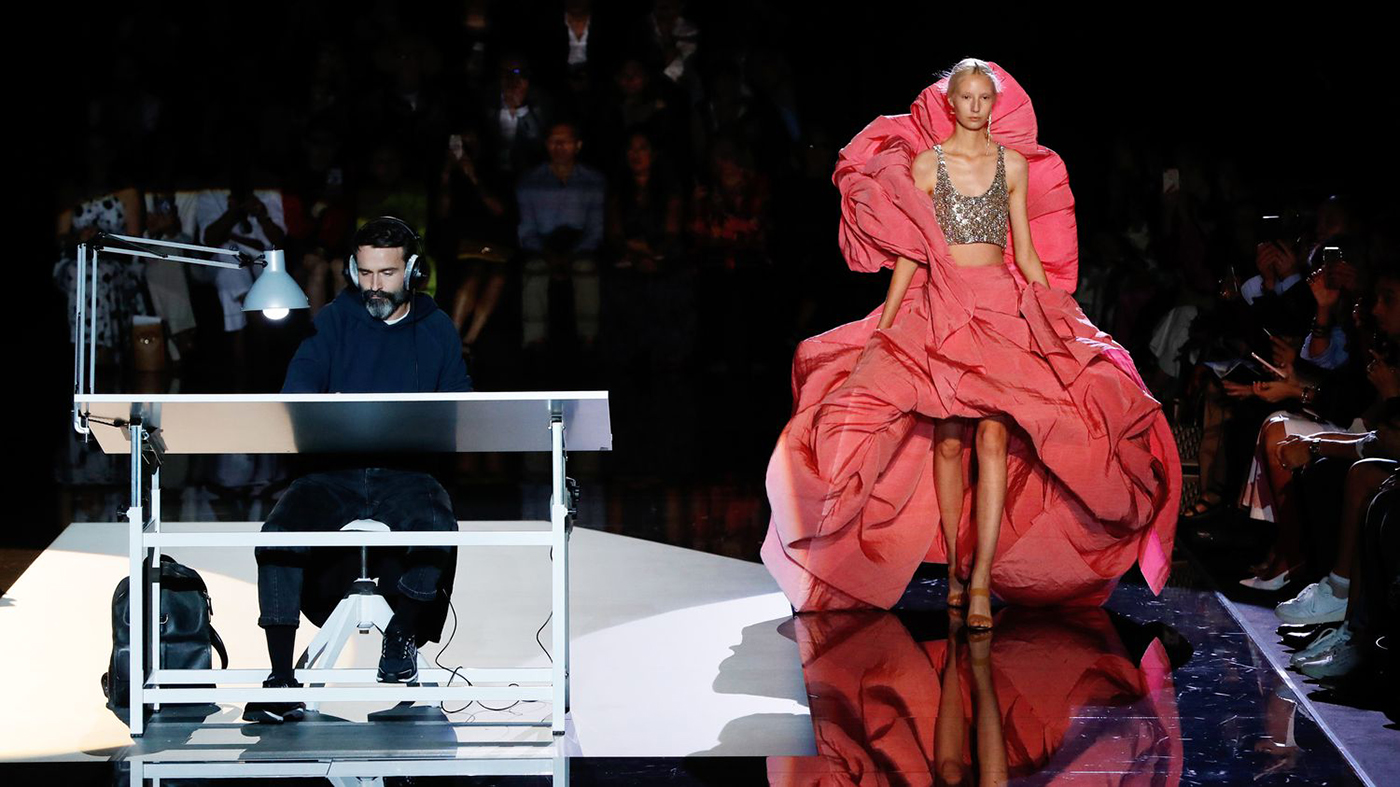 first show by Daniel ROSEBERRY for Schiaparelli
Daniel Roseberry's appointment as the creative director of Schiaparelli in 2019 has brought a renewed energy and creativity to the brand, resulting in a surge in demand for its designs among some of the biggest names in the entertainment industry.
Roseberry's vision for Schiaparelli has been bold and daring, drawing on the brand's legacy of surrealism and innovation to create designs that are both beautiful and thought-provoking. His designs have been worn by a number of high-profile celebrities, including Lady Gaga, Kim Kardashian, Beyoncé, and Cardi B, who have all been drawn to Schiaparelli's unique and avant-garde aesthetic.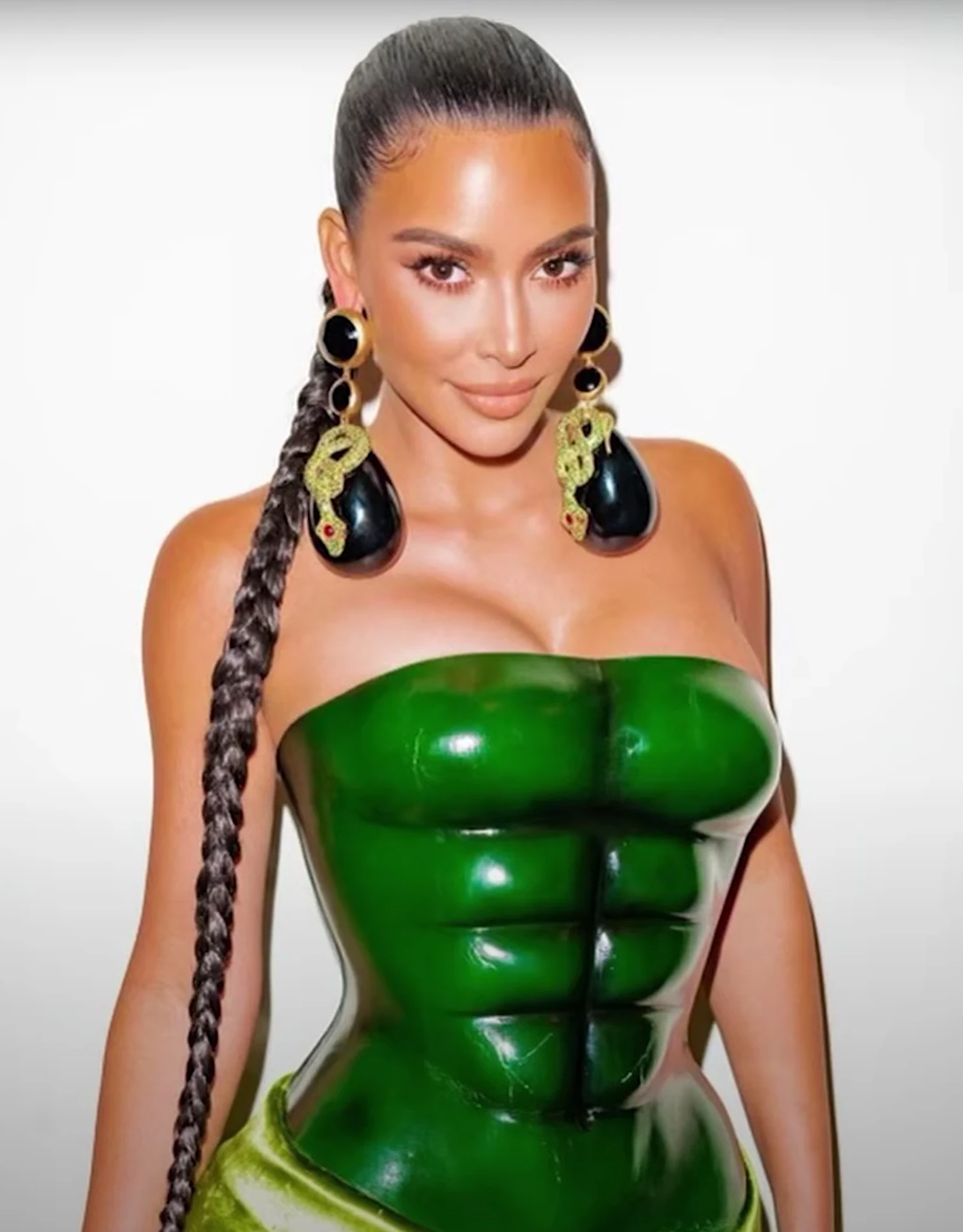 Kim KARDASHIAN with her sculptural Schiaparelli bustier
Roseberry's appointment has also helped to cement Schiaparelli's position as a leader in the fashion industry, attracting attention from critics and fashion enthusiasts alike. His designs have been praised for their originality, creativity, and technical skill, as well as for their ability to push the boundaries of fashion and challenge conventional ideas about beauty and style.
The brand's late sculptural corsets are inspired by the work of surrealist artist Leonor Fini. The sculptural corsets were a departure from traditional corsetry, with their exaggerated and exaggeratedly shapes that defied the norms of traditional fashion. They are made of a variety of materials, including leather, silk, and tulle, and featured intricate and elaborate details, such as feathers, crystals, and embroidery.
The sculptural corsets are designed to celebrate the female form, and they do so at Schiaparelli, emphasising the curves of the body in a unique and daring way alongside voluminous dresses, asymmetrical gowns, and intricately embroidered coats.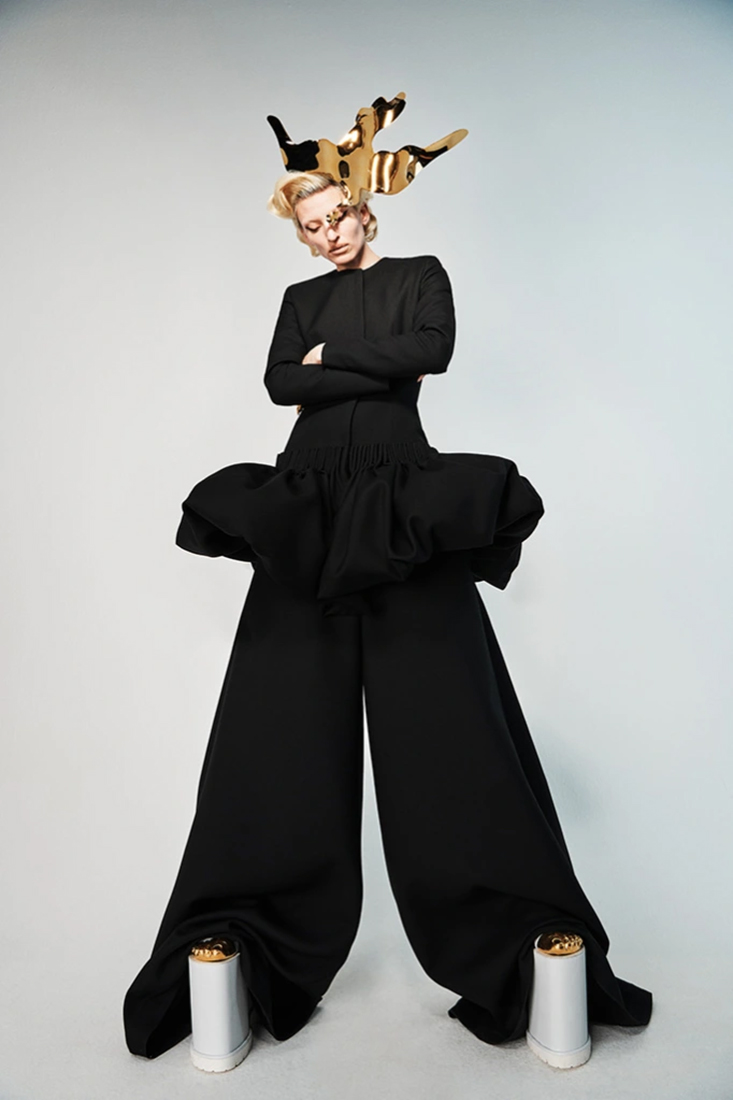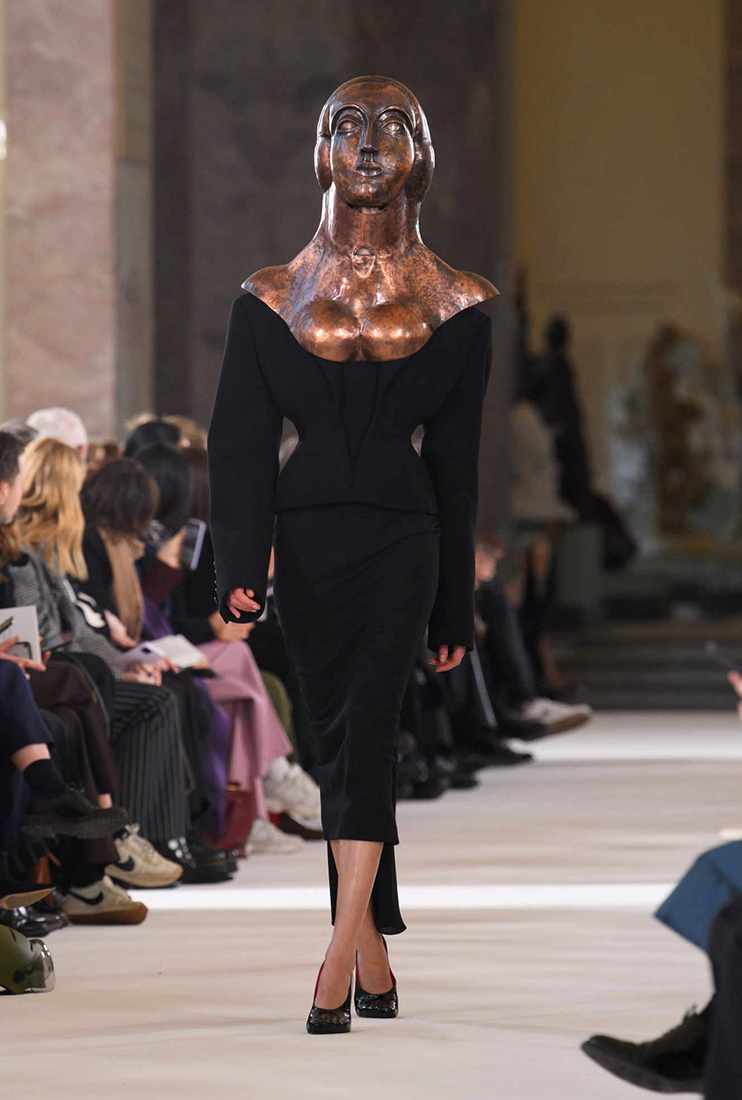 The Giant Woman, DANTE inspiration, sculpture by Michel CAREL, Daniel ROSEBERRY for Schiaparelli spring summer haute couture collection 2023
LADY GAGA and the poetic Cocteau inspired Schiaparelli gown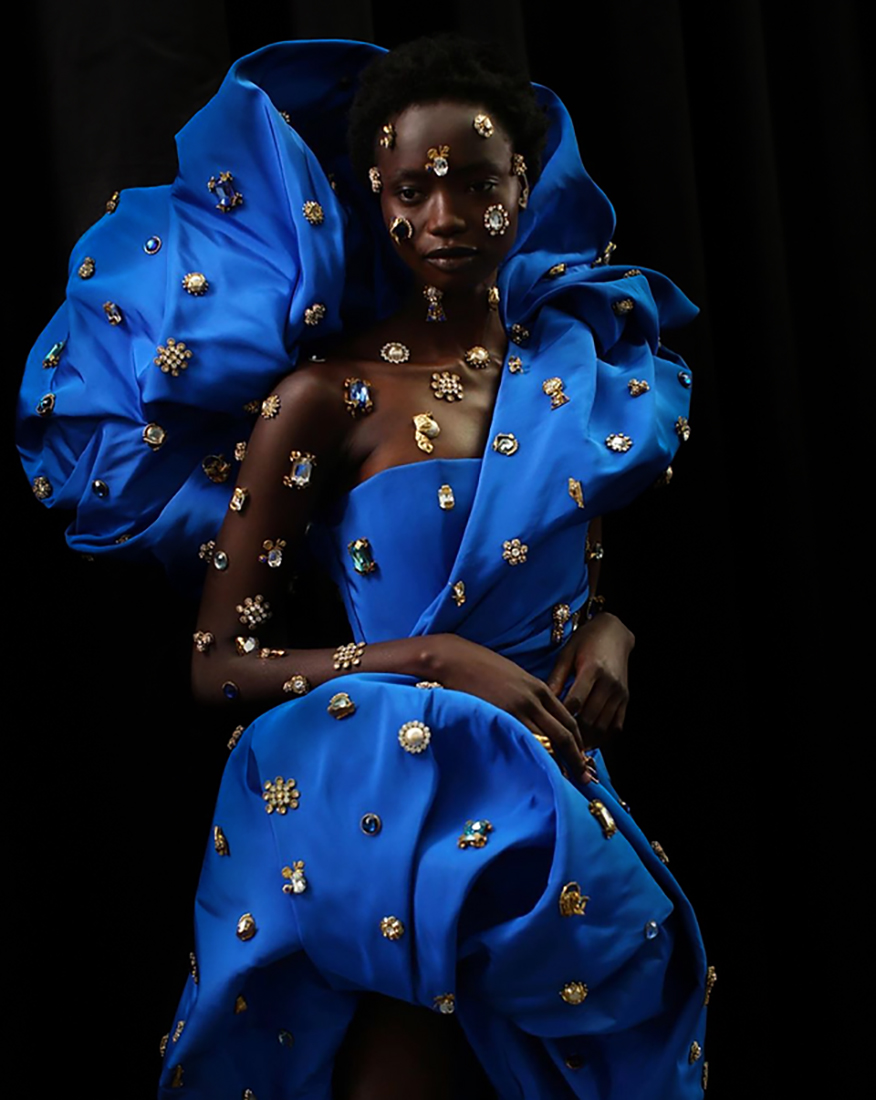 In an interview with W Magazine, Daniel Roseberry spoke about the importance of Elsa Schiaparelli's legacy and how it has influenced his work as the artistic director of the Schiaparelli house. He said:
"Elsa Schiaparelli was such an innovator, someone who was never afraid to push the boundaries of fashion and art. She was truly ahead of her time, and her spirit and vision continue to inspire me today. As the artistic director of the Schiaparelli house, I am constantly drawn to her bold use of colour and pattern, her love of surrealism, and her ability to create designs that are both playful and sophisticated. I feel a deep sense of responsibility to carry on her legacy and to continue to push the boundaries of fashion in new and exciting ways."
Today, the Schiaparelli house remains a symbol of innovation, creativity, and artistic expression, carrying on the legacy of its visionary founder.
by A.I.Mas
Bella HADID, Cannes Film Festival 2021, photo by Marco Tassini
Here is a chronology of the Schiaparelli house art directors and some of their most important realisations:
Elsa Schiaparelli (1927-1954): Schiaparelli was the founder of the Schiaparelli house and served as its artistic director from 1927 until 1954. She was known for her bold use of colour, innovative designs, and her love of surrealism. Some of her most important realisations include the "shoe" hat, the "lobster" dress, and the creation of her signature shade of shocking pink.
Farida Khelfa (2012-2013) Diego Della Valle has chosen the former supermodel and actress, once a muse of Azzedine Alaïa and Jean Paul Gaultier, to serve as an ambassador representing Schiaparelli. She was responsible for relaunching the brand and helping to re-establish Schiaparelli as a leading name in the fashion industry. During her tenure, Khelfa collaborated with a number of prominent artists and designers, including Christian Lacroix.
Marco Zanini (2013-2014) during his brief tenure, Zanini created a series of elegant and sophisticated collections that paid homage to Elsa Schiaparelli's legacy of innovation and experimentation. Zanini's designs featured luxurious fabrics, intricate details, and a sense of romanticism and whimsy
Bertrand Guyon (2015-2019): was known for his romantic and whimsical designs, which often incorporated intricate embroidery and embellishments. Some of his most important realisations include the "Secret Garden" collection, which featured delicate floral motifs, and the "Mermaid" dress, which was covered in sequins and featured a fishtail hem. it is in 2017 that the Schiaparelli house became the 15 fashion houses legally permitted to use the designation "haute couture". 
Daniel Roseberry (2019-present): Roseberry, the first American to direct a couture brand, is the current artistic director of the Schiaparelli house. He has brought a modern and avant-garde sensibility, incorporating unexpected materials and bold colours into his designs. He captures "the spirit of Elsa" rather than re-using her designs. Some of his most important realisations include the "Schiaparelli Skeleton" gown, which was inspired by the brand's iconic perfume bottle, and the "Birds of Paradise" collection, which featured feathered gowns and bold prints. 
Christian LACROIX for Schiaparelli, 2013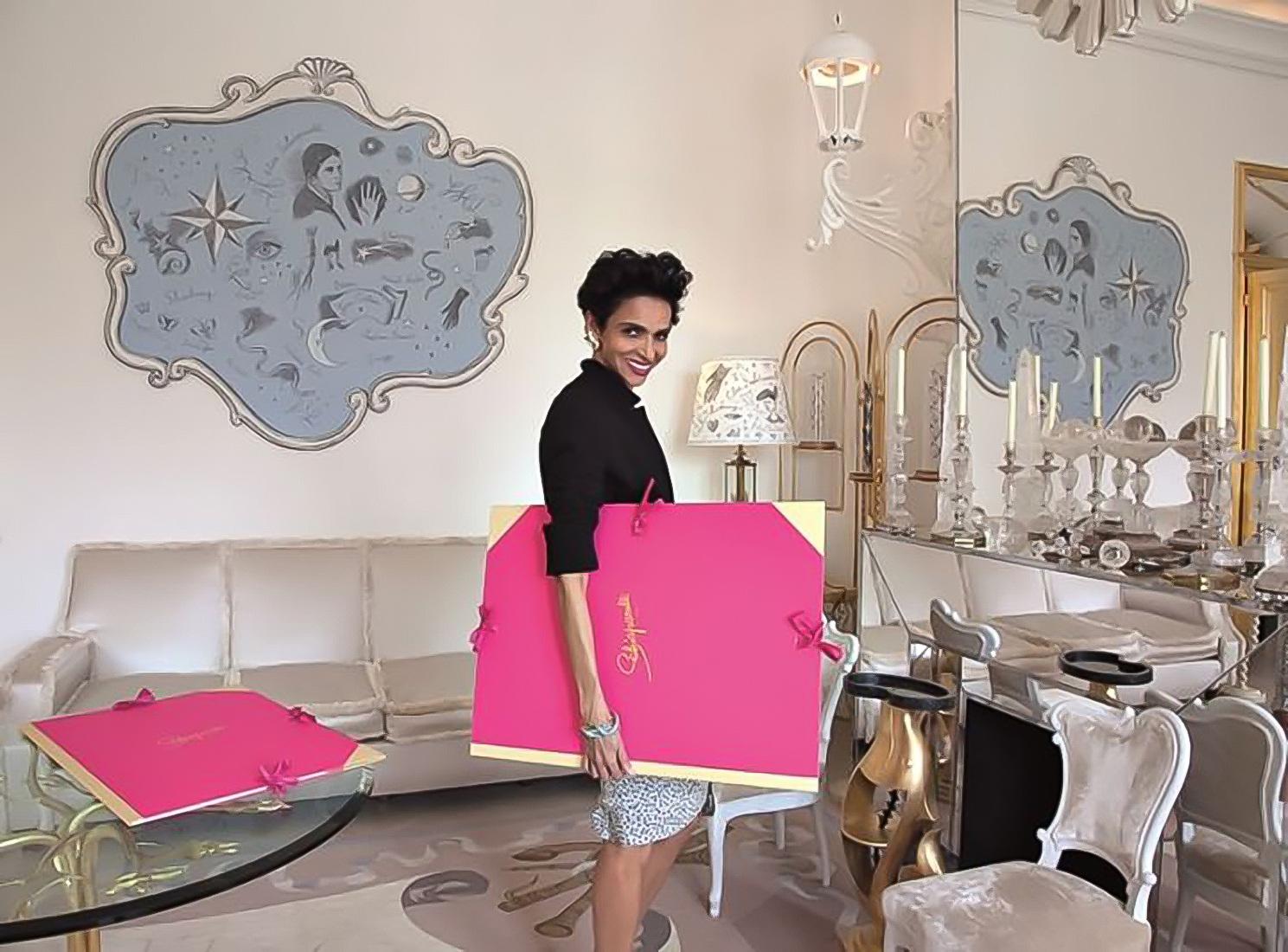 Farida KHELFA, ambassador for Schiaparelli
Mr. Diego DELLA VALLE and Daniel ROSEBERRY, photo by Marco Tassini for the EDGE mag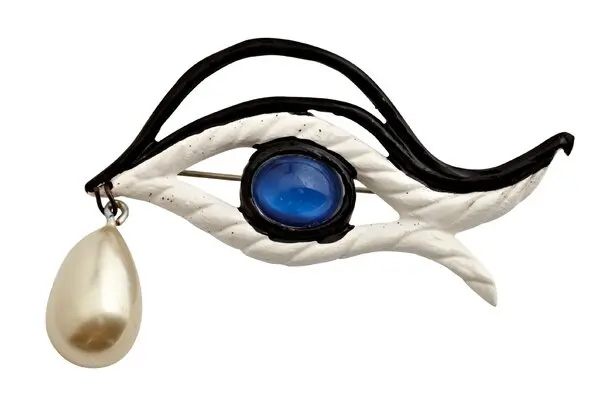 1930, Eye broche by Jean Cocteau for Elsa Schiaparelli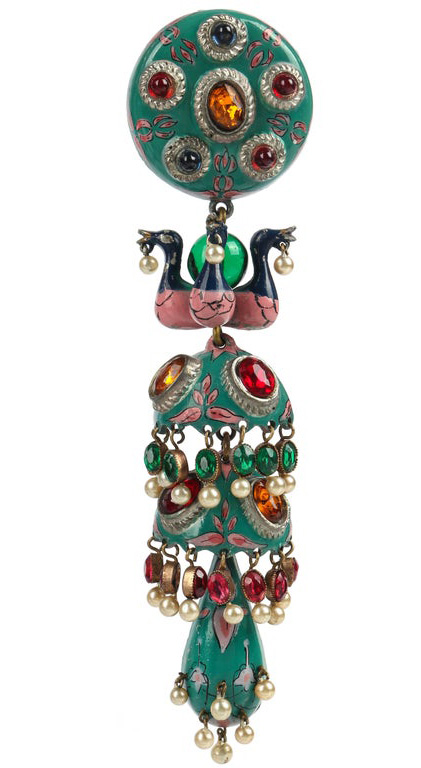 1930s Max Boinet for Elsa Schiaparelli, Le Cirque Enamel Fur Clip Brooch Pin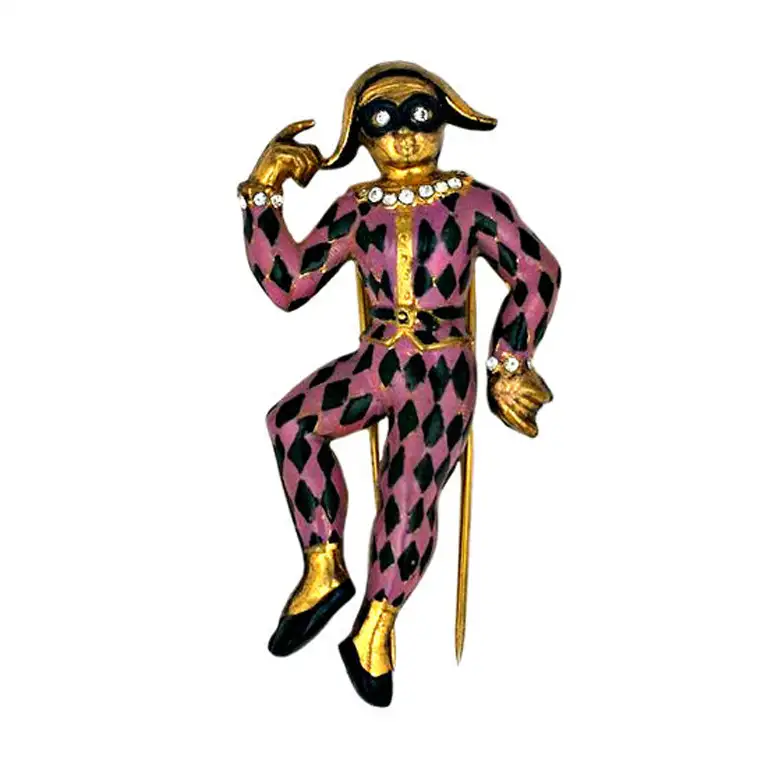 1939, harlequin broche by Schlumberger for Elsa Schiaparelli
Here is a chronology of the Schiaparelli house artist collaborations and some of their most important realisations:
Salvador Dali (1937-1952): Schiaparelli's collaboration with the surrealist artist Salvador Dali produced some of the most iconic designs in the brand's history, including the "Tear" dress, the "Shoe" hat, and the "Lobster" dress. Dali's surrealistic visions and artistic talent allowed Schiaparelli to push the boundaries of fashion.
Jean Cocteau (1937-1945): French poet, artist and filmmaker Jean Cocteau collaborated with Schiaparelli on several designs, including the "Profile" jacket and the "Sun and Moon" dress. His surrealistic drawings were used as prints on Schiaparelli's fabrics.
Alberto Giacometti (1935-1937): Swiss artist Alberto Giacometti collaborated with Schiaparelli on a limited-edition jewellery collection, which featured abstract and sculptural pieces. The pieces were inspired by Giacometti's famous elongated human figures.
Leonor Fini (1935-1936) for One the famous Shocking perfume bottle, launched in 1936, moulded after Mae West's torso. 
Jean Schlumberger (1939-1950): French jewellery designer Jean Schlumberger created several stunning jewelry pieces for Schiaparelli, including the "Trompe L'Oeil" brooch, which was designed to look like a fly, and the "Telephone" bracelet, which was shaped like a telephone receiver.
Christian Berard (1947-1949): French artist and costume designer Christian Berard collaborated with Schiaparelli on several designs, including the "Winged Victory" dress and the "Funnel" coat. His artistic talent allowed Schiaparelli to create garments that were truly unique and striking.
Petra Collins is a Canadian artist, photographer, and director known for her whimsical and feminist works. In 2020, Petra Collins collaborated with the Schiaparelli house under the creative direction of Daniel Roseberry for the brand's Fall/Winter collection. Collins created a series of colorful and surreal prints for the collection, which were inspired by the Schiaparelli's heritage and the spirit of surrealism. The prints featured playful and whimsical motifs, such as eyes, lips, and hands, as well as the brand's iconic color, "Schiaparelli pink." Collins' prints were used on various garments, including dresses, coats, and blouses.The collection was presented during Paris Fashion Week in March 2020, and received critical acclaim for its bold and imaginative designs. The collaboration between Petra Collins and the Schiaparelli house was a successful union of the artist's unique and playful vision with the brand's legacy of innovation and creativity.
Sarah Moon is a French photographer and director known for her dreamy and poetic style of photography. She collaborated with the Schiaparelli house in 2020 under the creative direction of Daniel Roseberry for the brand's advertising campaign. Moon's collaboration with Schiaparelli produced a series of surreal and poetic photographs that captured the brand's essence of fantasy and magic. The images featured models wearing Schiaparelli's garments, standing against dreamy and fantastical backdrops that seemed to come out of a fairytale. The collaboration between Sarah Moon and Schiaparelli highlighted the brand's unique approach to fashion, which merges art and fashion, and celebrates creativity and imagination. The photographs were widely acclaimed for their unique and haunting beauty, which perfectly captured the spirit of Schiaparelli's universe.
Michel Carel (2019-today) for the sculptural bodices and surrealistic pieces.