Estethica x Berlin Fashion Week 3-7 September 2022 In partnership with Fashion Revolution Germany
After an eight year long hiatus Estethica, the highly acclaimed ethical fashion showcase, is relaunching, in partnership with Fashion Revolution Germany, its ethical fashion showcase. The exciting new program consists of an exhibition of 10 designers, a mentoring and business support program and a much – needed spring board for Ukraine's most innovative emerging talent. Following the success of the Fashion Open Studio initiative in Berlin, Estethica presents:
« What Lies Ahead » featuring a group exhibition at 202040-The Berlin Fashion Summit, there will be talks and panel discussions and the launch of an exclusive collaboration with The POOL rental hub. For September 2022, four Ukrainian designers have been selected for a program which provides business and financial support which is dearly needed. 'In Solidarity' began with Jean Gritsfeldt's show which closed Berlin Fashion Week last March. The collection was produced and made possible through the solidarity and voluntary support of Fashion Revolution Germany and Berlin's sustainable fashion community. The support for Ukrainian Fashion Designers is a joint effort of the Senate Department for Economics, Energy and Labor, Mercedes-Benz Fashion Week, Der Berliner Salon, Fashion Council Germany, Neo.Fashion and 202030. The Berlin Fashion Summit is an expression of the ongoing sympathy and solidarity with Ukraine. In addition The Estethica program also includes a live upcycling lab with the Berliner Stadtmission and Haus der Materialisierung to celebrate the craft, commitment of the new generation of designers for whom sustainability is fundamental. This program will be launched during Berlin Fashion Week September 22. The 10 designers in the group exhibition 'What Lies Ahead' are all participants in Estethica's dynamic mentoring and business support with a focus on sustainable practice delivered by The Right Project to accelerate their ideas around circularity and innovation. The two-day exhibition highlights the shared responsibility and cooperation needed during these troubled times. Ultimately if the fashion community binds together they can use their power to make change.
Orsola de Castro says:
I couldn't be more excited to relaunch the mythical Estethica in Berlin in the context of Berlin Fashion Week. Estethica has my whole heart, always has, and Berlin contains what I believe can be the future of the sustainable fashion industry. Combining the two will be a purposeful riot of substance and style, the birth of a program dedicated to vision and kindness. I wish to thank the Senate Department for Economics, Energy and Public Enterprises and all our local partners, especially Fashion Revolution Germany, for this opportunity , and for this incredible spirit of collaboration.
Estethica is delighted to present:
Dennis Chuene One man, two sewing machines. Cheune celebrates the timeless design and craftsmanship of one-off pieces.
Don Aretino Indonesian-born, Berlin-based Aretino's work explores the interconnection between same sex desire, religion and social analysis with custom-made pieces made to last a lifetime.
Melisa Minca, photo Melissa_Mincova
 Dennis Chuene, photo Julia Chuene
Fade Out Label-A (cover photo ) zero waste brand focused on « degrowth » by drastically reducing consumption and the exploitation of raw materials. Designer Andrea Bonfini says « you are what you wear » respecting quality and not quantity.
Melisa Minca MM is for eccentric individuals who want to have fun with self-expression, at the same time not contribute to the environmental pollution and human exploitation. Upcycled, reworked items and custom tailoring.
Tanja Bombach Bombach is a director and designer based in Berlin, founder of the project series CATALOGUE OF DISGUISE, using fashion, performance and music. The series adopts an intersectional approach to shape a cultural perception of fashion.
Vladimir Karaleev Bulgarian born, Berlin based designer producing and sourcing locally in a small range made-to-order series, working with stock or end of roll fabric usage and no overproduction.
 Don Aretino, photo Vincent Schneider
Tanja Bombach, photo Laura Schaeffer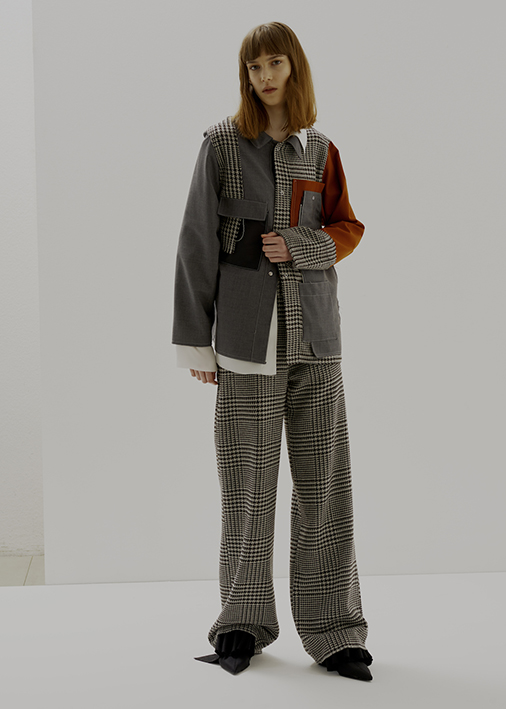 Vladimir Karaleev, photo Johannes Kuczera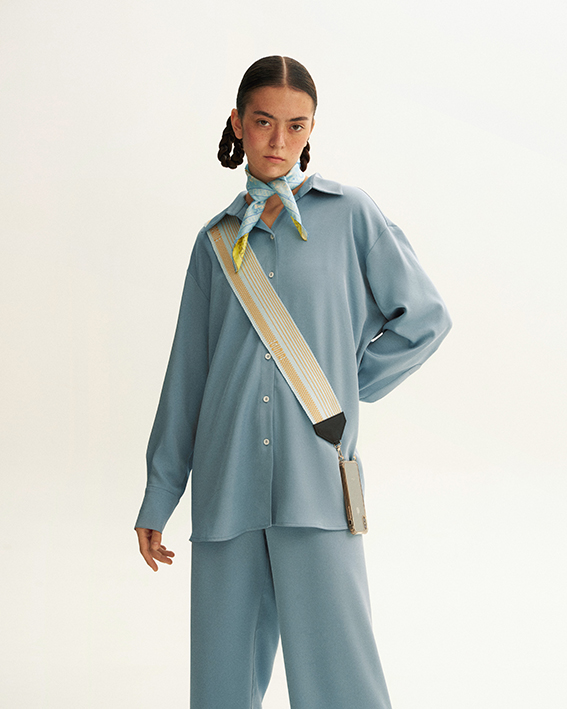 Gunia_Project, photo Lera Levanova
IN SOLIDARITY
Here the focus is on four Ukrainian designers, this program is tailored to support their business, communication, logistical and design practices. The designers receive assistance both in cash (of up to 3,000 euros each) and access to specific one-on-one professional mentoring.
Gunia project A brand that rethinks and integrates recognizable elements of traditional culture into modern design objects for everyday use. Each product is handmade and hand-painted, keeping alive the culture of Ukrainian craft heritage and protecting the livelihood of rural artisans. Hempful Specialising in easy clothes made from organically grown hemp.
Ksenia Schnaider Founded by a designer duo from Ukraine, KS is a synthesis of fashion design reasoning from Ksenia Schnaider and engineering logic and a sense of humour from Anton Schnaider. Mainly using upcycling and recycled materials.
Xomehko A conceptual art and fashion project using textile experiments for social communication, ironical reflection of overconsumption and a dialogue between the past and the future.
Ksenia Schnaider, photo Andrew Grey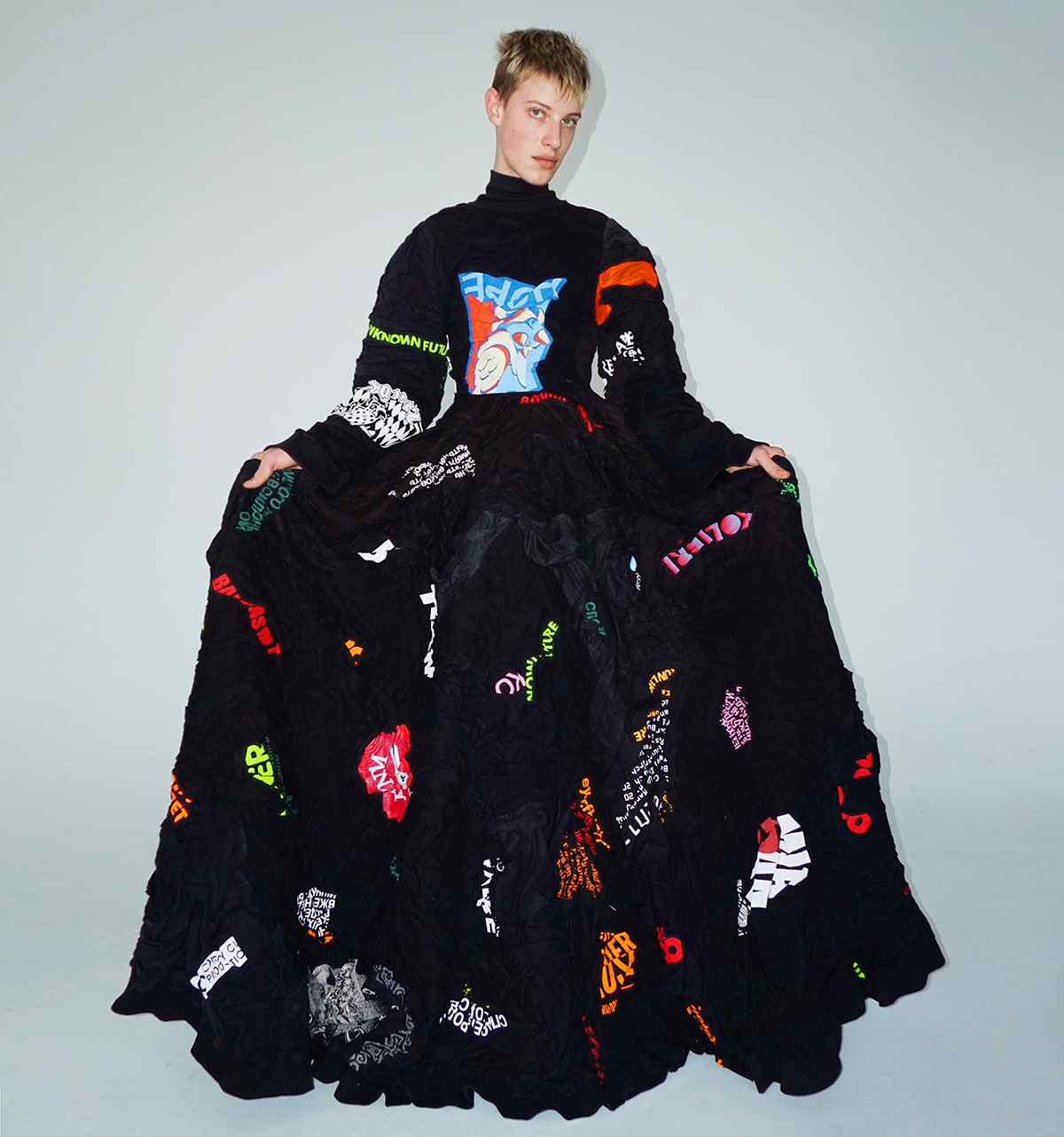 Xomehko by Yaroslava Khomenko
About Estethica
Estethica originally launched in 2006 at London Fashion Week, creates a vibrant space for innovative, responsible fashion. It is considered to be the OG in sustainable showcasing and thinking. Since inception it has supported brands such as Katharine Hamnett, People Tree, Carla Fernandez, Veja and Dr Noki and launched the careers of designers like Christopher Raeburn, and Clare Farrell, who went on to co-found Extinction Rebellion as well as game- changing platforms like Bruno Pieters' pioneering business Honest by,Estethica has partnered on initiatives with Central Saint Martins, Greenpeace, Yoox and DEFRA, Environmental Justice Foundation, Tesco Clothing and many others.
It counts Diane Pernet, Erin O'Connor, Lily Cole, Sara Sozzani Maino, Susie Lau and Suzy Menkes amongst its loyal supporters.
The Estethica Press Day panel conversations introduced new ideas into the mainstream and the Estethica Review became an indispensable tool in the early days of the fashion sustainability movement, which Estethica pivotally helped to grow to what it is today. After a hiatus of eight years – during which time one of its founders, Orsola de Castro co- founded Fashion Revolution, the world's largest fashion activism movement – Estethica is reforming, reinvigorated by new knowledge, new talents and new propositions to keep challenging the industry to do better.
About Fashion Revolution Germany:
Fashion Revolution Germany e.V. is the German representation of the global Fashion Revolution campaign. We see it as our responsibility to bring the importance of transparency (along the value and supply chains of the fashion and textile industry) as a basis for sustainable development and for the inclusion of consumers into the discourse. We promote the advantages of transparent supply chains to a critical mass of consumers through visually appealing and critical campaign work and thus support the industrial transformation process by accelerating a change in social awareness.
About Berlin Senate:
The Berlin Senate Department for Economics, Energy and Enterprises (SenWiEnBe) is one of ten departments of the Berlin Senate and the supreme state authority responsible for economic and energy policy in the German capital – it is the state's economy and energy ministry. Since 2007, the Berlin Senate Department for Economics, Energy and Operations has contributed well over 15 million euros in additional support to the development of the fashion industry at the location. To mitigate the
effects of the pandemic in the fashion sector, around 5 million euros have been made available since 2020 alone, including 3.5 million euros in 2021 for the realignment of Berlin Fashion Week. In addition to start-up funding for platforms, the focus is on presentation opportunities for the fashion weeks in Berlin and Paris, as well as support for fashion labels through workshops and coaching services to further digitise business processes.