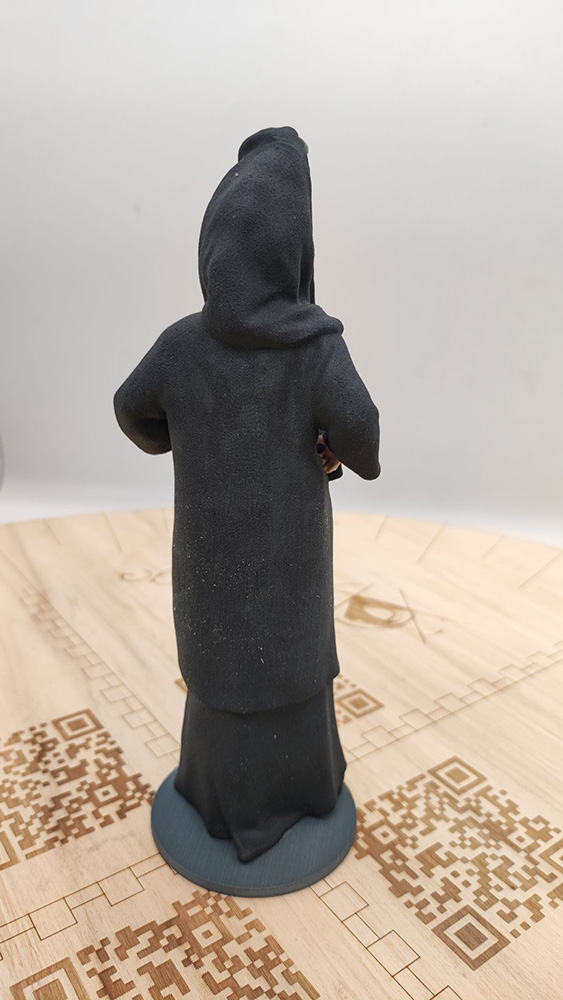 Do you want to create an action figure in your own image? 
For the past few days I've been playing around with the statue that I had made in my likeness by continuumdecom and Digitage. The statue is the first step  in the creation of an action figure for the metaverse. Being a generic avatar is not so interesting to me and so I had a chat with Geraldine Postel, the founder of continuumdecom about her collaboration with Digitage.
Below is what took place.
cover photo and lower image: Dior metaverse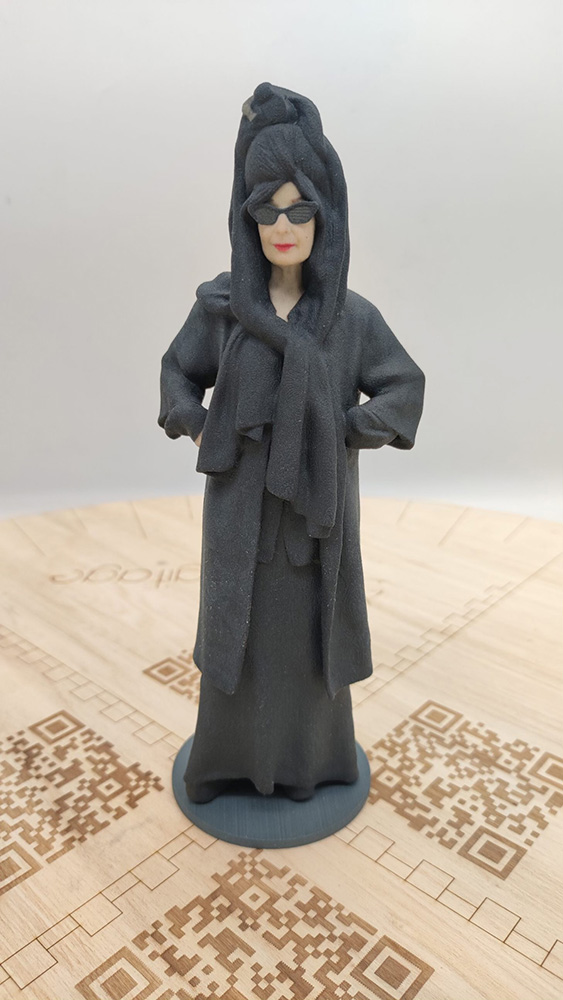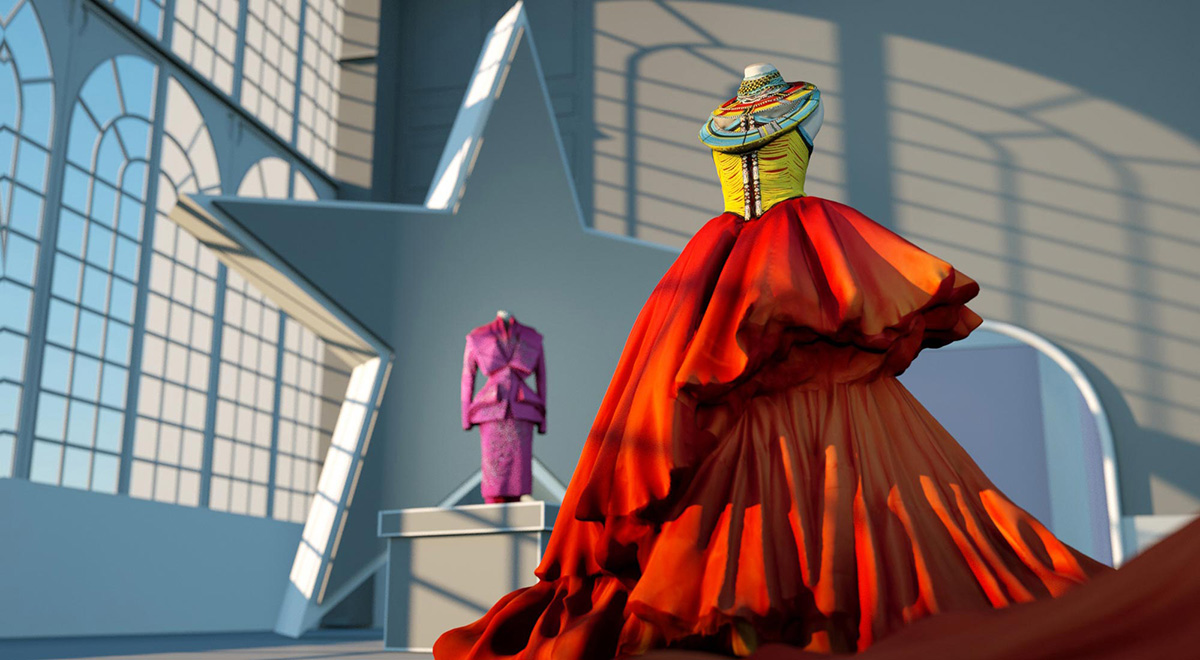 DP: First can you describe your digital consulting and content production agency continuumdecom?
GP: Continuum de Com is a digital consulting and content production label dealing in VR, AR, Metaverse and other derived uses for new technologies in communication. Continuum de Com is an extension of my headquarter Outcasts Incorporated, established in 2018 with the creation of its first metaverse DMGP observatory, (https://continuumdecom.com/#001) which is one of the first galleries in the metaverse with Unreal Engine.
Keep in mind that Outcasts Incorporated has been a pioneer since 1998 in launching and installing new media for influencers on both the print and digital luxury markets such as Purple, Another Magazine, Another Man, November, Dazed&Confused, Dust and currently,  Crash magazine.
DP: How did you start collaborating with Digitage the company that proposes the actual 3D scanning services?
GP: It really started last summer and became concrete in September.  I found their work on the internet and went to Sketchfab (the Youtube for 3D), after searching through the platform and meeting them in person, I discovered  a very talented and gracious team equipped with one of the largest studios in France.  We met to discuss their experience which goes from industrial engineering in 3D to photogrammetric references. Their experience includes  the scans that they did for the Dior 70th anniversary exhibition as well as their scan of the highly delicate and fragile Thierry Mugler dress designed for the Mc Beth Opera, and the retrospective exhibition,  "Couturissime",  at the Museum of Beaux-Arts in Montreal.  Additionally I saw the scans of religious historical wardrobes with elaborate golden embroidery details that was done  for the Sées Museum in France. The work is exceptional and I immediately thought that this is exactly the team I'd love to work with!
We discussed their current needs and our upcoming dream projects in the communication field. We also discussed how they fill the industry needs for 360 scans and 3D prints. Following our exchange, we decided to create a partnership which started with my own statue. Last December I curated an exhibition: "Continuum in Digitage" at Iconoclastes Gallery in Paris. For this I worked with a number of great artists and talents linking their contemporary artwork with new technology,  NFT's and AR . The Digitage studio was part of the installation giving collectors and visitors the possibility to produce their own self-portrait in 3D. The exhibition included international pioneers such as Miltos Manetas, Valery Grancher, Wolfgang Staehle, Marie Maillard, Devon Dikeou, Luminium, Bernard Joisten , David Godichaud, Jovana Ilic, Philippe Clemenceau and Zevs. It was a great success! Many people came and they were impressed by the studio and many of them made the scans for their figurine and ordered on the spot. We have worked as a team ever since.
DP: What made you choose Digitage as a partner ?
GP: We chose each other. It was clear that together we could propose a quality service to the fashion industry, the influencers, and that we could provide a great addition to press events and music festivals. An example of their work is seen in the images below created for MUGLER and  DIOR as well as the Religious garments for the  Historical museum. 
DP: Once the client visits the 3D Scan Studio equipped with 128 SLF cameras and is captured in 3D photos and has a virtual model created, what is the next step to putting the avatar online on the Internet?
GP: First step in order to do this you need a photographer to operate the computer to flash the  poses, a modeler, a rigger, a 3D Printer, and a developer that will integrate the work processed by each of these specialists. It also requires the right equipment for the best quality results and a lot of hard drive memory is necessary.
Once that is done, the images can be presented as 360 stills or as a moving avatar in metaverse or a videogame.
DP: What are the steps necessary to integrate the avatar into a video, for example or on my blog?
GP: Once you have the statue, the avatar file needs to be rigged. You have to start with a 3D scan in A pose.
In 3D image synthesis, rigging is the step that follows the modelling of an object that must move. It is for the modeller and the animator to choose the precise location where the axes of rotation will be placed. The rigging is essential  in order to allow the desired movements. 
DP: How can the avatar be integrated into a virtual environment? What are the limitations?
 GP: The rigged avatar needs to be integrated into the virtual space it could be the metaverse, a VR museum or cinema,  it needs to be given a number of actions with specific controls so that it can walk and talk with voice over and facial expressions. Again, this needs a lot of memory and calculations. It is quite a complicated procedure and if you find good technicians, keep them close, they are rare.
DP: How can the avatar be used in AR or printed in 3D? How can the Studio Scan 3D be integrated into an augmented reality application say on a smart phone or appear in 3D on a document?
 GP: We can make a filter and apply it to discover the avatar, there are different schools, you can use Unreal Engine, Unity or Spark AR by Meta, or other AR applications, but with Spark it starts immediately with an image filter from Instagram or Facebook. You can also record a film capture of your screen and repost that for all communication purposes, which can include a quicker way to market a show, personal websites, including uploads on vimeo, youtube and all social media platforms.
DP: Do the 3D scan files come with the statue and how much does it cost for the 3D scan and then how much does it cost for whatever else it takes to then put the avatar online or in a game?
 GP: It is actually not the same work to have a statue and to have a file destined to be an avatar.
For an avatar, step one is the photo file, its destination for the position of the person requires an A position. The cost of the 3D scan in A position and rendering is about 500 euros.
For the statue / figurine, it is necessary to pose like a model in a shoot, in a fixed position, but you can change make different moves. You'll select your favorite. The files are treated differently depending on the subject, on the texture, size and details: if it's a person or a fashion piece for example, additional equipment for scanning is required. This depends on the material, the reflections, etc.
A  25cm statue is 470 Euros, 20 cm is 335 Euros and 15cm is 210 Euros. Once the statue is created you will need to get an extra A position in order to have it rigged so that it can create actions.   
DP: How do you move it around? I see you appear in many different landscapes? How does that happen?
 GP: This requires additional steps I described earlier, human interventions when the developers need to refer to the original 360 files and with calculations and design work to create a skeleton with defined points of movement. This one was made by Théo Scapecchi @ 49-am. Others can change the landscape, and for that you need to recalculate the light.
DP: So, what is the corporate price for statues and avatars ?
GP: For a statue we have a corporate package :
One statue at 25 cm costs 470 euros, if you want additional statues they will cost 50 euros each with a minimum order of 50 statues. The total cost of the additional 50 statues priced at 50 Euros each equals to 2,500 Euros HT. 
For an avatar:
Step 1: You will have to stand in an A pose and scan the dress or coat separately to capture all of the details. Each scan is 500 euros. In order to make a proper A pose the subject needs to wear tights or bare legs, they could also be nude, up to the subject. In order to be able to rotate the arms, they must be open and fingers must be visible.
Step 2: You need to make a face scan to have it rigged, this requires a minimum of 46 images with different expressions. This step takes hours of work in order to complete the files to animate the face. Then you need to get the source file in order to have it rigged, I have a great new developer for this who is both fast and sweet. 
Expect to spend a minimum 1500 – 3000 euros. So basically, the entire process is going to run between 2000 – 3500 EUROS. Voice over is an additional cost depending on text, interactions, etc…It's hard to set a price based on no model and project, but these are raw numbers.
DP: How do you collaborate with Digitage and is the studio only in France? Where do potential clients need to go to be 3D scanned? It only takes a matter of minutes for it to be done. I know since I stood in the center of the 3D Scan Studio that was at your gallery, normally how long does it take to make the avatar after you are scanned?
GP: The studio is on the outskirts of Paris, but it is also a mobile studio that can be transported as the structure is specifically designed by the engineers of Digitage to operate almost anywhere. It requires a minimum of 16m2 to install it. It takes 2 hours to create a quality 360-image based on 1 model and about 10 minutes to have a raw model, but we can chain work up to 20 silhouettes in order to render in 360 images within 6-7 hours and place it in neutral background or a designed environment that is provided.  (link to sketchfab), that is a great thing for fashion, art, and many other commercial fields.
Géraldine dans le musée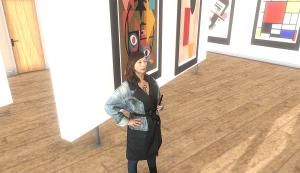 Geraldine in the museum is wearing a coat dress designed by Lutz Huelle – a necklace Yaz Bukey, tights Nao Okawa for Le Coq Sportif Japon, AGL shoes @studiodigitage
This is an exhibition scan for Dior 70th anniversary
Since the statues are made out of mineral powder, it takes about one week to ten days to print its first edition. After that we can also re-print as many statues as we want, it's faster in numbers working from the original files. Therefor clients have the possibility to order collections of people, like a music label, a brand, a team, a product or a self-portrait, there is no end to the possibilities.
DP: If someone is making an event, for example, ASVOFF 14, and we wanted to have a 3D Scan Studio set up , how is that possible and what would an operation like that cost?
GP: We are available to respond to your needs, costs include installation, duration of the event and if we sell the statues. Also it depends on the location and distance, contact us for more details. 
DP: I imagine a lot of people will want to have avatars made of themselves after reading this article, who do they contact?
GP: You can contact me anytime for estimates. We just need clear details of what your needs are and we'll be happy to accompany you in this new adventure in the metaverse.
Géraldine Postel
geraldine@continuumdecom.com