I thank @ideservecouture for my discovery of Paris' new shooting star, Gregory Assad.
Assad was born 22 years ago in Martinique between Morne-Vert and Saint-Pierre and to my knowledge is the first designer from the West Indies to emerge on the international scene. From the young age of two he already knew exactly what he wanted to wear and what he'd like to see other people wearing. His mother said that at age two he was picking out her wedding dress. As a child he wore lots of gingham and check prints along with tank tops with dickies. He hated wearing trousers at waist level and to the horror of the convent where he was educated, he liked to drop his below the waist. Forced to wear a uniform he modified his and to increase his individuality he slicked back his wavy hair with a lot of gel, accessorised his uniform with jewellery, watches and he always wore sunglasses. He loved to go shopping with his mother in Martinique and advised her on both fashion and home design. It came as no surprise when he decided to leave Martinique to pursue his studies in fashion in the capital of it all, Paris. You would think it would be difficult to adapt to urban living after years in the sunshine but in fact, that was not the case. Paris was a dream of his from an early age and he adapted to city living like a duck to water.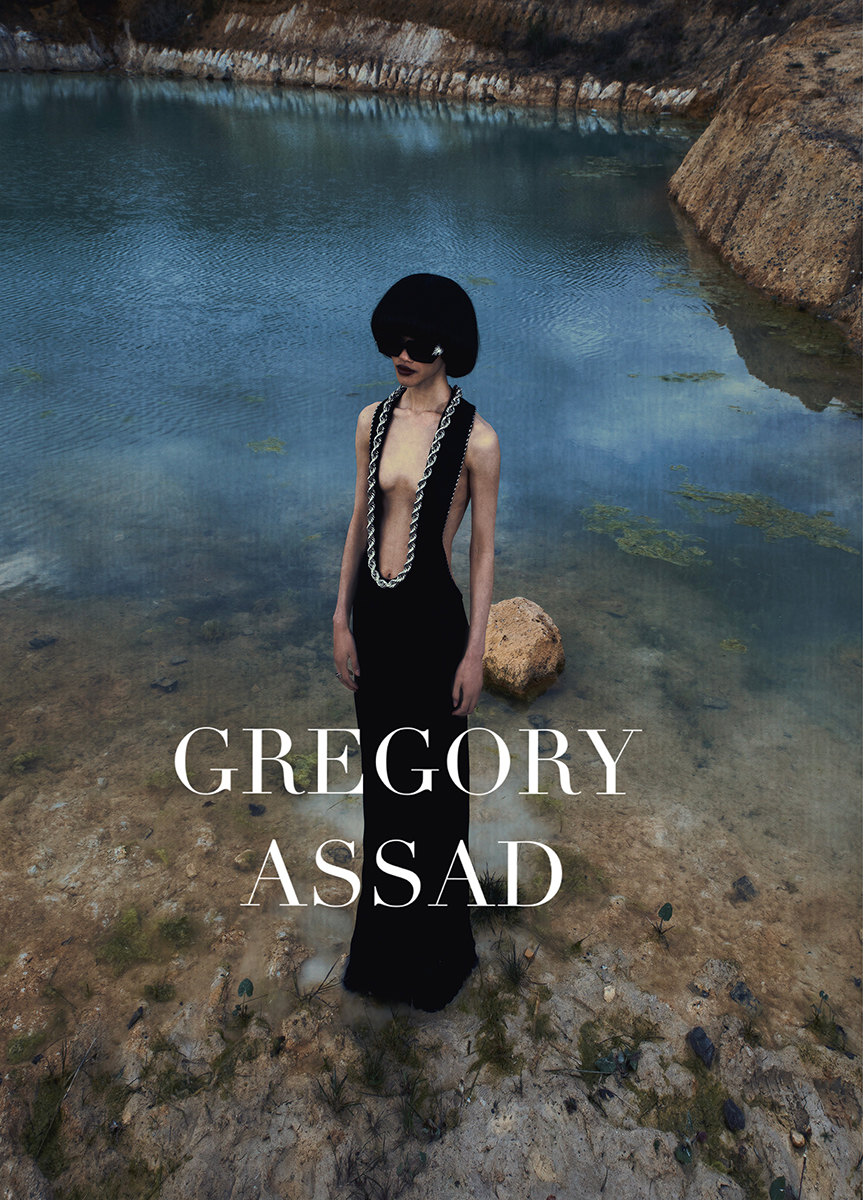 Assad studied at the Chambre Syndicale de la Couture in Paris then continued at IFM before doing an internship at Lanvin. He launched his first collection, Pre-Fall 21, at the Centre Wagari Maathai, a performing arts center in Paris. This was his graduation collection and during confinement he decided to launch his own brand, GREGORY ASSAD. The center piece of his collection is an off-white draped suit which was constructed in Martinique by the association "couture atelier du Nord", a workshop in the north of the island where Assad grew up.  Assad said that the building of that one garment took almost as much time as building the entire collection. Most of his collection has been developed in Paris where he lives and works.
So where would he like to position himself?  He proposes the idea of ready to wear couture, "READY TO COUTURE" which he defines as high-end and genderless. His first collection has taught him a lot about himself and his capabilities. For now he is building the foundation from which he can grow and sees GREGORY ASSAD as a showcase which allows him to introduce his brand to the fashion world. Future dream is to be given the opportunity to take over the position of Creative Director at a major luxury brand.
For the time being his first collection captures his Creole roots as well as showcasing his perspective on glamour. One of his references is to the youth culture of the 70's as captured through the lens of Malick Sidibé.  The Malian photographer is well known for his black and white portraits of youth in Bamako in the 1970's. Assad discovered the work of Malick Sidibé a few years back while doing his research.
"It is curious because when I discovered his portraits, they already felt known to me. I really love his vibe and aesthetic which started from nothing but developed into everything." Said Assad. 
You can especially see the influence of Sidibé in the mix of black and white checks and prints as well as in the 70's silhouettes, attitude and the exaggerated volumes with generous draping.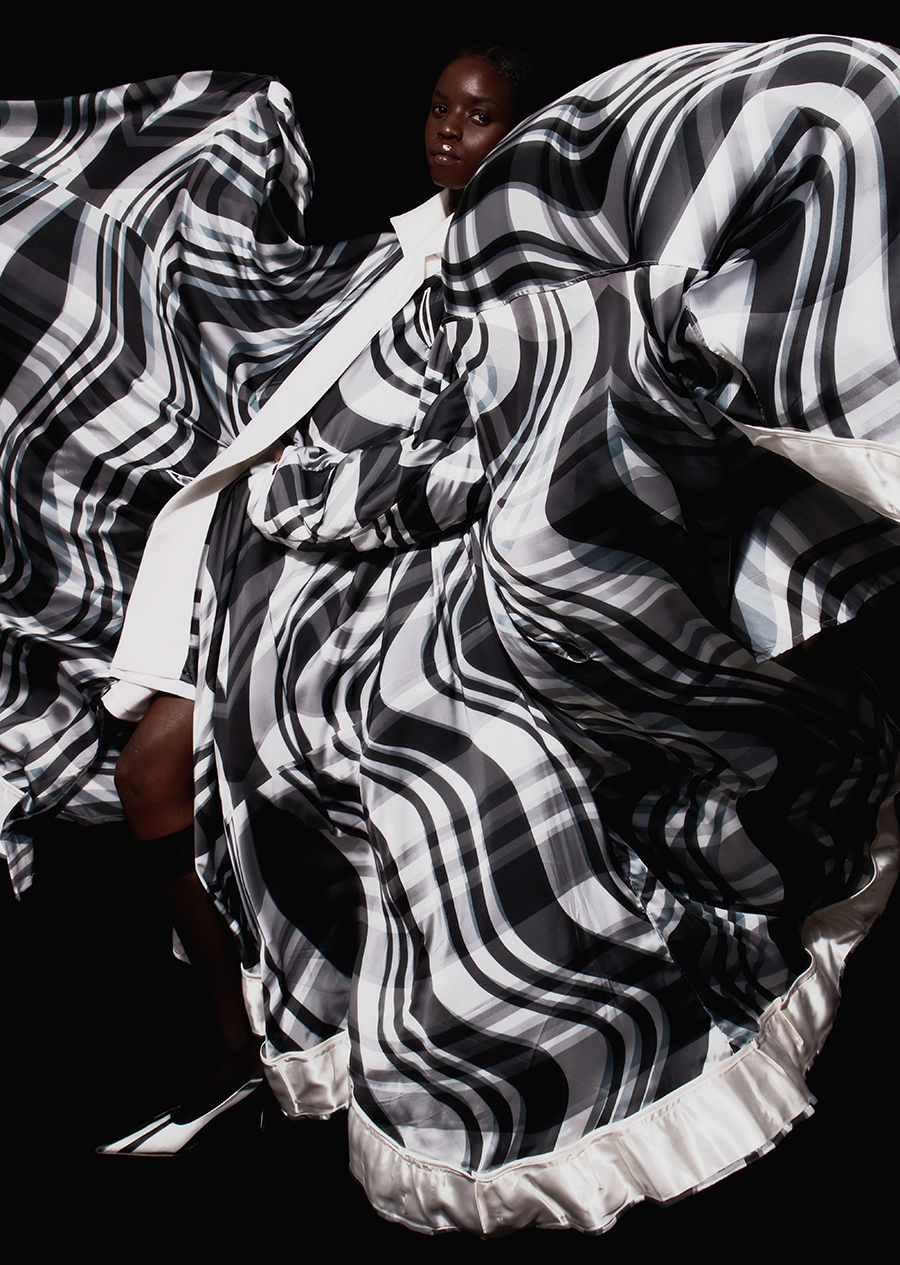 For the casting of his first show Assad drew upon his friends and friends of friends. He was able to monopolize around 60 volunteers for the digital show last May. The casting reflects the same diversity as his silhouettes. Assad wants to dress all ages, genders, sizes, and proposes only strong looks. He does not insist anyone wear the entire look if it feels too much for them but suggests as a starter, they pull pieces from the collection so in time they can build up to wearing the total look. "If you don't want the full look, you just take a piece of it,  like a shirt." Says Assad.  If you are timid, I might suggest the tie that doubles as a mirror. Mirrors and metallics are prominent in the collection, his gold or silver dipped glamour would be at home on any red carpet. Looking at both the designer and his collection I can hear that song of Right Said Fred –"I'm Too Sexy" playing in the background. As for upcycling, Assad uses oversized metallic chains to finish off plunging necklines and makes a full metal dress out of glass, stainless steel, aluminium and re-using bathroom tiles while adding pockets to make the dress very practical. Also, no dry-cleaning, don't wash, just wipe.
Stylists have pulled from the collection, TV channels have interviewed him, his work has been featured in Parisian magazines, on websites as well as the American edition of Harper's Bazaar. Not a bad start considering this is only his first collection.
by Diane Pernet 
photos by Axle Jozeph