Do you know what rewilding is? You should. In this times when sustainability and responsible production or consumption have become a common lexical of sometimes, obscure realities, certain people just act. 
Young, of beautiful simplicity, she is a fervent nature militant. Did she offered to wilderness its renewal term? Impossible to claim maternity to such obvious wording but in any case, we are associating it to Courtney KING. Her goal is reteaching humans to live closely and in absolute harmony with nature; claiming equality not only for them, but for HER.  We get to understand the  never-ending beatitude in front of nature, the small personal actions to somehow feel good and ecological but do we really act?  This young woman builds gardens in harmony with the insects and the soils. She is using plants to die and sew pieces of art that have an absolute decomposable end, if necessary. Her trace is minimal, as much as that can be in today's society: Reuse-respect-REWILD. 
She graduated her BA Fine Arts in 2019 in tapestry and she is now in her final year of her MFA Curating course at Goldsmith University of London.  In 2020 she joined the Shem Eco board of curators and participated at the Inaugural Exhibition hosted by Artsy in 2021
"Rewilding is a process of ungardening, an element of unlearning."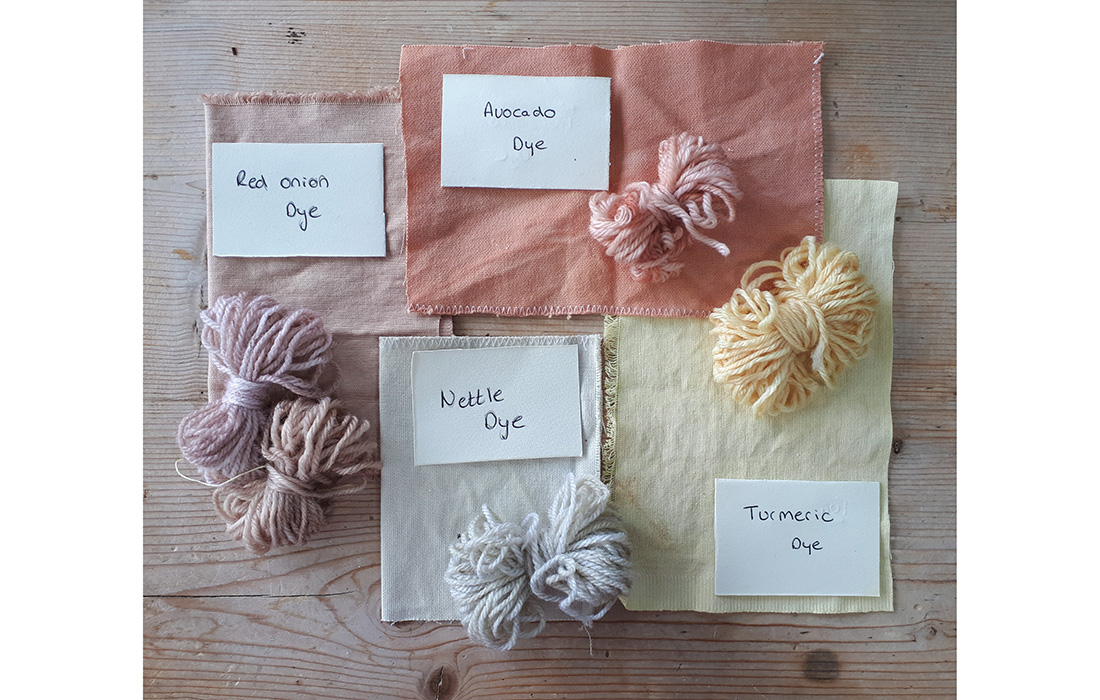 Who are you, Courtney KING? 
I have always had an interest in the environment, one element being rewilding, trying to improve our relationship with nature. Not to be isolated from nature, encouraging the preservation of green spaces. Having accessibility to them is more important than ever.
I have noticed my own practice contains elements of this rewilding attitude and changed my own relationship and perspective on my art. Working with more sustainable materials reconsidering how my use of this matter has an impact on the environment, such as working with the left-over fabric from past installations or natural dyes forage from my garden or left-over food waste.
Also, this format of Patchwork quilt ables my textile art to be seen in different spaces, not only in a gallery but in the everyday domestic areas. Emphasising that these conversations need to be continually taking place.
What is the actual process of your work? 
Taking Inspiration from my own garden, producing a patchwork quilt as a method of documentation of the different species of plants and insects that have occurred since letting the natural process of rewilding happen. Rewilding is a process of ungardening, an element of unlearning. I use the patchworks as a rewilding storytelling process. I am inspired even out on my walks, being immersed in nature and seeing foraging as a metaphor within my practice, of directly engaging with nature, utilising the resources that nature provides. The idea of collectively with nature gather natural materials, and building direct relationships with the earth. But also, for foraging new relationships, and gathering together in these green spaces, a reconnection.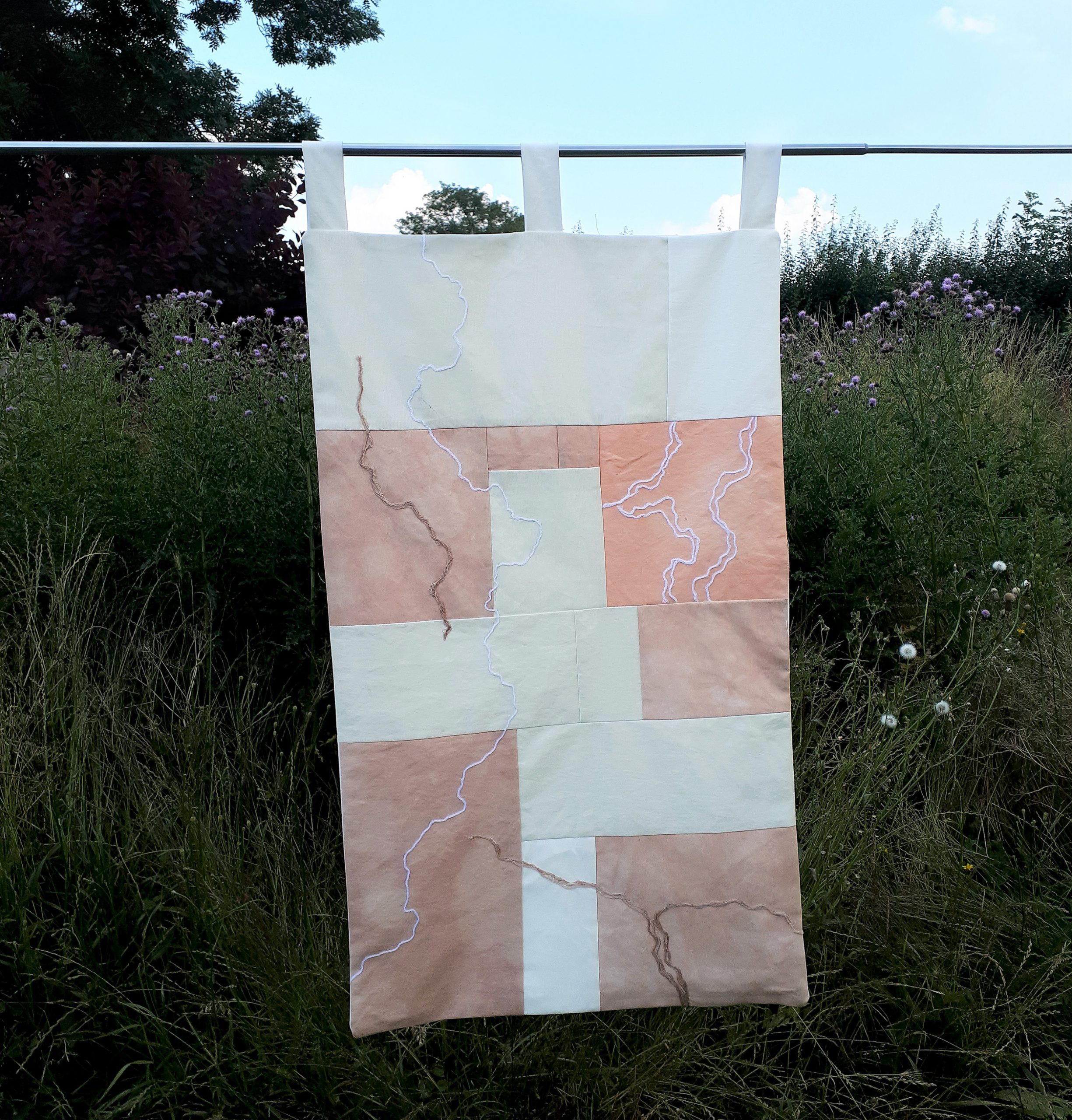 How about Courtney, the curator
I started as a co-curator to the exhibition Home(work) withSHIM Art Network and ArtHelix, in 2020. We have been searching for artists that responded to the limitations caused by covid-19. Where there is an emerging critical response to this pandemic, a correlation of more home-based developments. Artist have been forced to become more resourceful around their practice. Reflection on their materiality as their work have been disrupted by the inability to have access to these traditional studios and gallery spaces, now working secluded .
In 2021 I co-curate with India Ferguson Patchwork Talks .  Inspired by the concept of the commons, which is an accessibility and sharing area, Patchwork Talks is site-specific reactions to different spaces, through the process of collective making. The project will involve inviting a series of different artists, where we will have conversations in different locations. In each session we will engage the artist in conversations, talking about our individual practices and research, with the aim of developing a community of artists and to develop friendships.
Artist have been Inventive in producing their own creative space – adapted to be at home, working with the limited materials they have access to. More than ever artists are working in unconventional spaces, discovering that it does not matter where art is situated. Often working with what surrounds them in the everyday, leading to alternative approaches within artist practices, which is either by product or occurred cause of covid-19.
"Continually advocate for this consciousness, the definition of sustainability: the avoidance of depletion of natural resources in order to maintain an ecological balance."
Future projects and goals
I hope to work on a larger scale with my patchworks, creating immersive space in a gallery that engulfs the audience in large patchworks. Even developing collaborative quilts with different communities in different locations. Work on more projects with other artist, collaborations interacting with these green spaces, exploring how each artist differently interact with these spaces
Remaining conscious of my art practice and sustainability, continually advocate for this consciousness, the definition of sustainability: the avoidance of depletion of natural resources in order to maintain an ecological balance. Such as my use of materials, I want to continue exploring natural dyes and the different techniques to develop these rich hues, discovering what colours nature provides, for example the different seasons.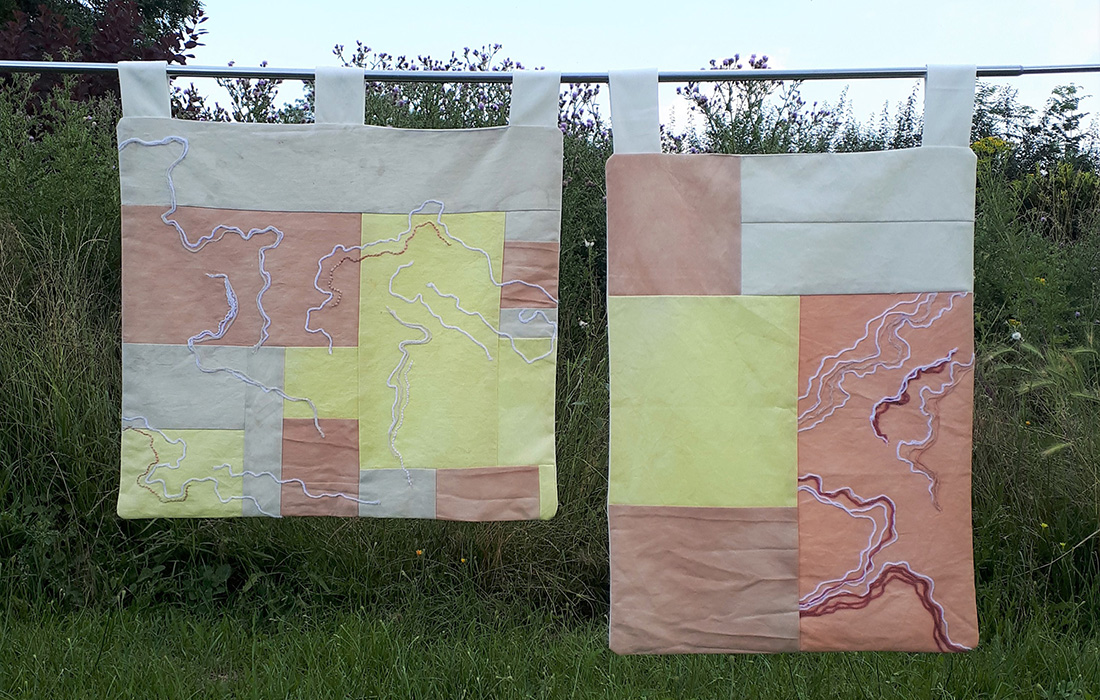 Courtney is actively working now on curating and making her art, with a collaborative process, for a new Shim-Eco exhibition with Shim Art Network and URSA gallery, in Bridgeport and developing a ambitiously militant garden project with artist Alexandra Mas, that takes in consideration all her principles: rewinding and collaboration. 
The real moral, if we can use this old word, is that humans should alleviate their presence, their acts and there for their impact on HER. 
Website – https://www.courtneyking.co.uk/