Contemplation found her cradle in a city where masters, even young, seem to poses roots. With 1600 years of knowhow, European leader since and still, Venice is attracting many creative minds. I met with French designer Silvia Finiels who developed here a passionate story for Murano Glass. With an antique dealer and fashion background, she truly has an eye for matching old and new,  preciousness and effectiveness. Even if she integrates many modern and classical glass designers her pieces are philosophies of becoming futures rather than post-modernist developments. Her regular return in time and style is a wilful trade where beauty becomes an elliptical energy. Constantly renewed and permanent reminder of its pre-existence.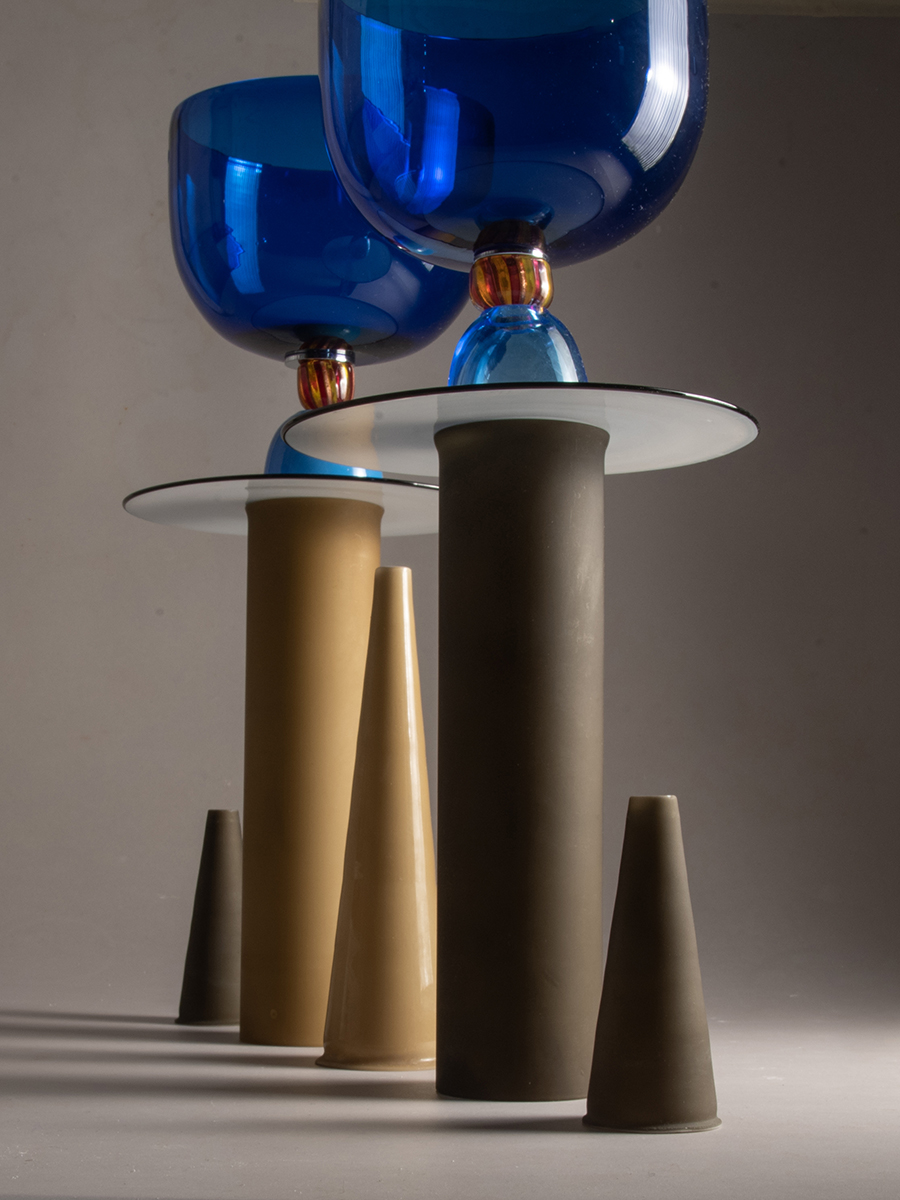 What is Aventurina design ?
All started almost 20 years ago, we were antique dealers, mostly wood work and paintings. With my late husband we started being passionate by glass, the molten glass, and I learned about so many techniques. We were finding ancient murano glass pearls, from the 19th century, the fiorato, the avventurina, gold and silver foil glass, the conterie, the filigrane, all this delicate beads worked with very ling and thin needles, that nobody does anymore, all this colours and complex technics applied to this tiny artefacts. I was making unique sumptuous necklaces with these incredible antique glass beads. This is how I felt in love with glass, through the pearls. We met collectors from all over the world at a very high level. This is how we started to collect old glass pieces. And I discovered some specific experimets made specially for Venini, for Ettore Sottsass, for other Milanese designer, research and innovations made at Vistosi. I never liked the Murano vase, but when I found this very particular and interesting elements with beautiful colours and technics I saw in it as a real quality development, elegance and originality. The lattimo, the white base serving the punchy colours,  the arsenic mixtures made by Peter Shire, others that offered a real design development in the 80s. I remember that abandoned factory, the marvellous vision made me start combining this elements into sculptures that later became lamps. I do this since ten years already. Now I work with the Murano masters. The birth of a collection is linked to a certain style, it has sense and reason so I am really passionate about my work.
Today you make your own designs ?
Behind a murano piece you have a real science, a glass master, a designer, a specific technic, maybe a colour that cannot be reproduced today. Before I cut a piece, before I make my intervention I take my time. It may become a lamp base or body, I work with the volumes, make them mine, I appreciate them, respect them. Certain await years before being used. I search for the perfect harmony. I have a real library of shapes and colours; ten years of findings. Like a painter's palette, I pud colours and shape together. A style will be born and a collection will burst from a magical assemble of two or three colours, a shape or a matter. There will be five or six major pieces of course, only unique.
Do you follow an annual rhythm for your collections or is your inspiration guiding ?
It is my inspiration. I am a true gourmand, so I react to what I buy, may be a seasonal colour that will bring to life something I have since years sleeping in my studio. For this year, as an example, I made the Matisse Collection, with large suspended shapes. They are finally out, unavoidably bold. I had since so much time in my archives, before I didn't liked them, I was avoiding them and now I am crazy about this major pieces. They were present at the Glass Week 2021. I usually do three, four collections through the year. They mature during winter time, in march I make them. I need a clement wether because it is a hard work, a men work. You need a lot of energy and a magical moment when the glass is calling on you.
We say colour is light. But what comes first, colour or light ?
Glass exists through light, and light is life, a real love story, a marriage between colour and luminescence. In the morning you have a vibration, in the evening another. It is a lively matter, a energy talking through glass. The colour we can find in a beautiful glass is real joy, rare earths, precious metals, arsenic, plumb, they are like gems. Today some have disappeared because the making was to dangerous for the glass master. You realise the treasure you have into your hands, some colours are so wild. They are alive, you know… You might think of it as a amorphous matter but it takes 1000  years to solidify, the glass is in perpetual movement and its shade changes, gets darker in years. An example is the Alexandrite, it can be blue, green or violet, depending on the light of the day, the moment you look at it. The Murano glass is magical.
Tell us more about the Glass Week, you are very active with it.
I am grateful it exists, an event so necessary for Venice. The Murano glass needed a punch, to be promoted and valorised. It is a reason for Venetian designers to show their work to the world, and to foreign glass artists to bring their know how. We needed this energy, an exposure for Venice, for Murano. For me the Glass week is not commercial at all but I experience a creational boost, I make pieces that really satisfy me for this event. Maybe, without this international show, I would not make them. So I do everything I can for this organisation.
Are you part of collections, like an artist would be ?
There is a French lady that owns 22 lamps, another client has almost as many. Some come regularly but I am not visited by the real glass collectors. They search for Venini or Barovier and even iff I do have elements made by them, I am only Silvia Finiels. I can only hope one day I will finally be appreciated by glass enthusiasts. 
Do you label them as such when using a Venini piece, for example ?
No, never… You can see it, discover it, because I respect its purity of style, its elegance and colour research. The design is there, you cant go around it. At Venini they worked with the greatest designers. They formed a real movement in Murano. We can recognise them in my lamps. I have a antiquarian friend who's telling me he can see my signature, recognising one of my lamps instantly. So I am happy to be recognised for my style. I do not even sign them.
You are a pioneer in this reusing vogue we see in fashion and design.
I love this glass. They are so exquisite, just like a precious fabric or an old dress, you are inspired, surprised by the quality of the cut. You tell yourself "oh what a style" and immediately I understand what is to be done, how to associate different elements, unique. What I make is like haute couture, Murano high fashion.
Joy, it is the glass island, matter invented 2000 years and here since 1000. It is a lot of time, when you think of that. The characteristic is the unique energy, this intense flames that are unlit only one month a year. It is a working energy you feel in Murano, something you might find in NY. It is a heavy work but with a lot of passion, interest and respect for this material. There are many investors, the Murano glass has a good moment right now.
Is there an appellation to protect Murano glass commercially ?
The signature is Murano itself, il Consorzio di Murano, a cooperative between glass makers. They care, make rules and legislations but with European standard laws many colours have disappeared. It was very expensive in the last 20 years to get technically updated to the norms. The European community obtained more ecological glass factories, protecting the workers and the lagoon. But these in detriment of creativity …. all colours are alike now. There is no more study because it is alchemy, you know … you need magicians. What you see when you work it is not what you will have when it gets cold. Rubin, for example made with gold is an extraordinary colour. There are expensive colours and others that have totally disappeared. Those made with plumb or arsenic, the opaline for examples. There are things lost but innovations arrive. In Germany for example, they developed new colours, so new doors will open. The important thing is to keep up the research.
To conclude, I want you to take us to a more poetical level, the Venetian water and light.
Venise is poetry. Poetry of a gaze, of what you see. It is a great pedagogue, teaching you beauty harmony, culture, art, proportions, colours. Just enter a palace and you will see exquisite marbles, gilding, mouldings, fabrics, and all is a glimpse. This is Venice, a beauty in her simplicity, from the smaller alley to the biggest palace. When you are on the Grand Canale over the roofs, it is a breath of universe, it is cosmical, like a big heart. No wander it is considered La Mama, you feel loved. This poetry, this soul, because she has one, we share it, like alter-egos, you may have between friends or in a family. Venise gives everything to you. All that you desire for. This city is fulfilling you.
More that that, as water is filling it, purifying it, this wild lagoon, because it remained that way. This water transports, and carries, leads to other islands, to other lands, to the sea, towards far away places. Regard towards the world, the voyage, the discovering,  it gives you the will to create and discover. The desire to make Beauty and share it with the whole wold.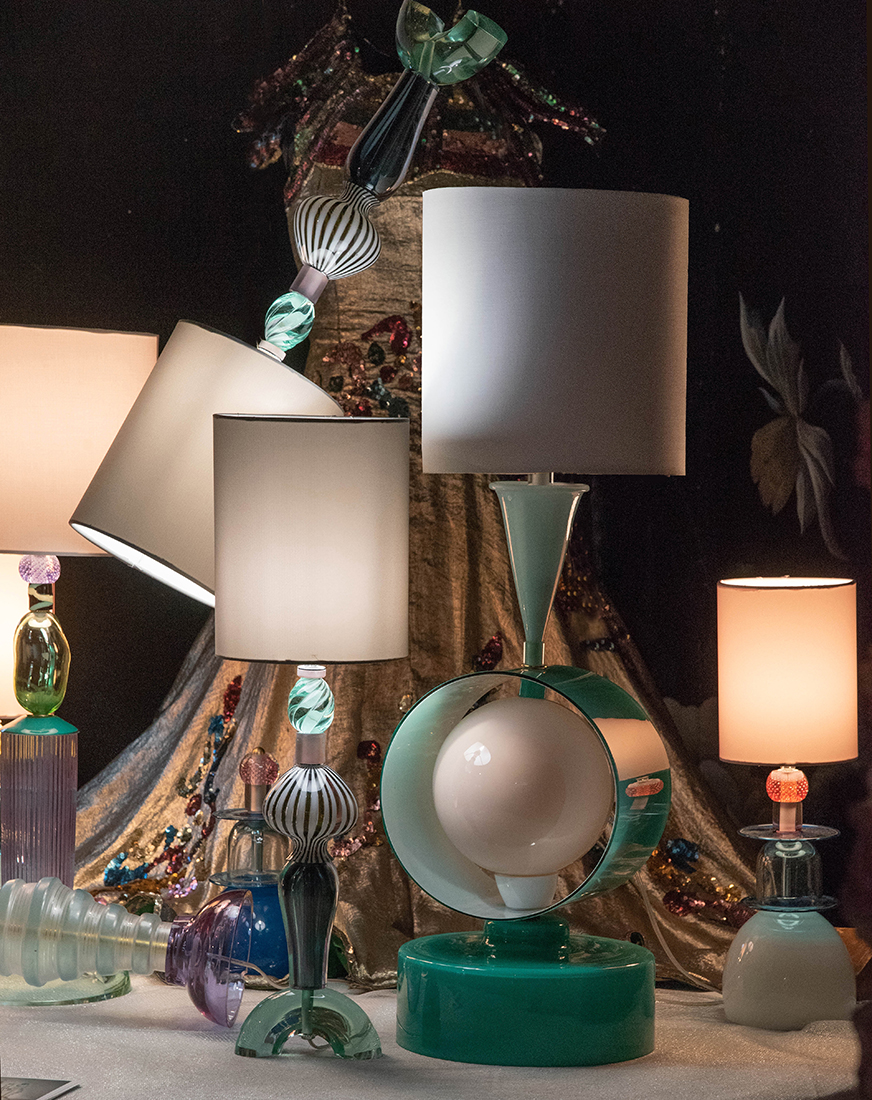 Luxury is to bee happy with what you have, and I am blessed to live in this city and do a work I love. We need to satisfy with less but of better quality. Luxury is having access to beauty. Surrounding yourself by beautiful things and beautiful people, this makes the quality of life, and that we have, here in Venice.
Piscina S. Samuele, 3359, 30124 Venezia