By Alexandra Mas
Stella invited us to the market, her transformed wonderland at the Marché Saxe-Breteuil in Paris, became Stella's Sustainable Market. Here, she orchestrates an extraordinary experience, with 21 stalls presenting pioneering materials featured in the Summer 2024 collection. It's an opportunity to meet sustainability champions and delve into the creative universe of this iconic British designer.
This collection is a tribute to family, freedom, and fluidity. Stella draws inspiration from her music roots, her parents' relationship, and shared wardrobes, along with her deep respect for our fellow creatures and Mother Earth. Summer 2024 embodies her strongest commitment yet to responsible fashion, crafted from 95% conscious materials.
I am so excited to welcome you to Stella's Sustainable Market, bringing to life over 20 years of cruelty- free and conscious material innovations across 22 stalls. I am so proud of what we have achieved, and will continue to accomplish through our plant-based and nature-positive alternatives.
Step into a market where fruits are worn instead of eaten, alongside innovators from other industries who are helping to create a world that is kinder to Mother Earth. There is a better way.
x Stella
Within this collection, you'll discover black and stone pinstripe tailcoats paired with ruffled shirts and diamond-encrusted bodysuits. Lead-free crystals adorn hot pants and cummerbunds, elevating iconic Savile Row tailoring. Meticulously hand-crocheted mirrored polka dots grace ecru knit dresses and denim chaps, all made from Kelsun™️, a groundbreaking seaweed-based yarn.
The tuxedo narrative unfolds across cropped and corseted tailcoats, transitioning from graphic black and white to roomy lurex tailoring in soft mineral blue, peach, and ivory canvas. Bibs make a stylish appearance on organic cotton poplin shirting and denim jackets, complemented by matching cummerbund inserts. Inspired by Paul and Linda McCartney's life on tour, vintage Wings graphics take center stage on organic cotton t-shirts. These are accompanied by a varsity jacket featuring artist Hajime Sorayama's work, with an exclusive capsule set to launch in December 2023. Stage looks are reimagined as metallic brocade tailoring, alongside black and crystal-encrusted waistcoats paired with poplin ruffled shirting.
Silhouettes are the focal point, with balloon shaped gowns, mini-dresses, and bomber jackets, all crafted from NONA Source repurposed silk taffetas and forest-friendly viscose satins. Whimsical polka dots, adorning floor-length wrap dresses, asymmetric mini dresses, and chiffon ruffle-skirted dresses, proportions shift with cropped and maxi biker jackets, featuring vegan alternatives to animal leather, alongside voluminous and fitted cotton canvas olive trench coats. 
Archival Stella corsets inspire lacing details on denim, hot pants, and trousers made from Alter Mat. Lightweight waffle knit tops and reference underpinnings feature delicate hand-crocheted trimmings. Strapless gowns, created from deadstock fabrics, are crafted from body-revealing tulle with appliqué florals. White flapper dresses, on the other hand, are crafted from parachute organic silk. The collection culminates with ballooning ruffles adorning floor-length maxi dresses, playing with polka dot transparency and opacity in soft canary yellow, mint, and nude organic silk crepe. Evening editions feature black forest-friendly viscose satin, bursting with bubble volumes at the sleeves.
The Frayme bag, crafted from a vegan alternative to animal leather using grape byproduct from Veuve Clicquot's harvest, is the epitome of style and sustainability. It's fully traceable and grown using regenerative agriculture practices. The lacing theme continues through the Frayme, whether as wraparound chains or knotted mesh bucket bags in hemp. The iconic Falabella receives a fresh twist in new triangle silhouettes, some adorned with crystals, and a grey edition in plant-based, plastic-free MIRUM®.
New Terra pumps command attention with sculptural heels and Y2K grape-based VEGEA straps, alongside twisted turban uppers and knotted biobased mesh. The S-Wave Sport trainer reflects conscious choices, featuring recycled materials for both upper and sole, an organic cotton label, and hemp lining. Corset-laced pointed ballet flats and twisted Falabella loafers complete the ready-to-wear collection.
Even the sound aligns with Stella's sustainable ethos. The Summer 2024 show audio was provided by JBL, a brand that shares her values of consciousness and circularity. JBL has recently introduced JBL Second Chance in France—an innovative platform for reselling portable speakers, aimed at reducing electronic waste. It's a harmonious note in Stella's world, where every detail resonates with her commitment to a brighter, more sustainable future.
Credits

Stylist: Marie Chaix

Casting: Julia Lange Casting

Wearable art: Andrew Logan, exclusively for Stella McCartney

Makeup: Pat McGrath Labs

Skincare: STELLA by Stella McCartney
Hair: Eugene Souleiman for Moroccanoil

Nails: Kure Bazaar
Production: Studio Boum

DJ: Pablo Clements
Audio: JBL
Here, Stella's guests
Photos by Dave Benett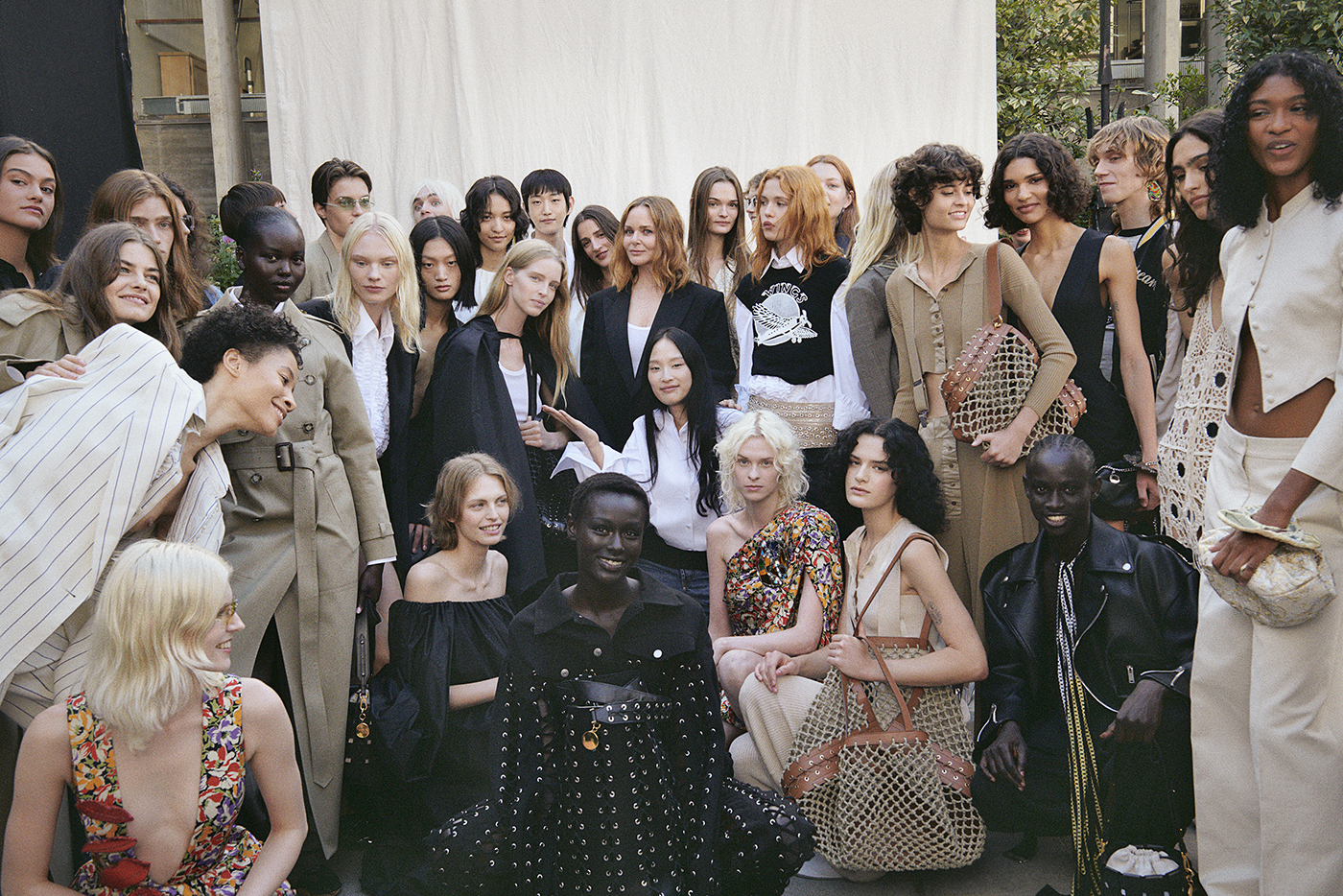 The below innovators had stalls in the Parisian market and were featured in the Summer 2024 runway show: 
NFW 
The innovators behind MIRUM®, a plant-based, plastic- and water- free alternative to animal leather that is fully circular – able to recycled or returned to the Earth as nutrients. 
KEEL LABS 
The visionaries behind Kelsun™️, a seaweed- based yarn grown from renewable and regenerative kelp, with the first-ever luxury garments crafted from this material featured in the Stella McCartney Summer 2024 runway show. 
MABEL INDUSTRIES 
The creators of Uppeal™️, a vegan alternative to animal leather made using apple waste from the Italian juice and jam industries. 
VEGEA® 
Creators of a grape- based vegan alternative to animal leather, repurposing waste from the Italian wine industry. 
NONA SOURCE 
A platform allowing access to high-quality deadstock fabrics from LVMH Maisons, reducing waste and the environmental impacts of creating virgin materials. 
STELLA McCARTNEY BEAUTY 
Truly sustainable skincare, formulated using over-99% natural, vegan and clinically proven ingredients, and contained in recycled, recyclable and refillable packaging. 
ANDREW LOGAN 
An iconic English sculptor and maker, whose wearable art is made using recycled glass and will be featured in the runway show. 
OTHER STALLS INCLUDE:
adidas By Stella McCartney, Amen, Balena, Chargeurs, Linda McCartney Foods, Ocean Bottle, Pure Electric Scooters, Radiant Matter, Record Station, Soktas, Stella McCartney Kids, Stella McCartney Vintage, Wild And The Moon, Wings. 
Stella's Eco Biography 
2001
No leather, fur, skins, feathers or animal glues since day one. 
2008
We started using organic cotton. 
2010
We went completely PVC free. 
2012
We introduced bio-acetate in our eyewear, started using recycled polyester, made our shoe soles biodegradable, launched Clean by Design in our Italian mills, banned plastic water bottles and made sure all of our wood was certified sustainable.
2013
We went angora free and introduced Eco Alter-Nappa. Solar panels and LEDs were installed in our stores. 
2014
We started using bio- based TPU for our shoe soles, added a recycled polyester microfibre for bags and ensured that all of our paper and cardboard packaging was certified sustainable.
2015
We launched Fur Free Fur. 
2016
We ceased the use of virgin cashmere and transitioned to sustainable viscose. 
2017
We incorporated lower- impact metals, added certified wool yarns for knitwear, launched the first garment made with Bolt Threads' vegan Microsilk™️ and introduced recycled nylon.
2018
We banned the use of mohair, launched the Loop sneaker, committed to going plastic free, released the first vegan Stan Smith and created the first handbag made with Mylo™️. 
2019
We started using KOBA®, adidas by Stella McCartney launched the first garments made with Evrnu®'s NuCycl yarn and we announced the most sustainable Hunter boot ever.
2020
We began using recycled elastane in our denim, bio-lenses in our eyewear collections, launched Stellawear and announced our McCartney A to Z Manifesto. 
2021
We released
Slide made from recycled industrial materials, the world's first garments made from MyloTM, incorporated more recycled content into our Falabella bags, and introduced regenerative fibres. 
2022
We released the world's first commercially available MyloTM handbag, introduced Recycrom dye and Humana denim made from recycled textile waste, repurposed LVMH Nona Source deadstock fabrics, debuted a grape-based vegan alternative to animal leather, launched STELLA skincare and Stella joined SOS Fund.
2023
We launched our first products crafted from SOKTAS regenerative cotton and introduced regenagri®- certified cotton denim, NewLife yarn made from plastic bottles, Bananatex® canvas using naturally grown bananas, luxury fashion's first-ever close-the-loop garment, debuted the first luxury bag crafted from plant-based MIRUM® and introduced bags made from UPPEAL™️. 
2024
We introduced the world's first luxury garments crafted from Kelsun™️, a seaweed-based yarn.
WHERE THE
FASHION INDUSTRY STANDS: 
More than 1 billion animals are killed for the global leather industry every year (PETA), with 70 million barrels of oil used annually to make polyester for fashion. (BBC) 
The fashion industry emits 2-8% of the world's greenhouse gas emissions. (UN) 
More than 200 million trees are logged to make fashion textiles annually. (Canopy) 
Over 70 million barrels of oil a year are used to make polyester fibres in our clothes. (BBC) 
Up to 500,000 tonnes of microplastics from textiles enter global marine environments annually, harming people, animals and e c o s y s t e m s. (E E A ) 
ECO FACTS SUMMER 2024 
This season, 95% of ready-to-wear is crafted from responsible materials – making Summer 2024 our most conscious collection ever. New innovations include KELSUN™️, a seaweed-based yarn used in knitwear. 
Summer 2024 is free from animal leather, feathers, fur and skins, featuring forest- friendly viscose; GOTS-certified organic cotton, linen and silk; recycled nylon and polyester; GRS recycled cashmere; and RWS wool from traceable sources. Embroidery includes lead-free crystals. Key plant- and biobased innovations include MIRUM®, VEGEA, UPPEAL™️ and Bananatex®.