Finally Dawn, by Severino Constanzo, could almost be called the most meaningful "morning after walk" in the history of cinema. It is an initiatic journey that introduces us to the power of the muse. There is even the image of the guide, paternally played by Willem Dafoe, reassuring her and thus us through the depths of the human experience. The film is a poetic odyssey, a path to self-discovery, illuminated by a brilliant screenplay.
The journey begins as we immerse ourselves in the emotions of a meticulously crafted black and white World War II film. But soon, we realize that we are merely spectators. As the camera does a backtravelling, we find ourselves among the public of a cinema in 1950s Rome, alongside three proud women of humble origins. Our central character, portrayed with perfection by Rebecca Antonaci, stands in the background, unassuming yet radiant with an iconic presence.
From this point, the narrative unfolds, both emotionally and symbolically, as we travel back and forth in time through Mimosa's (Rebecca Antonaci) Cinecittà adventure. In this swirling vortex of facts and emotions, she confronts the many facets of society's cruelty, consistently transcending each challenge with her innocence and unwavering honesty.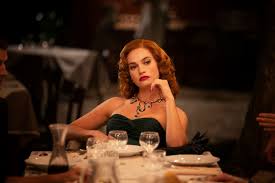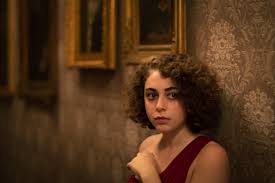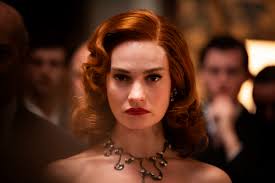 Based on a true event that lurks in the background of the script – the mysterious death of an unknown actress – Severino Constanzo masterfully weaves a captivating labyrinth of narratives. The echoing calls of 'Sandy… Jo…' reverberate through the serene Roman seaside night, almost like a ritual refrain. Amidst these ancient ruins, near the very spot where the young actress, whose tragic story underpins the script, met her untimely end, and in the proximity of the mansion where malevolence festers, we are handed the keys of the film.
In this dramatic setting, the renowned Josephine Esperanto, brought to life by Lily James, delivers a haunting cry for help – 'Sandy' her imaginary saviour, nickname she imposes on Mimosa. Her egocentrism and carefully crafted facades gradually crumble as she spends time with the unadulterated young woman, the living embodiment of a muse.
"Finalmente l'Alba" takes us on a rhythmic journey of self-discovery, where personal development transcends artificial vanity. We witness the alchemy of innocence, truth, and the enduring power of authenticity, artistry and essence of life, to eventually emerge into the dawn of a new beginning weaving them into a surrealistic and idealistic end. 
I will not describe the characters nor the key scenes because I encourage you to watch this movie  and walk along Mimosa. 
by Alexandra Mas