avant-première of the traveling « Theatre of Accessories by Au-Delà Du Cuir » Leather, a sensual, natural material on show from April 7th to May 7th, 2023, on the central stage of the Samaritaine.
ADC, as in Au-Delà Du Cuir, celebrates its 10th anniversary by exhibiting « The Accessories Theater of Beyond Leather » at Samaritaine, with Olivier Saillard as artistic director. The fifty award-winning accessory brands from ADC are presented in a recognizable and refined setting. Olivier Saillard, sponsor of the event, worked with the creators to build this unprecedented art exhibition. Since 2012, ADC has incubated 92 accessory brands, aiming to invigorate the creative and entrepreneurial fabric of France.
« Au-delà du cuir » is 10 years old, 10 years of passion, 10 years of generosity, 10 years of mutual aid, 10 years of creativity, 10 years of accessories. By visiting this exhibition, you can rediscover the unique French brands and their standout creations that embody the quintessential French touch in fashion, that « Je ne sais quoi » which makes them shine.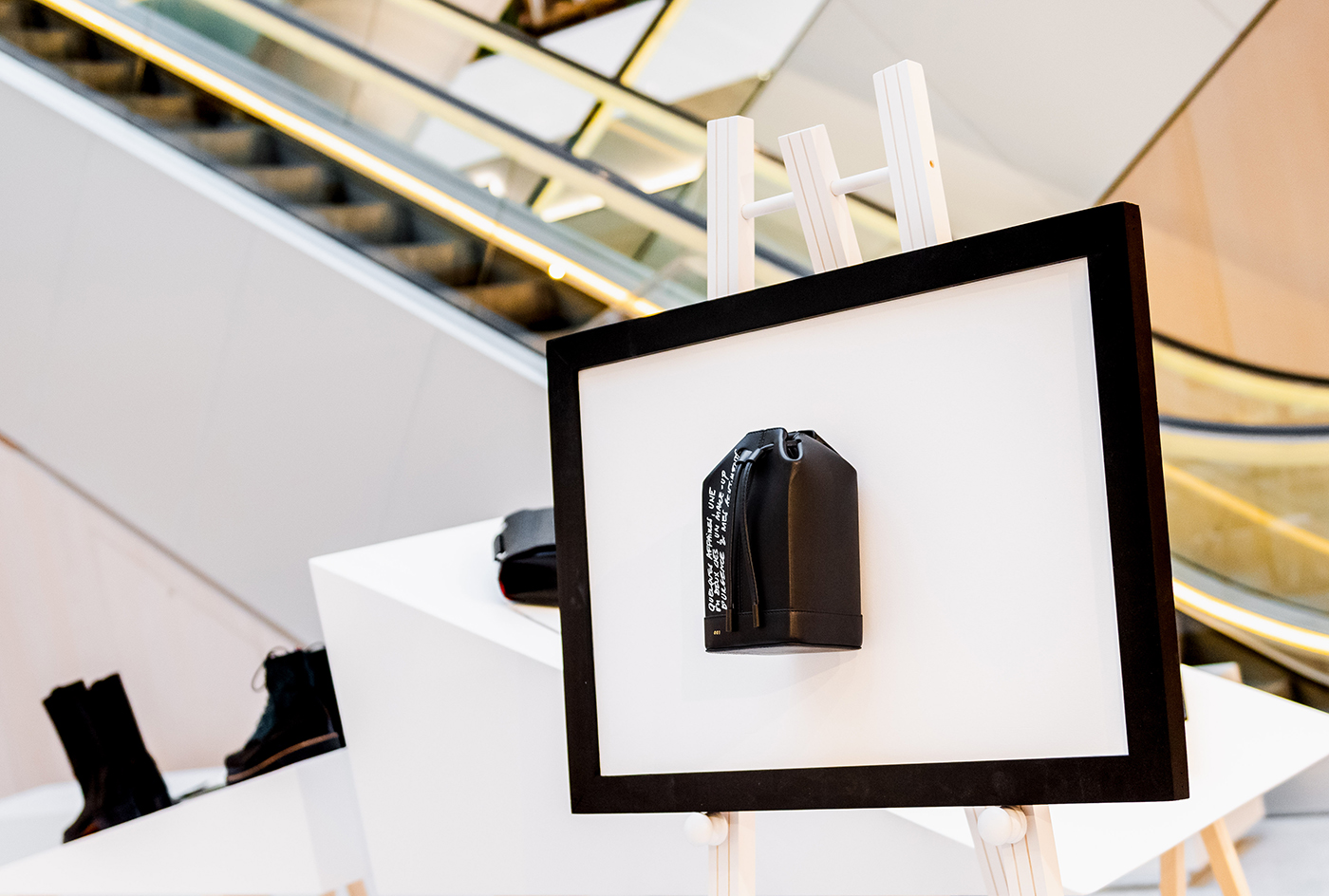 « By agreeing to sponsor this year's 10th anniversary of the ADC Laureate program, I suggested that each participant create one of their favorite designs based on a specific and unifying theme. Like a black and white photograph, I wanted these talented accessory designers to reveal themselves with timelessness. Whether it's men's shoes, elegant women's footwear, luggage, or leather goods, their accessories speak with a unified voice in ink or chalk-colored leather, in all shades from pure white to slate gray, iron gray to deep black. Each of them takes a moment to pose in the sophisticated setting of the Samaritaine. Bi-colored or monochrome, outside of time, they are the manifestos and portraits of those who imagined and dreamed them. Presented soberly on white easels, like silver prints from a chosen era, the creations are displayed on disorienting white backgrounds, sloping or freewheeling, intimate small sculptures reacting within an optical theater, beyond trends and colors… »
 Olivier Saillard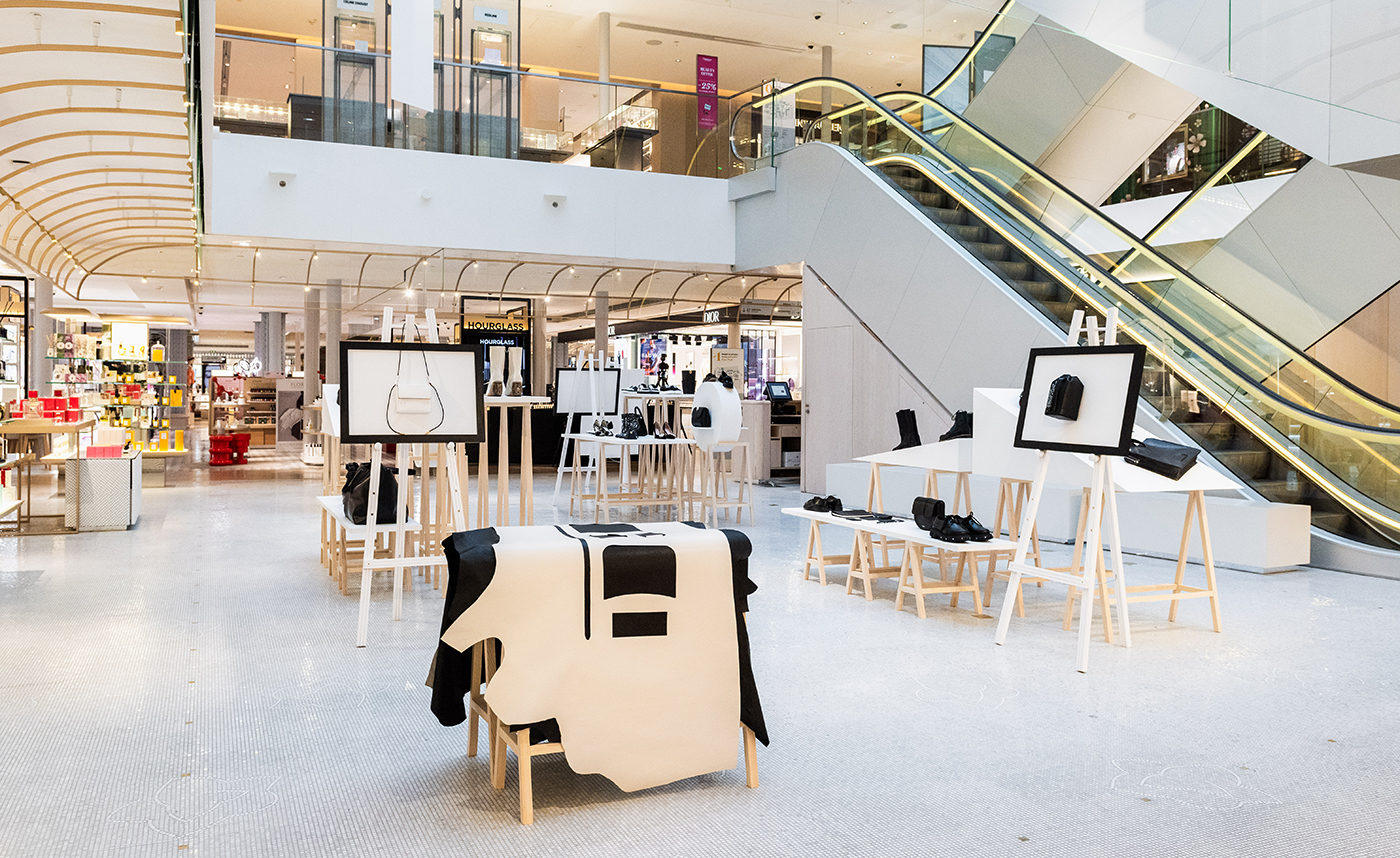 From ancestral know-how expressions, the creators offer decidedly modern accessories. The imagination of the ADC Laureates is nourished by a history rich in poetic but also utilitarian meaning, the poetry of everyday life of these extensions of the body that fashion accessories represent. Interactive and tactile, the accessory has always been by our side. The sobriety of colors allows us to see the multiplicity of shades of black, gray, and white. The purity of form returns to the center, and any superfluous is banned. The universe of the workshop is evoked minimally to recall the simple and expert gesture of the craftsman.
Artistic dimension and Parisian twist come together as shoes, bags, and other leather-based objects take center stage in this black and white « theatre of accessories, » arranged like sculptures. Wooden easels displaying five works recall the event's artistic dimension in a workshop atmosphere, while geometric-shaped furniture adds a playful touch to showcase other creations. Olivier Saillard's inspiration for the staging ranges from Peter Brook's poetry to Bauhaus style and the Shadoks, elegantly and soberly offset with a Parisian twist that matches the Samaritaine's taste for sophistication. 
The exhibition presents 45 pieces that embody the work around leather, from tanning and cutting to the desirable and durable finished product, featuring brands such as Cahu, Souliers Martinez, and Destree, representing the realm of possibilities linked to leather. The showcase highlights the beauty of raw material, encouraging a return to the essential, as promoted by the Samaritaine's « Paris à Poil(s) » campaign.
Among the large family of ADC Laureates, around fifty brands are participating in the anniversary event.
ADAPTA – AMÉLIE PICHARD – AN HOUR AND A SHOWER – ANGARDE – ARCHIPEL – ATELIERS AUGUSTE – AUDETTE – BELLEDONNE – CAHU – CAVAL – CHAMBERLAN – DESTREE – DOMESTIQUE – ENTRE 2 RÉTROS (E2R) – EUGÈNE RICONNEAUS – FRENCH THÉO – JACQUES SOLOVIÈRE – LA BOTTE GARDIANE – LA CHARENTAISE TCHA – LA PERRUQUE – LE SOULOR – LEON FLAM – LOUISE CARMEN – LOUVREUSE – M. MOUSTACHE – ME.LAND – MI/MAI – MICHINO – MILEMIL – MOEA – MY CHOUPI CHOUZ – O.T.A – PAIRE ET FILS – PHILÉO – PIGEONCOQ – RIVECOUR – RSVP – SESSILE – SOCQUE – SOULIERS MARTINEZ – RECO – TIMOTHÉE PARIS – UBAC – UMÒJA – VALET DE PIQUE – WANDER