Chopard unveils a rare and precious set of exceptional coloured diamonds, rubies, sapphires and tourmalines
Chopard Co-President and Artistic Director Caroline Scheufele is nourishing since her childhood a genuine passion for exceptional gems. She is a true explorer and match maker finding rarity. In 2022 she brought to light a 6,225-carat Insofu Emerald.  While this exceptional stone is in expert hands for a future collection, we had the pleasure to discover during the Haute Couture week a new collection of gems. 
The vivid glowing Sri Lanka Ceylon "sunny Sapphires", oval-cut and weigh 151.19 and 127.70 carats for a surprising ring and a matching cuff bracelet. Another 26.70-carat Royal Blue sapphire, a transparent blue hue caching the light in its octogonal shape. 
Ring in Fairmined-certified 18-carat white and yellow gold set with a 30.63-carat oval-cut fancy intense yellow diamond set with two 2-carat oval-cut diamonds on either side, on a band entirely set with brilliant-cut diamonds and prongs set with brilliant-cut yellow diamonds.
Ref. 828768-9001
3.88-carat VVS1 fancy purplish-pink pear-shape diamond (South Africa)
1.12-carat internally flawless pear-shape fancy pink diamond (South Africa).
1.10-carat internally flawless pear-shape fancy pink diamond (South Africa).
4.63-carat VS2 pear-shape fancy green diamond (Brazil).
1.25-carat VS1 pear-shape fancy green diamond (Brazil).
1.03-carat VS1 pear-shape fancy green diamond (Brazil).
 two sets of coloured diamonds intended for a dainty pair of earrings with a sleek contemporary design and a 'You and Me' ring, on which three pink and three green diamonds will star in an elegant play on their pear-shaped design
The three green diamonds acquired by Caroline Scheufele from mines in Brazil, as well as the three pink specimens from South Africa, are distinguished by their excellent combination of size (the largest in the lot weighed 4.63 carats) and few impurities.
Far less common than white diamonds, coloured diamonds owe their hues to the presence of chemical elements or inclusions that modify their absorption of light. That is why, above and beyond the natural beauty of these exceptional gems, the finesse of their cut plays an important role in revealing the brilliance of their colour. While coloured diamonds – such as the famous 'Dresden Green' – were long regarded as the prerogative for monarchs who had them set on royal regalia, coloured diamonds have for several years been enjoying renewed interest among discerning collectors. Green diamonds are still among the rarest, while pink diamonds have seen their value rise due to their eminently feminine shade, as well as because of the recent exhaustion of the Argyle mine in Australia, which for several decades extracted the bulk of pink diamonds in world trade.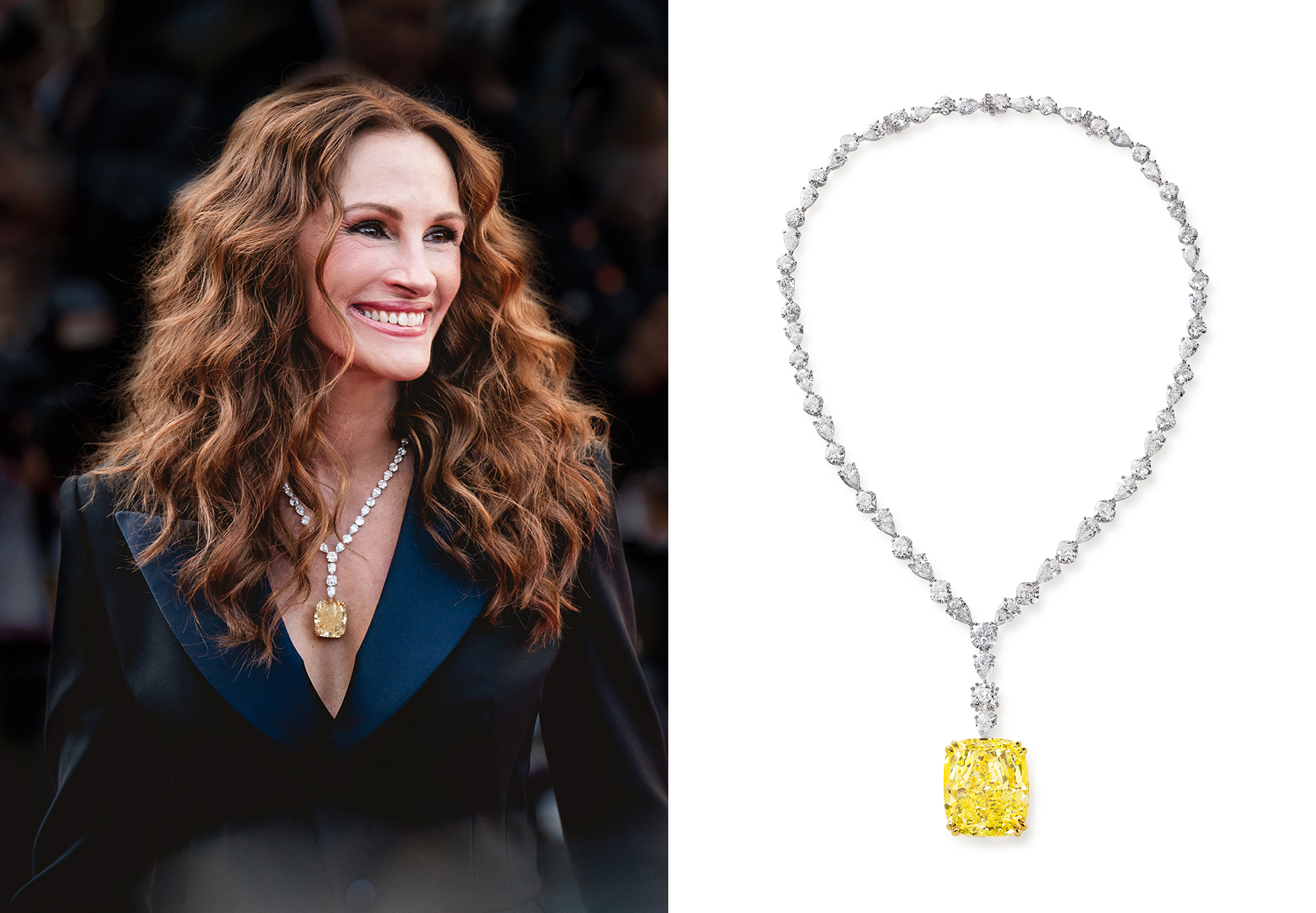 Necklace in Fairmined–certified ethical 18-carat white and yellow gold set with pear-shape (27.04 cts) and cushion-cut (27.63 cts) white diamonds and an exceptional 100-carat fancy vivid yellow cushion-cut diamond.
Ref. 810172-9006
We re-discovered the necklace worn by Julia Roberts at the 2022 Cannes Film Festival.  A diamond necklace with a fantastic burst of sunshine in the shape of an over 100-carat fancy intense yellow diamond.
As Caroline Scheufele explains: "Because of my family's history as jewellery specialists across several generations, my life has been marked by encounters with the rarest gems. Impressive in size and captivating in colour, this yellow diamond immediately caught my attention and our Maison is proud to present it today."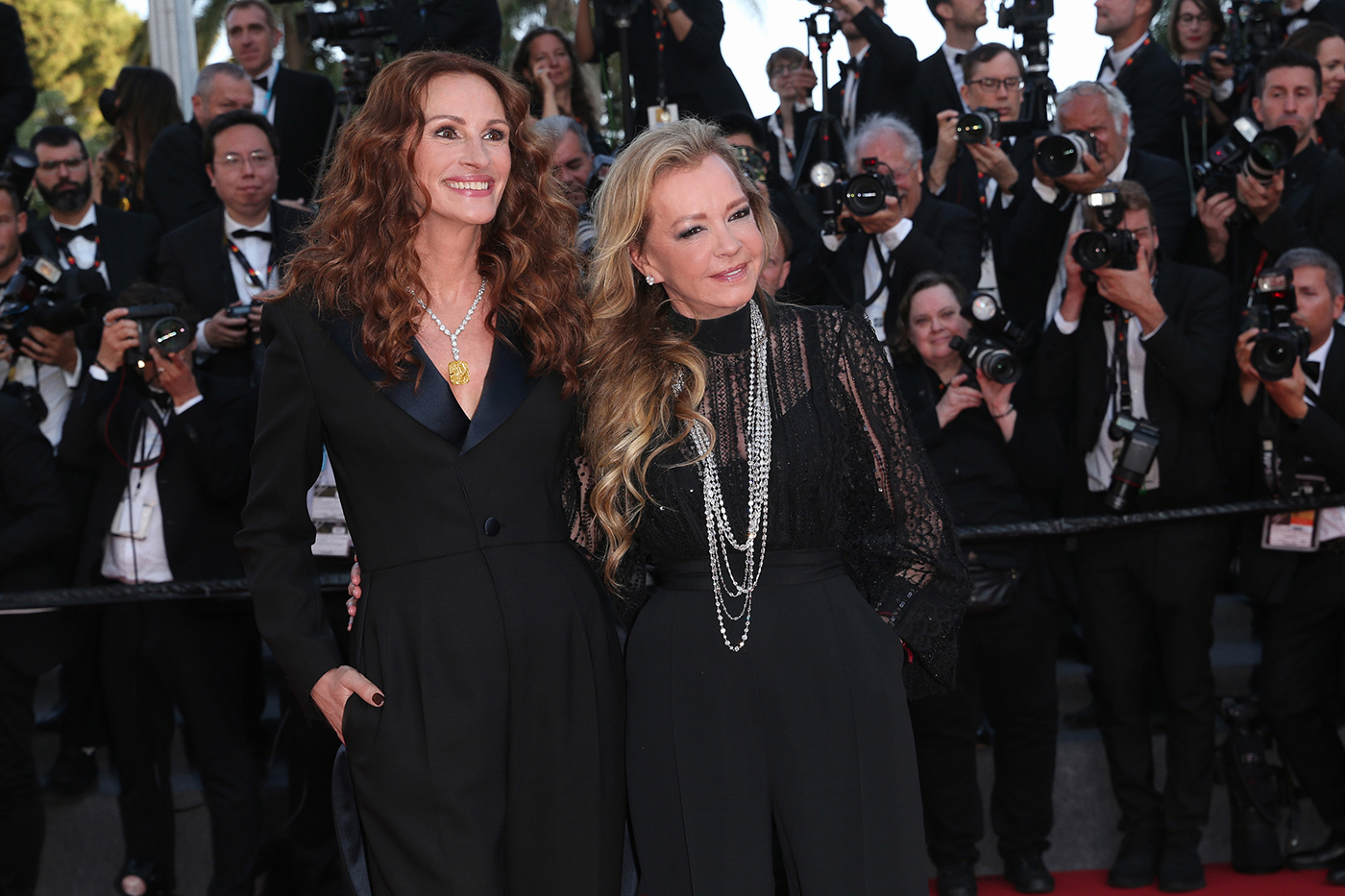 From the Parisian Chopard masters a technical prowess in this sculpted pink gold necklace adorned with diamonds and pink sapphires inspired by the lace collars of 17th century courtiers' costumes – a reminder of the enduring ties between the artistic crafts of couture and jewellery.