LES CHOSES
a History of the Still Life since prehistory
Untill January 23, 2023
Louvre Museum
"Things have no meaning: they have an existence."
"The only mystery is that there are people to reflect on the mystery."
F. Pessoa
Imagine my astonishment when I went to the Louvre, almost by chance, to come face to face with an audiovisual extract from the movie Dieu Sait Quoi, directed in 1996 by Jean-Daniel Pollet, an important director of the French new wave (1936-2004).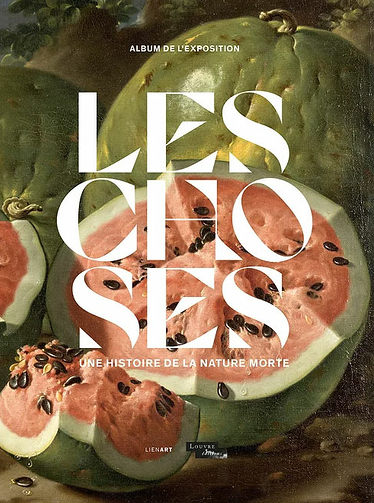 This 0'58 extract is located in the section: « Dans leur solitude » (In their solitude) Section of the exhibition LES CHOSES with, on the left, a sublime Morandi, a film extract from Tati a little further on and, on the right, Matisse, Nolde, Foujita, Van Gogh, and other emblematic artists and works. 
"The distributors of my father's films had not warned me. They only got confirmation from the Louvre a few days before the opening. And so the surprise was total, like a shock, opening my eyes wider."

Boris Pollet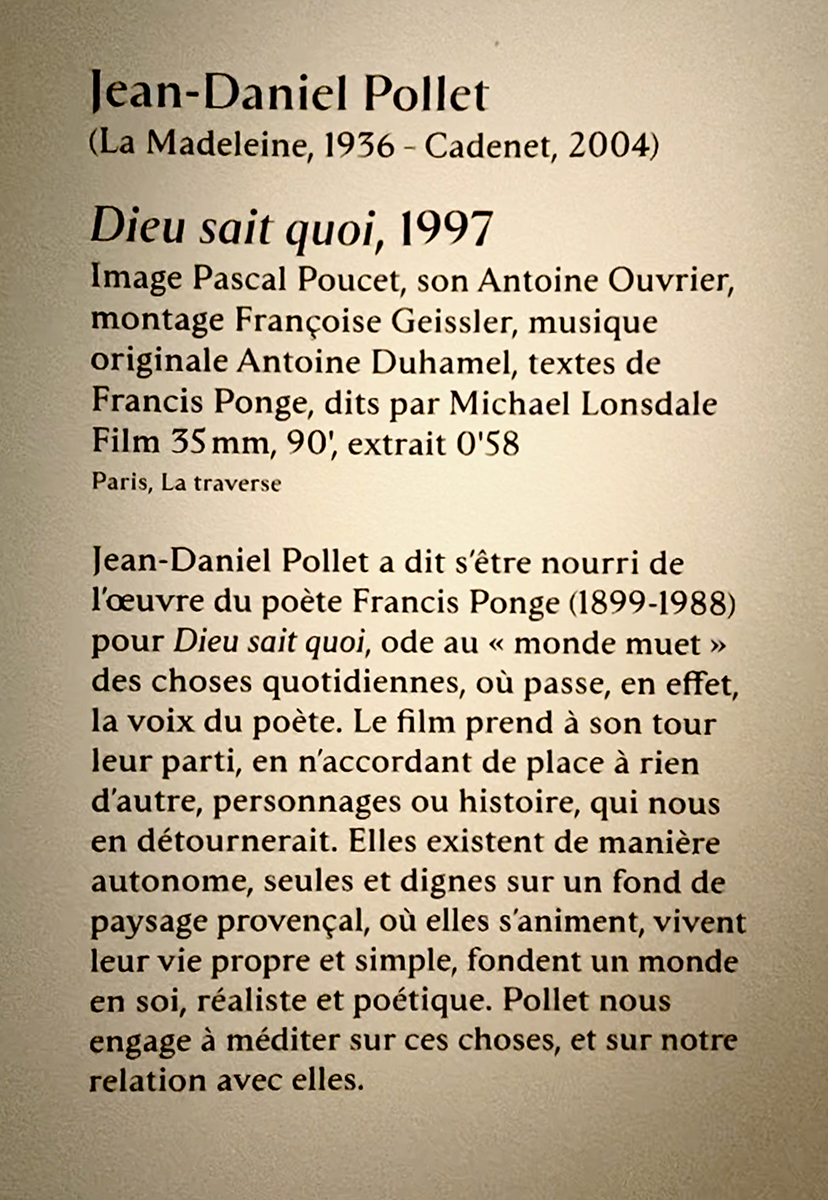 It is necessary to rediscover the films of an era.
The distributors LES ÉDITIONS DE l'ŒIL  have beautiful editions
"My body was vibrating, searching informations, keys around this spatiotemporal opening offered to me. It was like equations were floating into the air. There was a little sound that resonated in the universe in unison with me… I was quick to laugh at the situation as if it were a time loop, to capture some photos and videos of this unique, magical and surprising moments. Something appeared…"

Boris Pollet
PileFace : La répétition – Le monde muet – Dieu 
Heads and Tails: The Repetition – The Silent World – God 
Jean-Daniel Pollet
(La Madeleine, 1936-Cadenet, 2004)
God knows what, 1997
Image Pascal Poucet, sound Antoine Ouvrier,
editing Françoise Geissler,
original music Antoine Duhamel, texts by Francis Ponge, read by Michael Lonsdale
Film 35 mm, 90′, extract 0'58
Paris, La traverse
Jean-Daniel Pollet has said that he was inspired by the work of the poet Francis Ponge (1899-1988) for Dieu sait quoi, an ode to the " silent world " of everyday things, where the poet's voice does indeed appear. The film in itself takes their side, giving no place to anything else, characters or story, that would distract us from them. They exist autonomously, alone and dignified against the backdrop of the Provençal landscape, where they come to life, experience their own simple existence, and form a world of their own, both realistic and poetic. Pollet invites us to meditate on these things, and on our relationship with them.
Comments by Jean-Daniel POLLET (Cahiers du Cinéma n° 509, January 1997)
"Ponge does not opt for things against people (…) Ponge works by sedimentation. For example, he writes over a period of twenty years about the table, refining not the meaning, but the approach to the table. Ponge has always known how to integrate time into his work." 
"If progress seems exponential, the question of good and evil remains. Evil would be, according to Georges Bataille, the cursed part. It is a quantity that is assignable to everyone and that happens to the world. If evil does not express itself, it waits. Bataille said that times of peace contain an evil that must be expressed one day or another."
"But there is also a state of expectation, which for me is the highest good. Raimondakis, the spokesman for the lepers whom I filmed in The Order, perfectly embodies the good. He was on this island where there was no friction with the outside world. There, you don't see evil, you only see love which, in a way, is beyond good and evil. 
In the same way, God in Dieu sait quoi is neither a call nor Pascal's wager. God Knows What is also a film beyond good and evil, where God is a working hypothesis, in the sense that Matisse said: "I believe in God when I work". 
As our strength diminishes, and as the deadline approaches, all kinds of transcendence can appear that are latent in our bodies and our minds. And that are not elsewhere. 
Since my accident, I have been living with this transcendence a little. Quite happily, because I was like a miracle worker. I was playing with Ponge's work, wanting to distribute around me the joy that reading the poet constantly gave me.
If God is to be found somewhere in Ponge's work, it would be in the articulations of his language, and I can return to the montage: one plus one equals three or even four if all goes well. In Dieu sait quoi, God can be guessed in the tiny interval between two images. He is in the continuity shot."
An impression of antiquity increases, table-cartwheel, images of the very near, the very far.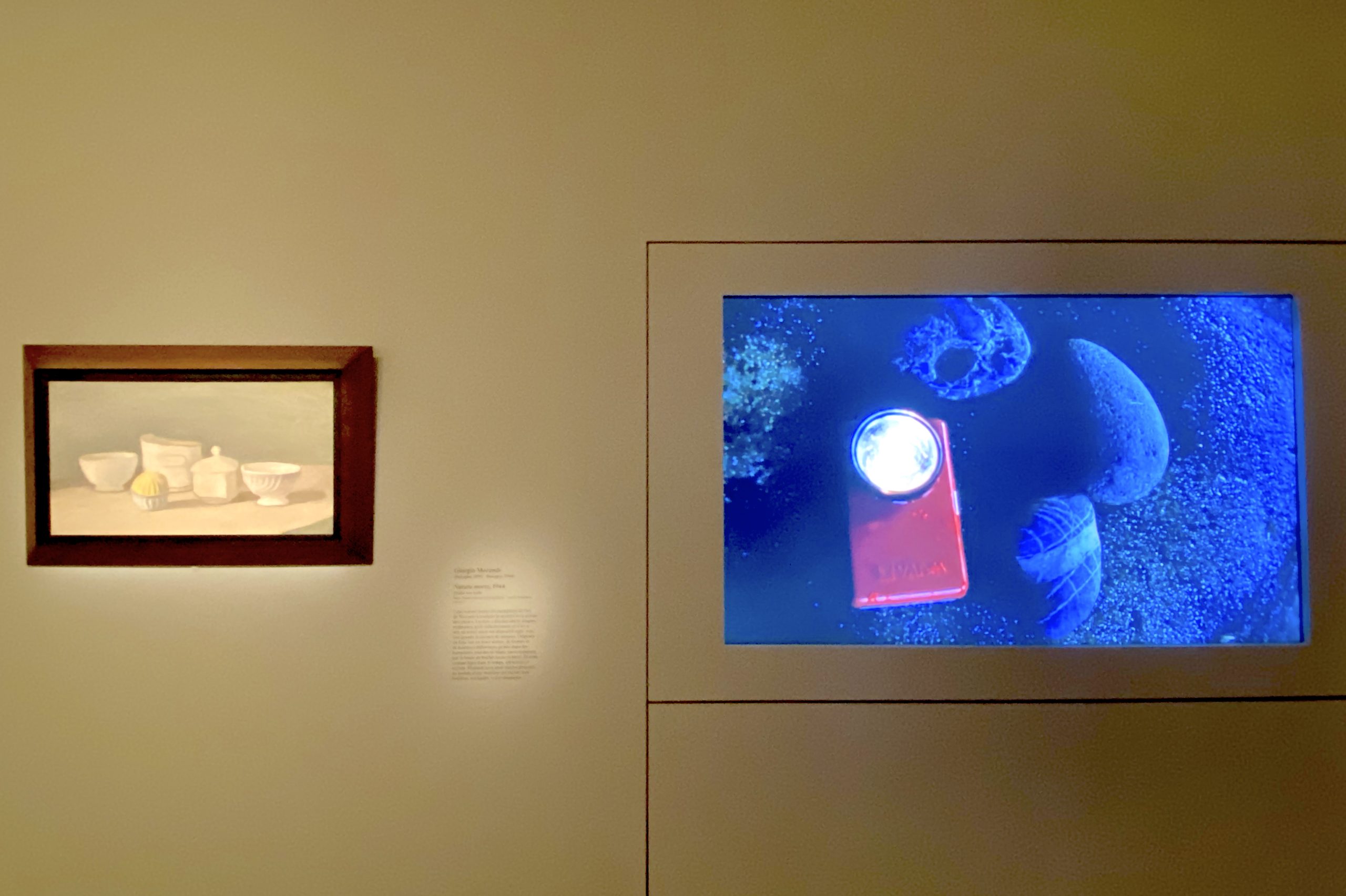 view with the Morandi painting
Raimondakis in L'ordre (1973) he was featured also in Dieu Sais Quoi (1997)
This carte blanche exhibition brings together nearly 170 works on loan from over 70 institutions and private parties, including most of the major French, European and American museums. All artistic media are present: from sculpture to video, including painting photography and film.
Curator and author :Laurence Bertrand Dorléac, art historian, with the collaboration of Thibault Boulvain,
Musée du Louvre, Until 23 January 2023
Hall Napoléon
The Things. A history of still life since prehistory
Catalogue under the direction by Laurence Bertrand Dorléac.
Co-publication Lienart / musée du Louvre éditions.
Photos by Boris Pollet 
www.borispollet.com