Le Salon Des Artistes Français is renowned to be the oldest art fair, since 1880 with a history with even deeper roots. It succeeded the Salon de l'Académie des beaux-arts, heir to the Royal Academy of Painting and Sculpture. since 1881 it is organised by the Société des artistes français (*Society of French Artists) recognised as a public utility organisation by a decree on May 11, 1883. 
The historical art fair was held in Palais de l'Industrie, demolished for the 1900 Universal Exhibition and replaced by the Grand Palais, designed to be a Palace of Arts. An architectural competition was launched in 1894, won by Albert-Félix-Théophile Thomas, Charles Girault, Henri Deglane and Albert Louvet, all architects members of the Société des artistes français*. Starting with 1901, the Société des artistes français* has been exhibiting in the nave of the Grand Palais in Paris, classified now as a historical monument.
This 2022 edition is held in the Grand Palais Ephemere, by architect Jena-Michel Wilmotte, and that till the end of the Grand Palais restauration expected to reopen its doors in 2024. 
It is not the first time that our art fair « camps » on this place. At the time of the construction of the Grand Palais, after having left the palace of the Champs Elysées dedicated to the demolition, we exposed in 1898 and 1899 in the Gallery of the Machines built, on this same Champs de Mars, for the 1889 World Fair.
Under construction until 2024, it is with a heartbreak that we are once again moving away from the Grand Palais. Designed by our architects and shaped by our sculptors, all of whom were members of our art society, the Grand Palais is a bit us!
Dimension Royale, by Carole Schoeni, mention
Memento Mori, marble sculpture by Remy Teulier, silver medal 
(on the cover photo and here in the background, Barna Gacsi, bronze medal)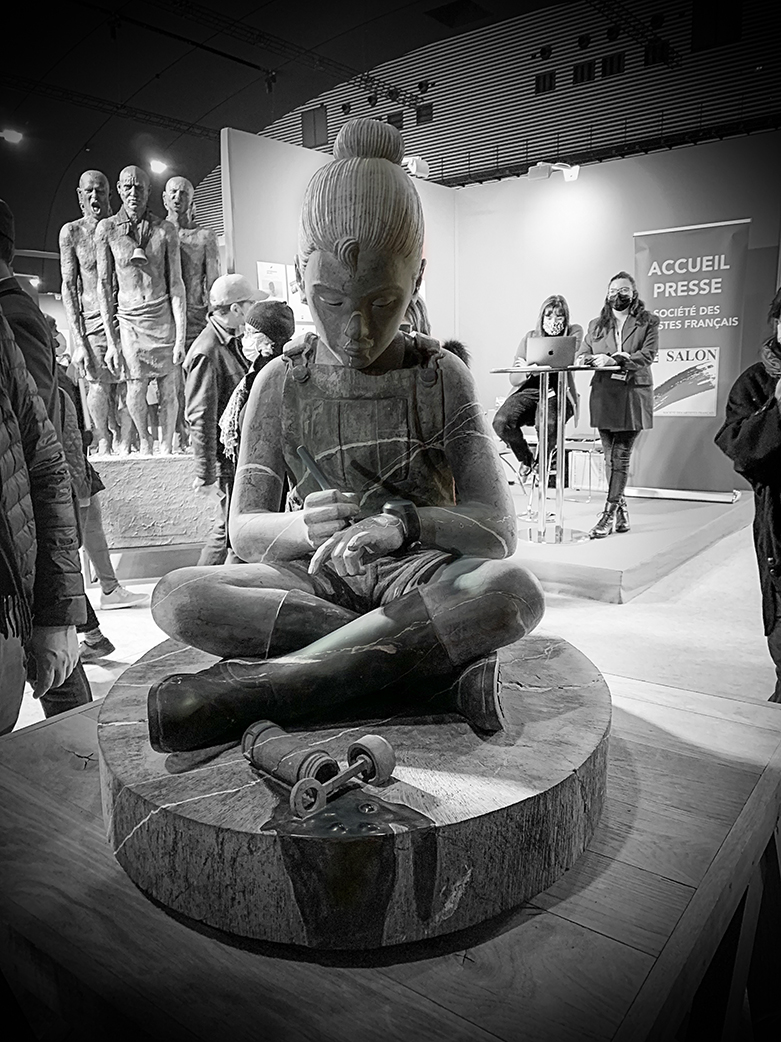 Le bal des louves, Astrid de Geuser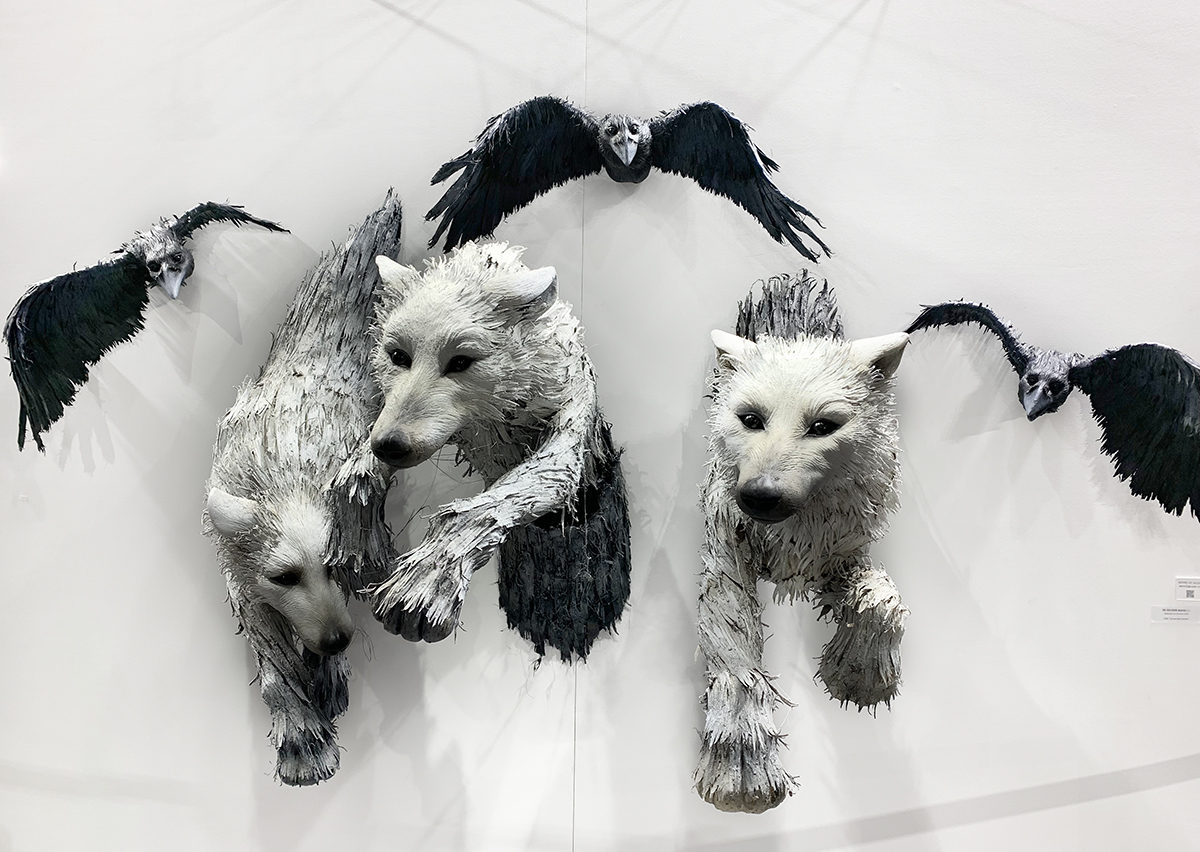 Held every year in February, the Salon des Artistes Français at its 228th edition , is reuniting art from all over the world with a vivid accent on the technique. We can say it is a collector's paradise. The selection jury is highlighting a large spectre of the French and international art practice with its choice of 600 artists. The Société des Artistes Français, direct heir to the Salon created by Colbert for Louis XIV, has crossed all eras: royalty, empires, revolutions, wars, with artists who have marked these last centuries, among which Camille Claudel. This edition is held in her honour. Among other famous names Eugène Delacroix, Gustave Doré, André Dunoyer de Segonzac, Jean-Honoré Fragonard, Charles Garnier, Jean-AugusteDominique Ingres, Aristide Maillol, Edouard Manet, Auguste Renoir, Auguste Rodin, Elisabeth Louise Vigée Lebrun, Eugène Viollet-le-Duc…what is exceptional and highly interesting with the Salon des Artistes Français, you can stroll the alleys and chat with the artists, some names, we hope, will shine farther in time. 
You can also take part in the guided visits as the goal of this art fair is first of all a cultural one. With the awards they are supporting contemporary artists to build their notoriety and international aura.