Patrice Leguéreau, director of the jewellery creation studio presented a collection entirely inspired by the city that worried us the most in Europe. Escale à Venise is a celebration made of 70 exceptional pieces. These high jewellery treasures offer a contemporary interpretation of Gabrielle Chanel's discovery of the Floating City. A tribute to one of Mademoiselle's favorite destinations, Escale à Venise features CHANEL iconic pieces as seen through the prism of La Sérénissime today.
The sculptural aspect of these extraordinary stones imbues this ensemble with an aesthetic that is as precious as it is filled of meaning and emotional beauty.
Four thematics,
four Interpretations, a gem path
taking us through
the emblematic Venetian lagoon:
La Sérénissime, 
Gran Canale,
Isole della Laguna,
Spirito di Venezia.
La Sérénissime – is honouring the architectural wealth and fame of the Republic, once rouler of the sea and bridge between Orient and Occident cultures.
Eblouissante is a set of jewellery composed of white and pink geometric designs taking inspiration in the palaces' facades and the polychromatic marble floors.
The necklace – rose gold and platine structure for a perfect drop, features a staggered motif set with baguette diamonds echoing the quilting so dear to Gabrielle Chanel. The Sérénissime set revives the Byzantine spirit of the San Marco Basilica mosaics in a  contemporary light.
Gran Canale
Major artery, boarded by flamboyant palaces and emblem of a certain lifestyle could only inspire a collection reflecting the elegance of the nautical venetian world.
Volute Vénitienne draws inspiration from the white and blue mooring poles used by the gondolas. Here, in red and white, the mooring poles lend their diagonal striping to Volute Croisière. On a spectacular sautoir necklace, red spinels and diamonds are mounted to create a twisted effect, similar to the ropes that anchor the gondolas. A bangle holds a star and a 2.13 carat oval diamond within its threads. 
They appear as well in lapis lazuli and diamonds, punctuated by a pearl for the Volute Venitienne ring. We particularly enjoyed the asymmetrical or the perfectly balanced earrings. Crowned by the emblematic comet in yellow gold joined to a 1 carat pear-shaped diamond.
Isole della Laguna – In an ode to the Métiers d'art, the lagoon islands have inspired three sets dedicated to Gabrielle Chanel's favorite flower, the camellia. Camélia Byzantin celebrates the ancient mosaics present on the island of Torcello with a breath-taking necklace made of hard stones. Their irregular outline exalts the beauty of a red camellia in carnelians and fire opals. Its pistil is composed of a 10.07 carat yellow diamond. For Camélia Vénitien, CHANEL has translated the Murano glass into the world of high jewelry, using rock crystal combined with yellow gold.
Cut from this translucent gem, the  fetish flower is embellished with garlands at the heart of an immaculate plastron reminiscent of the ornamentation of the Venetian mirrors in Gabrielle Chanel's apartment on rue Cambon. This necklace is punctuated with a 1.5 carat round diamond. A foliage ring adorned with a round diamond, a pair of asymmetric earrings and a jewelled watch admirably
complete this set.
But you could not have a Venice experience without its most emblematic and symbolic element, the Lion. It has maybe the most  surprising presence with a remarkable knowhow of diamond construction. For the Secret Lion Ring a stunning sapphire is 
crowning the sculptural heritage jewellery. 
Lets return to the starry mysterious nights of the Serenissima. Celebrating its 1600 years since its establishment and with recent archeological discoveries tracking back to the Roman Empire, it's a city field with surprises. Europe's beating heart, ancient and
thrillingly modern in the same time, Venice is harbouring talents and ancestral know how.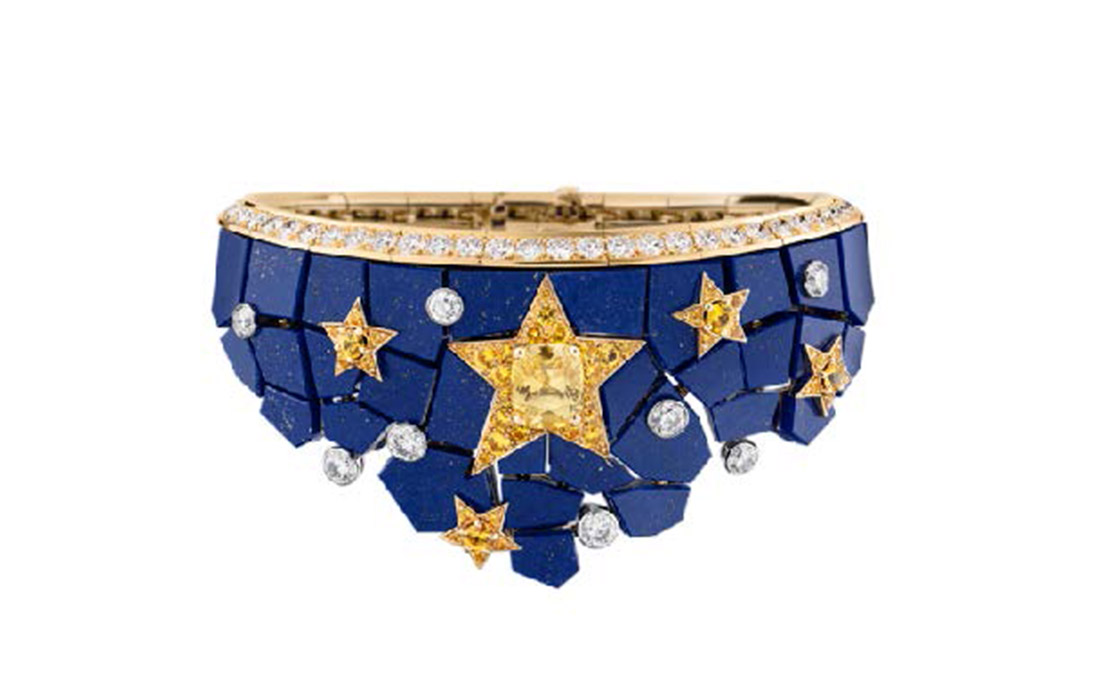 In the Haute Jewellery univers each part of the process is a work of art and skilful hands bring this marvels into the world. It seams so obvious such a place inspired Coco Chanel and today Patrice Leguéreau, to design such modern pieces. Observe the manner he employed the lapis lazuli. With Constellation Astrale his jewellery becomes a graphic statement, a canal for narration and reverie. Precious objects made to suspend time and connect to our inner child running through the empty venetian cale and jumping from voga* to voga.
By Alexandra Mas
* Venetian classical wood boat with no engine